Welcome to Week Six of 52 Weeks to a Cleaner House.  This week we're talking about cleaning vinegar.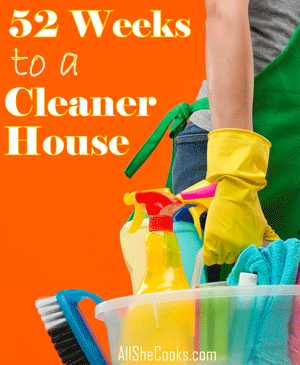 The Beatles gave us the popular song "love is all you need." But I bet if John Lennon had been more into natural home cleaning tricks, he'd have changed the word love to vinegar…Or at least he'd have written an equally nostalgic ballad about the myriad of uses for our favorite acetic acid.
Come to think of it, I can't remember a single Top 10 hit featuring vinegar in the title. And that's a shame because it probably lasts longer than love in many cases. (Do NOT get any Valentine's Day ideas here.)
Vinegar, or good ole CH3COOH, as my chemist friends call it, is second only to water in household versatility. If you're not already relying heavily on it for cleaning, then it's time to add vinegar to your grocery list. Did I mention it's super cheap? Last week I paid $3 for a gallon.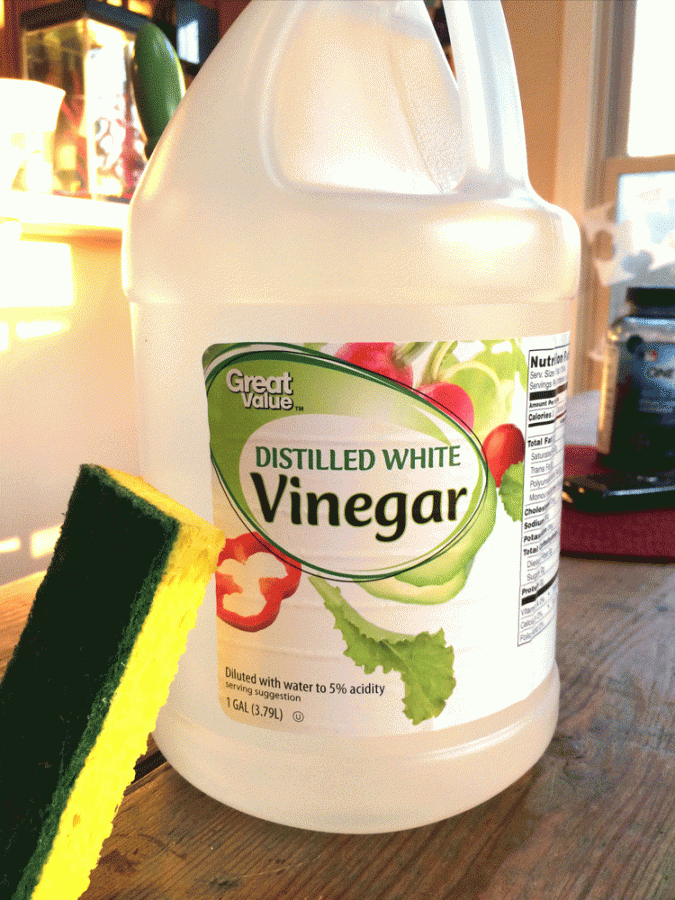 Cleaning Vinegar
Here are a few of the ways you can use white vinegar to make life a little easier. You can also purchase cleaning vinegar if you don't like the smell of white vinegar.  That is a common complaint some people make against cleaning with vinegar.  So…now that we've taken away that problem–go get your clean on!  There's even scented vinegar for laundry!  I love it!
 Heinz Cleaning Vinegar Dawn Dish Soap Bundle
 Glass Spray Bottle – Empty Refillable 16 oz Container is Great for Essential Oils, Cleaning Products, Homemade Cleaners, Aromatherapy, Misting Plants with Water, and Vinegar Mixtures for Cleaning or Cooking – Strong Reliable Trigger Sprayer with Mist and Stream Settings
 The Laundress Scented Vinegar-No. 247 – 16 oz – 2 pk
1) Keep your car windows and windshield frost free by spraying them with a mixture of vinegar and water each night. The vinegar acts as a non-freezing agent on the glass. In the morning, while your neighbors struggle with their ice scrapers, you'll be good to go. Cleaning windows. Vinegar makes this dreadful job easy.
2) Vinegar works like a charm to remove those brown stains that show up in your pots, pans and dishes after repeated use. I just soaked four coffee cups that had stains inside. Now they look like new.
3)Remove candle wax and wax residue from floors, walls, counters and other hard surfaces by scrubbing with a mixture of water and vinegar. If the wax is dried and set in, you might have to use a blow dryer to warm it back up again to make it easier to work with.
4) Spray vinegar in your doorways and anywhere you see pesky ants congregating. It doesn't just make the ants scurry away from your house, it gives them a good cleaning too. (Be sure to use on ants, not aunts.)
6)That ring around your bathtub is no match for a mixture of vinegar and its old friend water. Also use vinegar to clean shower spray residue.
7) It kills weeds too. The acetic acid in vinegar makes it a vegetation killer. On a sunny day, spray it full strength on any plant you don't want around. Within a couple of days, the plant will have withered and died.
8)Use it to neutralize pet urine smells. If you've scrubbed Sparky's last puddle out of the rug but it still smells foul, then soak the area for ten minutes with vinegar and water. Rinse with fresh water and say goodbye to the pee pee odor.
9) Use it to rinse residue from your hair. Take the vinegar bottle with you into the shower and soak it through your hair for a rinse in between shampoo and conditioner to get rid of waxy product build up. It also gives hair incredible shine.
10) Prevent red dyes in clothes from running. If you've ever been stuck with a pink t-shirt that once was white, you'll appreciate this one. Soak red clothing in vinegar one time for a few minutes before washing and forget about bleeding fabric colors from them on.
The following two tabs change content below.
Angela Weight is an award-winning journalist, blogger and somewhat motivational speaker, originally from Wrightsville, Georgia and currently living in Richmond, Virginia. Her laugh-out-loud accounts of life's ironies and irritations can be found on her blog angelaweight.com aka
Sanity Waiting to Happen
. You can also find Angela on
Instagram
and
Pinterest
.
Latest posts by Angela Weight (see all)