Hi! It's Jilly. St. Patrick's Day is sneaking up on us fast, so I've compiled a list of 15 fun rainbow recipes for all those holiday parties! Who doesn't love colorful and festive food?! I know my kids would think these recipes were the coolest ever.
The rainbow recipes would be fun for a rainbow themed party too, or even just a Springtime playdate. (Spring is coming! It HAS to!!) So, get creative with your food and try out some of these fun rainbow recipes!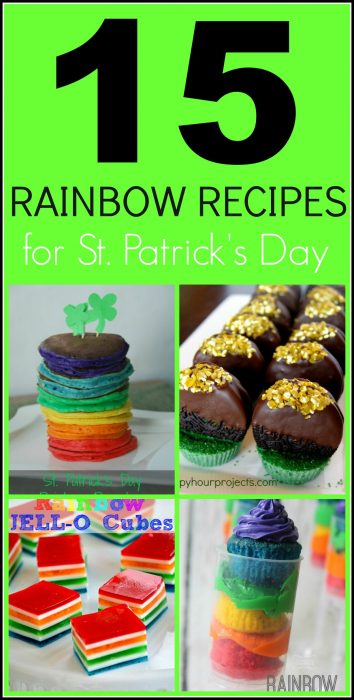 3. St. Patrick's Day Snack Tray
10. Rainbow Cake
11. St. Patrick's Day Bubblegum Tubes
12. Rainbow Cupcakes in Mason Jars
13. St. Patrick's Day Cake Balls
Do you have any special treats you like to make for St. Patrick's Day? Any fun St. Patrick's Day traditions? Share them with us in the comments!
The following two tabs change content below.
Latest posts by Jessica McCoy (see all)