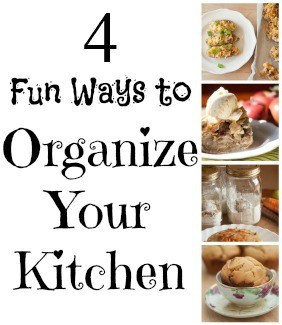 4 Fun Organizing Tips for the Kitchen
Your kitchen is probably one of the most high-trafficked areas of your home—you cook, eat and entertain there.  Arranging your kitchen to suit your needs is a must, but you'll also want to consider access, efficiency and charm. Here are some ways to make your kitchen user friendly and unique.
Keep Favorites in Easy Reach
Keep the kitchen utensils you use the most toward the front of the cabinet at an accessible height.  Having to reach too high or too low for frequently used appliances can be frustrating, especially when you're in a rush. Likewise, keep the seasonal and less traveled kitchen utensils for the higher cabinets and the storage closet. You can also store these items behind your favorite items at an accessible height. To make more counter-top space and keep appliances handy, you can invest in rotating cabinet shelves like the Lazy Susan from Home Depot.
Create Flavor Racks
Add some flavor to your aesthetic by housing fruits, spices, candy, bottles and more in space-saving holders that display the goods while keeping them orderly. With a multi-layered spice rack like the ones at Get Organized, sort spices by rack putting them in categories like "sweet", "spicy" or "tangy." These are especially handy if you are someone who likes to experiment with different tastes or want to give your guests the freedom to flavor their dinners to their personal preference. Wine racks will also add a touch of elegance to your kitchen or dining room, enabling you to showcase your refined selection instead of having it buried away in a cabinet.
Add a Centerpiece
Try adding a centerpiece to your kitchen counter or island. It can be a plant, a food display or something you made yourself.  Adding a colorful centerpiece is good for two reasons; firstly, it brings your attention to a certain area and also distracts from any smudges or cookery that is sitting out; and secondly, it helps to tie together the room and decor. If you are hosting a dinner party, make your appetizers into a table centerpiece.  You can use a regular serving platter, make them into kabobs, or imitate a flower bouquet like the ones from Edible Arrangements.
Use, Reuse and Up-cycle
The vintage look is currently trendy, so consider using items like jars and bottles to display tasty goodies on your counter-top or table. For example, jellybeans can be displayed in a recycled milk bottle, an old-fashioned cookie tin can serve up trail mix and mason jars can be used as drinking glasses. Of course, you will also want to make sure the foods you choose to display for extended periods of time are not easily perishable and, instead, opt for items like oats, pretzels or fruit preserves.
It doesn't take a lot of effort to make your kitchen a little more exciting. Take an idea and run with it. Once you get started, you'll find that it isn't as hard as you thought. So on that note, be creative, use what you have and start organizing.
The following two tabs change content below.
Latest posts by Jessica McCoy (see all)