There are times when non-bakers may want to create a beautiful and delicious dessert. For those of you who want to impress with a satisfying sweet treat, here are a heaping handful of recipes that don't require substantial kitchen skills.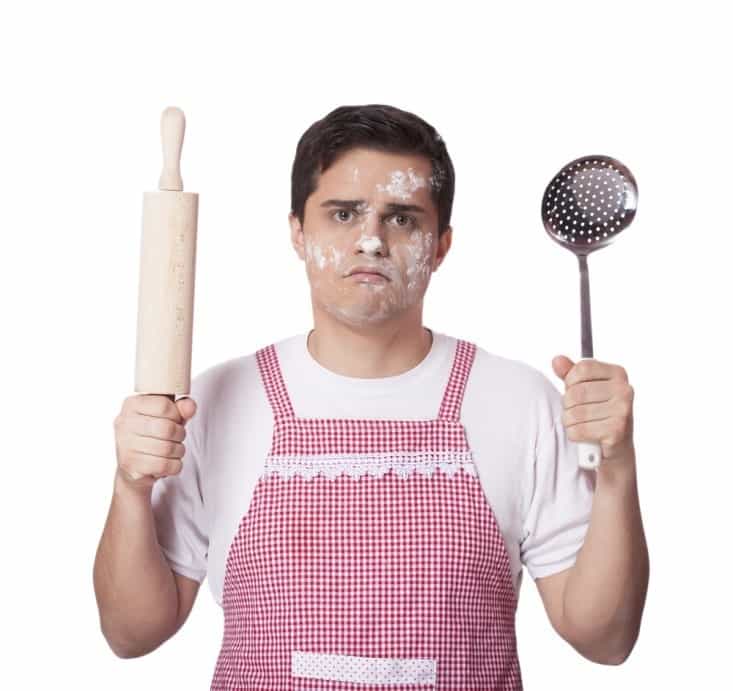 1. Ice Cream Cake
Despite all the fancy layers you might find in store-bought ice cream cakes, these treats really only require one skill: the ability to scoop ice cream. You can buy pre-made graham cracker (or chocolate cookie) crusts at the store; then, simply layer scoops of your favorite flavor(s) of ice cream until you have a suitably sized cake. Store that treat in the freezer, and you have a fancy dessert whenever.
You can make ice cream cake a little more complicated (and a lot more delicious) by making a similar treat called an icebox cake. Usually, these require more intricate layers, like graham crackers, strawberries, and whipped cream or chocolate cookie crumbs, whipped cream, and your favorite candy bar. However, the prep time is still short, and the results are always sweet.
2. Pancakes or Crepes
Many of your most beloved breakfast foods moonlight as satisfying dessert foods — as long as you dress them up a bit. Your regular pancakes and crepes may not impress a dinner guest, but with just a few tweaks and substitutions, you can transform the first meal into a memorable dessert. These 17 pancake recipes are inspired by more common desserts, like tiramisu and REESE'S peanut butter cups. For an even simpler approach, you can make your standard pancake or crepe recipe and provide sweeter toppings, like crumbled candies and syrups found at Hershey's Chocolate World. With breakfast desserts, you can even serve these treats in the morning without feeling guilty.
3. Chocolate Fondue
Despite its high-class appeal and impressive look, fondue is one of the easiest meals to make. There are only two steps in any fondue recipe:
Step one: Melt ingredients together in a hot pot
Step two: Enjoy fondue
Chocolate fondue is no different, and it makes for fun and interactive dessert. Though some chocolate fondue recipes can get complicated with ingredients, you really only need chocolate chips and sweetened condensed milk to create a creamy chocolate dip that stays that way. Then, you can go absolutely wild with your dippers. Fruit is a bright and fresh option, but you shouldn't stop with the obvious banana or strawberry. Croissants, cookies, and even fluffernutter sandwiches taste amazing covered in deep, sweet chocolate.
4. Pudding
Pudding is the kind of dessert most cooks turn to when their first recipe fails, but beginning bakers can be proud of whipping up a thick, rich pudding. Homemade pudding is always better than the store-bought, instant stuff, but it does require attention and care to complete successfully. Once you've mastered the art of pudding, you can make your dessert more impressive with sweet, edible garnishes, like fresh fruit or cookies.
5. Fruit Crumble
Any baked fruit dessert looks infinitely more complex than other sweet treats, but most fruit crumbles actually have surprisingly few ingredients and steps. Using any fresh fruit that is in season (berries, peaches, apples, whatever) and a box of yellow or white cake mix (or the slightly longer list of dry ingredients in this recipe) you can have a huge dish of fruit crumble in no time. To dress it up even more, you can add a dollop of ice cream or whipped cream on top.
Bonus: Milkshakes
The milkshake is a mainstay in every man's recipe repertoire. Milkshakes are fast, sweet, filling, and can be incredibly healthy, depending on the ingredients. Because you have probably already perfected the art of the perfect milkshake, you might feel most comfortable experimenting with the blender instead of other, foreign kitchen appliances.
In many cases, you don't need to add fancy ingredients to make a satisfying dessert milkshake; like most of these desserts, it is all about presentation. A simple chocolate or vanilla milkshake looks much more impressive when covered with candy bar crumbles or fresh fruit.
The following two tabs change content below.
Latest posts by Jessica McCoy (see all)