Thanks for joining us for week #15 of 52 Weeks of No-Repeat Meal Plans.  I hope that our meal plans have been helping you find new ideas for your menu planning or have encouraged you to focus on meal planning if it isn't something you've previously done.
If you're stopping by for the first time, 52 Weeks of No-Repeat Meal Plans is a series that is posted each and every Saturday.  We're trying to make meal planning easier for you, and provide printable meal plans and grocery lists each week to those who subscribe to our 52 Weeks list.  This is separate from the All She Cooks email list, so if you want to sign up to receive weekly printable meal plans and grocery lists, please sign up here.  (Simply scroll down toward the middle of the page and there is a form right in the body of the post).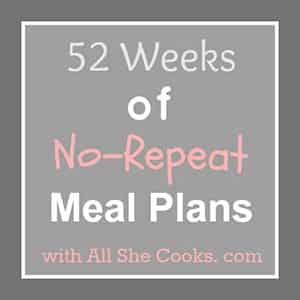 52 Weeks of No-Repeat Meal Plans is brought to you free of charge, whether you view the meal plans on our weekly blog post, or if you subscribe to our email list.  All She Cooks blog is however a business, and as such we have ads and a few companies we work with as affiliates.
This week's sponsor is Craftsy, offering a broad selection of crafting classes, including Artisan Bread Making, Artisan Cheese Making, and a slew of other baking and crafting classes.  If you are a blogger, they have a terrific affiliate program that you can sign up for too!
Week #15 in the series 52 Weeks of No-Repeat Meal Plans
Dinners:
Cowboy Dinner
Lunches:
Breakfasts:
Savory BLT Breakfast
Snacks/Desserts:
What would you like to see more of in our meal plans?  Leave a comment and let us know!
The following two tabs change content below.
Latest posts by Jessica McCoy (see all)