Welcome to another week of 52 Weeks of No-Repeat Meal Plans- Week #17!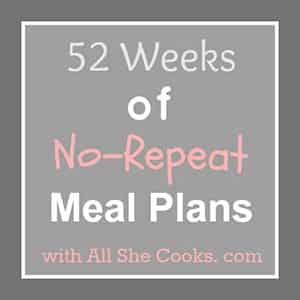 I spent most of the last week in New York City with my daughter, soaking up the sights and sounds of the big city and sampling some amazing food.  Our last night in NYC, we enjoyed dinner at the Boathouse in Central Park.  Wonderful food, and beautiful view!
And after all the perfectly scrumptious chocolate croissants we enjoyed at our hotel's complimentary breakfast, I finally decided which Craftsy Class I am going to take! Affiliates get to try out a class for free, so if you have a blog- sign up as an affiliate and enjoy a free class. I am going to take the Online Croissants Class… although I'm still considering the Cheese Making Class!
Now I'm getting back to my schedule (or trying to considering I'm heading off on another trip shortly)… all in good time.  But no worries to 52 Weeks of No-Repeat Meal Plans subscribers, because you won't miss anything while I'm away.  Posts are being scheduled as we speak!
If you  haven't subscribed to 52 Weeks, do it here.  In addition to the meal-plans, you'll receive a grocery list for each plan.  This makes it SO much easier to plan your shopping trip.
Dinners:
Lunches:
Breakfasts:
Snacks/Desserts:
Fresh Veggies and Dip
Fresh Fruit
Veggies and Cheese
Fresh Fruit
Get our Printable Meal Plan and Grocery List below for Week #17:
52 WEEKS WEEKLY MEAL PLAN with Grocery List- Week #17
The following two tabs change content below.
Latest posts by Jessica McCoy (see all)