Welcome to Week #18 of 52 Weeks of No-Repeat Meal Plans.  We're inching closer to the halfway mark of this year-long adventure, but still have a few weeks to go.  I hope you're enjoying these meal plans and that they are providing you with fresh new ideas to get you out of your meal-planning rut, or are motivating you to try new recipes.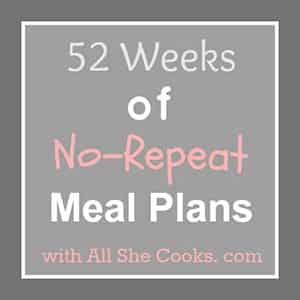 I'm feeling a little under the weather as I write this post (allergy season is in full swing at my house!) so please bear with me and let me know if you happen to catch any links going somewhere they shouldn't.  I think I've proofread everything, so we should be good… but you never know!  Something could slip by.
Enjoy, and thanks again for following along with our 52 Weeks of No-Repeat Meal Plans series.
Dinners:
Pepper, Chicken and Pineapple Kabobs
Simple Cod with Steamed Broccoli
Buffalo Chicken Quinoa Zucchini Bites
Lunches:
Breakfasts:
Snacks/Desserts:
 Fresh Fruit with Cinnamon Fruit Dip
Click below for our free printable meal plan and grocery list:
The following two tabs change content below.
Latest posts by Jessica McCoy (see all)