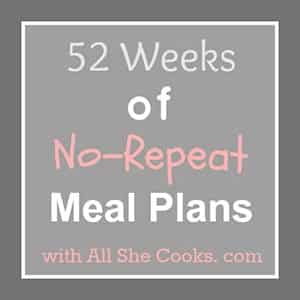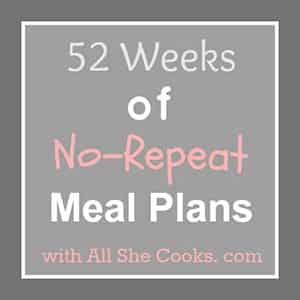 52 Weeks of No-Repeat Meal Plans #9
Welcome to another week of 52 Weeks of No-Repeat Meal Plans.  Each week, I try to bring you new ideas for breakfast, lunch, dinner and dessert while keeping in mind that you all want to eat healthy.  Let me tell you, it isn't always easy to find a balance of healthy and appealing dishes when confronted with the food images on Pinterest and all over the internet.  If  you've spent any amount of time looking for recipes online, you know what I'm talking about.
All She Cooks strives to bring you healthy meal plan options, but keep in mind some of the options might be higher in calories.  Remember what your meal plan goals are, and if you see a meal idea that doesn't fit the bill for your family, simply scratch that one off and replace it for something that does work for your family.
With that in mind, if you have any suggestions of recipes you'd like to see on our meal plans, send an email to jessica at allshecooks dot com with links to the recipes.  We'd love to see what you have to recommend!
If you haven't signed up to receive 52 Weeks of No-Repeat Meal Plans with printable menus and grocery lists emailed straight to you, you're missing out!  Get started today!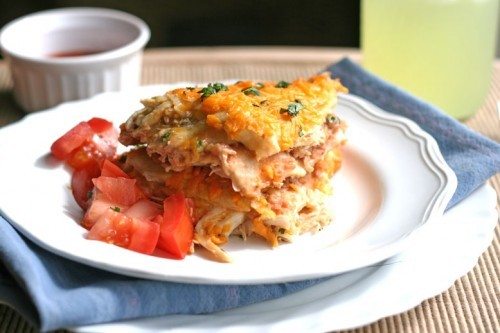 Dinner
Lunch
Triple Berry Salad from Better Homes and Garden (serve leftover salad with dinner or for lunch the next day)
Grilled Chicken on flat-bread, serve with lettuce, tomatoes and light ranch
The Best Tuna Fish Sandwich from Lauren's Latest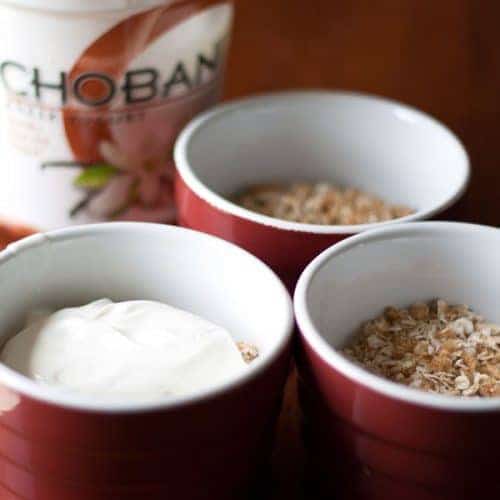 Breakfast
Bagels with Cream Cheese and Fresh Fruit
Applesauce Pancakes from All Recipes
Sausage Crescent Breakfast Casserole from Food.com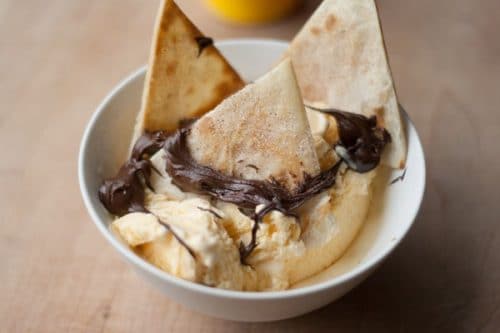 Snack
No-Bake Trail Mix Granola Bars from CBolt.com
Strawberries with Greek Yogurt
Graham Crackers with Peanut Butter and Honey
Bananas
Pretzels
The following two tabs change content below.
Latest posts by Jessica McCoy (see all)