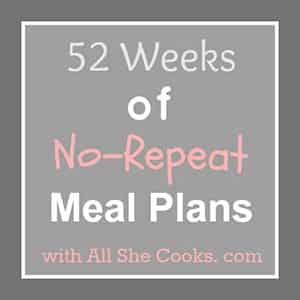 52 Weeks of No-Repeat Meal Plans Week #8
We're on week # 8 of 52 Weeks of No-Repeat Meal Plans.  Each week I share with you meal plans that I have created to bring a variety of new foods to your kitchen.  If you're just stumbling upon 52 Weeks of No-Repeat Meal Plans, please sign up to receive free printable weekly meal plans and grocery lists.
I'm putting together 7 dinner ideas, 5 breakfast choices, 3 lunches, and a several snacks to get you through the week- with sweet and healthy choices.  With so many meal options, you can fit those that work for you into your weekly meal plan, or cook entirely off the menu.  I hope you enjoy the lists.
Dinner
Lunch
California Veggie Wrap from Spoonful
The Seasonal Bagel Sandwich from The Real Women of Philadelphia
Banana Nutella Sandwich from Cookin' Cowgirl
Breakfast
Snack/Dessert
Brie and Apple Crescent Rolls from Cook Your Food
Raw Veggies and Crackers
Chunky Guacamole and Tortilla Chips
Peanut Butter Toast and Berries
Graham Crackers, Cream Cheese and Strawberries
Fruit and Pretzels
The following two tabs change content below.
Latest posts by Jessica McCoy (see all)