Ready for another week of No-Repeat Meal Plans?
I hope you all have had a Wonderful week!  I know I have.  The kids are back in school, its almost fall (I know… some of you who didn't subscribe when I first started this are probably going to get this in the dead of winter and say: What the heck is she talking about?)… and I've been doing great things here at All She Cooks!  I love the feeling of accomplishment and hope that you all are feeling a little bit of that as you go about making your meal plans this week, whether you are incorporating just a few of the easy menu ideas found here on 52 Weeks of No-Repeat Meal Plans or are using every single last one of them.
WANT TO WIN BIG?  We're hosting a giveaway of a Hamilton Beach kitchen appliance prize package, worth about $170!  Giveaway is open to US residents only and ends on 9/23/2013.  You can enter it right here on All She Cooks.
Ready to get your meal plan on?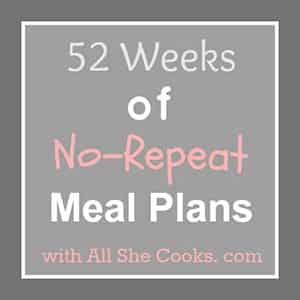 Easy Dinner Ideas:
Slow Cooker Ginger Chicken  with Fresh Green Beans
Low Calorie Chicken Enchiladas Verdes
Pumpkin Turkey Chili
Quick Lunch Ideas:
Chicken Roll-Ups with vegetable side of your choice
Fun Desserts and Snacks:
Peanut Butter M&Ms Harvest Bars  
Cranberry White Chocolate Granola Bars  
Delicious Breakfast Ideas:
Bicho-Bicho Fried Filipino Donuts
Maple Cinnamon Mini Doughnut Muffins
Roasted Banana Pancakes
Caramel Apple Muffins
The following two tabs change content below.
Latest posts by Jessica McCoy (see all)