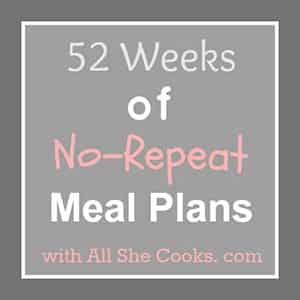 Welcome to Week #4 of 52 Weeks of No-Repeat Meal Plans.   Each week I'll be sharing a meal plan with you that has new recipes to try and different combinations of ideas.  We try to mix it up so you aren't eating the same thing each and every week, or even on a 2-4 week rotation.  Of course, we always encourage you to save your favorite meals and add those in here or there, because there will inevitably be a meal in the plan that doesn't fit in with what your family likes to eat.  We know we can't please every appetite, every time, but by offering a variety, we aim to try!
We're trying to cut out some of the processed food from our diets, so you'll see a lot of fresh veggies on the meal plan each week.  If you haven't already, subscribe to our email list to receive a printable menu and grocery list emailed to you each week, along with grocery savings tips.
Start your week off with some
produce prep
.  If you've been using the grocery list that is included for Meal-Plan email subscribers, you'll want to add any fresh vegetables to the list that you want for munching on, or for serving
salads with your meals
.  I do produce prep each week after my grocery shopping, and it has significantly increased the amount of vegetables my family is eating, not to mention being a huge time saver when it's time to cook dinner or make a snack.
To assist us with offering this free Meal-Planning service, you'll see an affiliate ad here and there. This week's ad is from Coastal Contacts. Get your first pair of glasses FREE from Coastal Contacts (shipping averages about $13.00). Use code: FIRSTPAIRFREE (includes standard lenses) to get the deal. Try them on at home and if it the frames don't fit, return shipping is free!:
Breakfast
Lunch
Dinner
Snacks
Coupon Tips:
Using coupons is a great way to save money at the grocery store.  Many people mistakenly think that coupons are only for processed foods.
While that is true for a large percentage of coupons, there are deals to be had on dairy, meat, and produce as well as a variety of other items that you use on a daily basis.
Check out these resources if you are interested in printing coupons and store match-ups:
(Disclosure:  Some of the links above are affiliate links, however they all offer great coupons and deals.)
The following two tabs change content below.
Latest posts by Jessica McCoy (see all)