Thanks for joining us for
Week #23 of 52 Weeks of No-Repeat Meal Plans.
You know how the saying goes, 'When it rains, it pours'?  Well, that's what it has been doing around here lately.  There has been a lot going on, both keeping up with the kids and their activities at home, with family out of state, and with changes to All She Cooks.
Let me tell you about the changes.  I am SO excited about this!  Starting in October, we're going to be offering a lot more content.  We have several Contributors who will be sharing a post with our readers once or twice a month.  Recipes, round-ups, baking tips and tutorials, and I'm trying to round up some travel articles and blogging tips as well.  Have something like that to contribute?  Let me know here.  What it means for you is more good stuff to read, all in one place.  I will be introducing all of the All She Cooks Contributors soon, and I'm really thrilled that you're going to get to meet them.  So stay tuned!
Ready to get your meal plan on?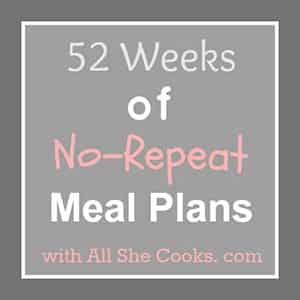 Easy Dinner Ideas:
Mediterranean Southwest Stuffed Chicken Breast
Slow Cooker Beef and Cabbage Casserole
Sweet Potato Cauliflower Soup with Salad and Garlic Bread
Spicy Turkey Sausage Chili with Cheese Tortillini
Quick Lunch Ideas:
Black Bean Soup
 Grilled Cheese with Bacon, Avocado and Ham
Fun Desserts and Snacks:
 Zucchini Coconut Chocolate Chip Cookies
Delicious Breakfast Ideas:
Peanut Butter Chocolate Chip Muffins
Blueberry Parfaits
The following two tabs change content below.
Latest posts by Jessica McCoy (see all)