Thanks for joining us for
Week #24 of 52 Weeks of No-Repeat Meal Plans.
Are you a blogger?  Did you know that All She Cooks is now working with contributors?  This is a GREAT way to gain more exposure for your blog.  We're looking for bloggers who can contribute recipes, round-ups, baking tips and tutorials, as well as travel articles and blogging tips.  We still have room to add a couple more contributors, so if you're interested let me know here.
What it means for you is more good stuff to read, all in one place. I will be introducing all of the All She Cooks Contributors soon, and I'm really thrilled that you're going to get to meet them. So stay tuned!
Ready to get your meal plan on?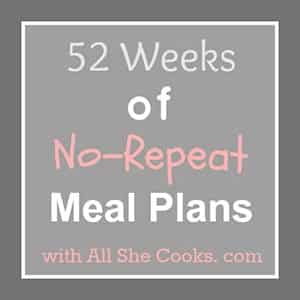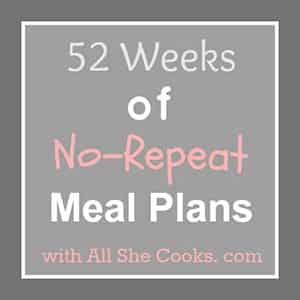 Easy Dinner Ideas:
Pumpkin Panchetta Ravioli with Sage Cream Sauce
Crockpot Lamb Shanks with Homemade Pappardelle Recipe
Country Fried Steaks with White Gravy
Quick Lunch Ideas:
Nutty Blue Cheese Apple and Parsnip Soup
Fun Desserts and Snacks:
Strawberry Lemon Angel Food Trifle
Delicious Breakfast Ideas:
Bacon, Veggie, and Cheese Crustless Quiche
4-Ingredient Poblano Bacon Cheesy Bread
The following two tabs change content below.
Latest posts by Jessica McCoy (see all)