Last week I wrote a blog post about How to Monetize Your Blog Effectively.  In that post, I touched on a few ad networks, ways to monetize with affiliate ads, and mentioned that a good way to make money with your blog is to offer a product or service.
What I didn't talk about was advertising and back-filling ads.
While I touched on ad networks as a form of advertising, I didn't mention the possibility of selling ad space to individuals or businesses on a monthly or yearly basis. Many blogs offer ad space for purchase to other bloggers, Etsy shops, or other businesses. The monthly rates for these ads vary widely, and are based on many things including reach and monthly page views. Ad rates can be as low as free for a newer blog to hundreds or even thousands of dollars.
All She Cooks Now Offering Ad Space for Bloggers and Small Business
We decided to use Passionfruit Ads to offer a few bloggers and/or small businesses an opportunity to advertise on All She Cooks for less than our CPM rate.  We did this a while back and it worked really good.  This time we decided to clean it up a bit, offer only two types of ads, and a very limited number of spots. These ads will run directly under the spot on our side-bar that says Advertise Here.
The result?  Our advertisers will retain higher visibility, our site will maintain a clean appearance, and we think everyone will be happy.
Here are the spots that we have available.  Want to be on our side-bar?  We'd love to have you!  You can purchase one month, or multiple months at the same time.
Back-Filling Ads
All She Cooks is currently using a few ad networks to earn revenue.  Why?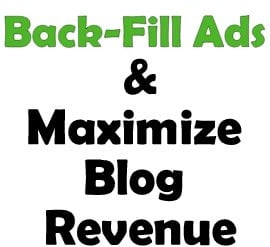 The reason is simple: to maximize revenue.  We took a look at what our Google Adsense Revenue was and determined we could do better if we worked with ad networks who could offer us more than we were making with Adsense.
The problem with that is that our ad networks are not able to fill 100% of the ads.  We back-fill these ads with Adsense.
The great thing about back-filling ads is that you don't have to be a technical genius.  As long as you know where to find the Adsense code(or other ad network code) to insert into your blog, you know how to find the code to insert as your back-fill ad source.
Here is what we are using on All She Cooks as of this post (and this is subject to change once we move off the wait list for BlogHer Publishing and as we continue to work to maximize our ad revenue):
Pulsepoint Ads– We have PulsePoint set as our primary ad network right now.  The other ad networks we use are back-fills to PulsePoint.  We are able to set our CPM and sell ad space for what we want to sell it for.  Keep in mind the higher you set it, the lower your fill rate might be, so it is best to play around with your CPM amount to maximize revenue.  Test it, adjust it, and watch it. You can also set a lower rate (set above your average Adsense rate) that Pulsepoint will try to fill at before they turn to your back-fill ad sources.  We've only been using Pulsepoint for a short time, but so far they are filling our ads at about 14% for our requested CPM.  At 14%, they are bringing in more that Adsense most days, and more than the next ad network I'll mention.  (Update 7/14/13- Pulsepoint is consistently filling 25-23% of our ads.)
Sonobi Media– (Updated 7/14/13)- We did not have a great experience with Sonobi Media.  While they did fill about 30% of my ads, the rate they paid us was not enough to even bother with them.
Google Adsense– This is our #1 back-fill ad network.  Some days I wish it was our primary, but our rates fluctuate so much that it averages out to work out best as a back-fill.
What ad networks are you using?  Have you found a network that offers a high CPM?  We'd all love to hear about it!
The following two tabs change content below.
Latest posts by Jessica McCoy (see all)