These Almond Poppy Seed Waffles with Very Berry Syrup taste melt-in-your-mouth fabulous and are super fast to make, thanks to the waffle mix I made earlier in the week.  Fast and easy breakfasts are the best when you're in a crunch getting kids out the door to school in the morning.  At the same time, there is nothing quite like a hot breakfast!
Almond Poppy Seed Waffles
Come and get 'em!
I whipped these waffles up this weekend and paired them with Oven-Fried Bacon.  Would you believe that even after I was done cooking breakfast I still had it in me to create a fantastic Carrot Cake with Cream Cheese Frosting?
Yeah… I took a break in there and made an easy dinner.  Well, actually I made the cake while telling my husband how to make the Easy Enchilada Casserole that our kids devoured earlier in the week while he was away on business.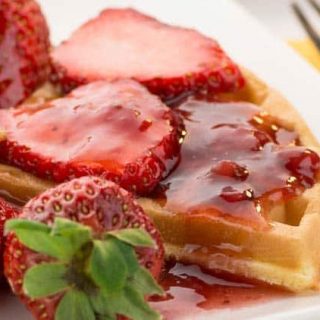 Almond Poppy Seed Waffles
Ingredients
2 cups and 2 teaspoons Make Ahead Waffle Mix
1 3/4 cups milk
1/2 cup vegetable oil
1 cup applesauce
1 teaspoon almond extract
2 tablespoons poppy seeds
Instructions
Whisk together wet ingredients and then stir dry waffle mix into the wet ingredients. When they are mixed together smoothly, add poppy seeds.
Heat waffle iron and cook per waffle iron instructions.
Save
Save
Save
Save
Save
Save