Christmas is getting closer and that means one thing, time to start planning on what to feed people!  These Apricot and Almond Stars are sure to hit the spot for your guests.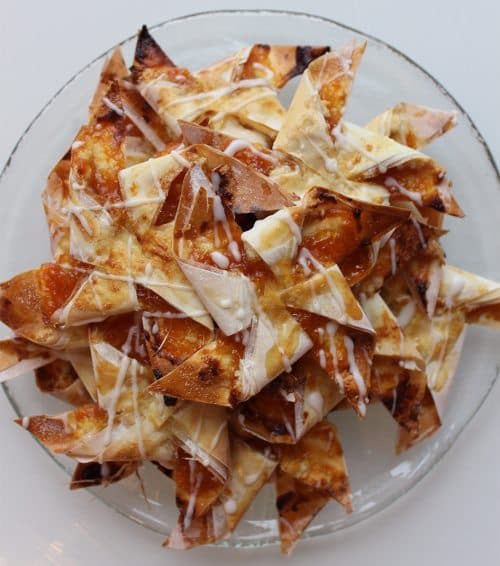 Over at Slow The Cook Down, I've been busy prepping recipes for Christmas, in fact it has been Christmas in my kitchen since 1st November!  When Jessica asked me to write a guest blog for a recipe in December, I had to opt for these adorable filo pastry stars with almond paste and homemade apricot jam.  They will perfectly fit in to any Christmas feast!
They are deliciously light and flakey and the sweetness of the almond paste and icing balance out any tartness of the apricot jam.  You won't be able to stop at one!
Take your time putting the stars together, give them a bit of care and love.  They will be good for 3-5 days if kept in an air tight container, meaning you can make them ahead of time.
Enjoy with a mug of warm mulled wine and great company.  I hope these Apricot and Almond Stars make it on to your Christmas recipe list! If you are looking for other ideas for Christmas, check out my Roasted Potatoes with Garlic, Herbs and Parmesan or Cranberry Sauce with port and Orange.
Print
Apricot and Almond Stars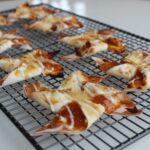 Ingredients
Two 411g tins of apricot halves (drained)
100g caster sugar
100ml cold water
1 cinnamon stick
150g ground almonds
25g caster sugar
25g icing sugar
couple of drops of vanilla extract
2 beaten eggs
6 sheets of filo pastry
Icing to decorate
Instructions
Add the apricot halves, 100g caster sugar, water and cinnamon stick to a saucepan and bring to the boil. Let it simmer for around 20minutes, stirring occasionally until the apricots have softened and the jam is thickened. Push through a fine sieve and put in the fridge until needed.
In a bowl, mix the almonds, rest of the sugar, icing sugar, vanilla extract and 1 beaten egg together until you have a stiff paste. Leave to one side.
Lay a piece of filo on to a work surface and brush with a little beaten egg. Lay another sheet on top and repeat again so that you have three layers of pastry. Repeat with the other three layers.
Cut the sheets into pieces measuring 10cm squared.
Pre heat the oven to 160º.
Using a sharp knife, make diagonal cuts from each corner of the square towards the middle. Don't let the cuts join in the middle, you want to cut about 3/4 of the way to the middle.
Using a knife, gently spread some of the almond mix on to the triangles you have cut and top with a dollop of jam.
Fold the right side of each triangle into the centre of the square to create the star shape, using a little beaten egg to secure the points. Repeat until you have made all of your stars. Brush with a little beaten egg.
Put the stars on to a baking sheet and put in the oven for around 10-15 mins until the pastry is crispy
When baked, let the stars rest on a cooling rack. When completely cool, finish off with a drizzle of icing

The following two tabs change content below.
Latest posts by Betty Davies (see all)