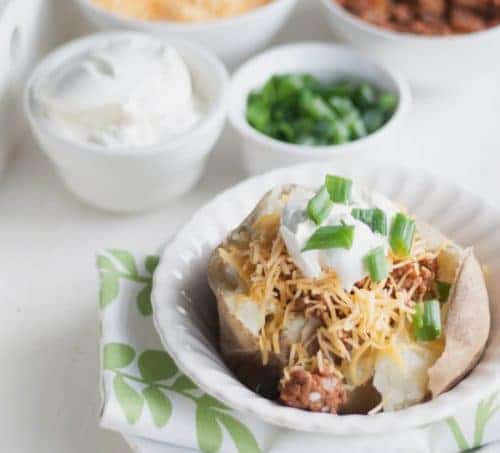 Baked potatoes make a great side to many dishes.  We've all had them at restaurants alongside a steak, fish, or chicken entree.  It's the standard side for a sit down meal out.  But why not make it a meal?
Our serving sizes are so extraordinarily large.  Why not make a meal out of a side?  Really, if you've seen the size of baking potatoes, you know that they are more than plenty for an entree.
I like to serve a baked potato bar with what I have on hand, because who needs to spend more at the grocery store?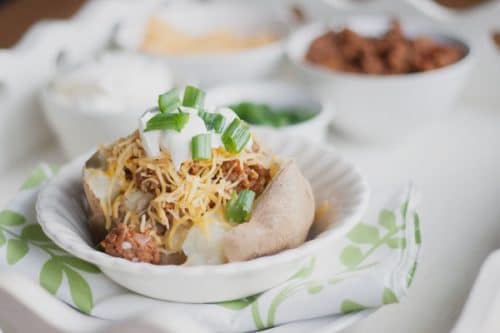 For my baked potato bar this week: shredded cheese, sour cream, green onions, and leftover Sloppy Joe meat.  It was sloppin' good!
But you know what?  Use what you have.  Taco meat is awesome, maybe with some salsa.  Ham, broccoli, chili, bacon.  The possibilities are limitless.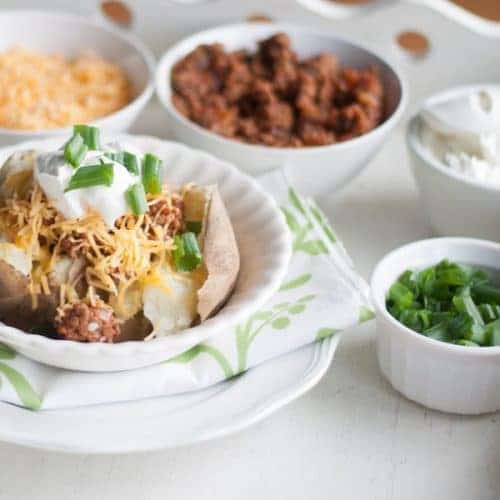 How to Cook Baked Potatos
If you're in a time crunch, you can always wash the potatoes, pierce them, and throw them in the microwave.  Most microwaves even come equipped with a tidy little button that says 'Baked Potato'.  Can't get easier than that.
Cooking a baked potato in the oven is my personal preference, but honestly, if I'm making one for lunch I just toss it in the microwave.
To bake a potato in the oven, preheat your oven to 400 degrees and bake it for 1- 1 and 1/2 hours.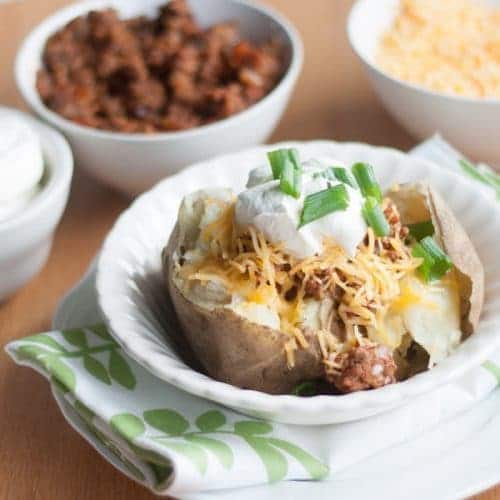 Now, some people wrap their baked potatoes in foil before they put them in the oven, and that is something you can do.  Wrapping the potato in foil works to steam the potato though, and I prefer a crunchy peel and the fluff the potato gets when put on the oven rack naked.  No need to dress it up in foil… unless you just want to.
Want to make your potato nice and fluffy?  You know, how they look when you get one at a restaurant?  All you've got to to is squeeze the sides and kind of mush it together.  When you do this, you'll open up the potato and it will be fluffed up a bit.
How to add toppings is a personal preference.  My husband likes to put all his toppings on and then mash everything up inside.  I prefer to pile on the toppings and pick and choose what I want to put in each bite.  Do what you like- that's the beauty of having a variety of toppings to choose from!
The following two tabs change content below.
Latest posts by Jessica McCoy (see all)