Blackberry and Pistachios Cake Squares
Are you ready to serve up a delicious dessert recipe that is both unexpected and exciting? The combination of blackberries and pistachios in this cake recipe is an amazing meld of flavors that you'll want to make again.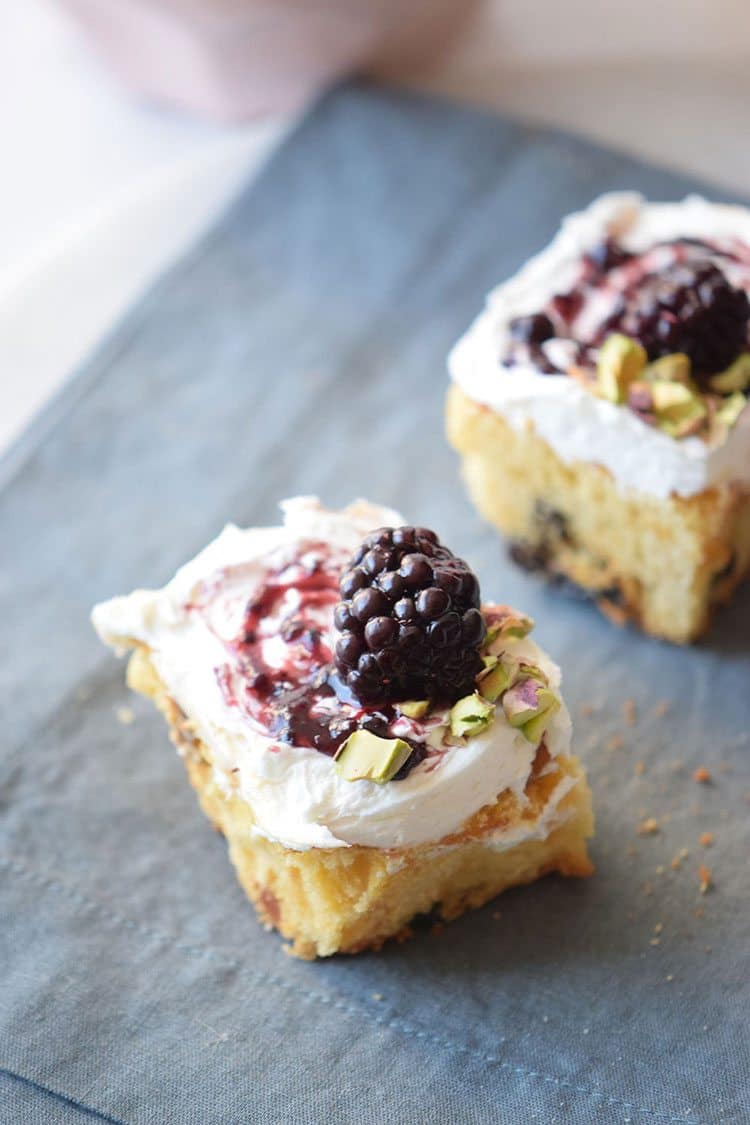 Whenever we make a cake squares, we like to make sure we're lining our favorite cake pan with parchment paper or baking pan liner. These make removing the cake from the pan super easy, and then we are able to cut the cake into the perfect cake squares.
We also love to keep a lot of cloth napkins around the house–both for photographing our recipes and for serving alongside snacks. We've also started using them as place mats for a large serving tray that we use frequently.
And for those of you interested in taking food photos, we use a Canon EOS T6i and think it works perfectly for our needs.
We also just got a refurbished Canon for our daughter for Christmas, since she wants to be a photographer. Probably not a food photographer, but you can bet that we'll be asking her to help out from time to time. What a great way to get some experience!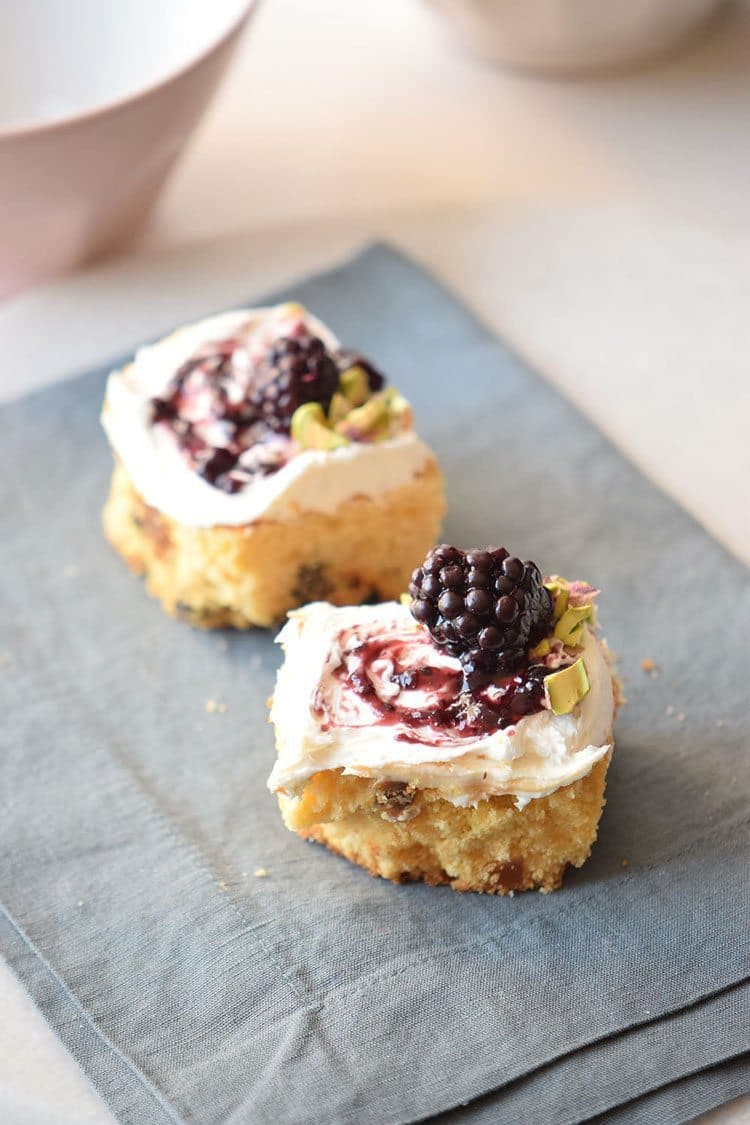 If you're looking for other sweet treats like these, you might like this Blueberry Funfetti Skillet Cake, Cheesecake Pudding,  or our Cool Strawberry Whipped Dessert.
We're talking about desserts that are easy to make and even easier to eat. Aren't those the best kind?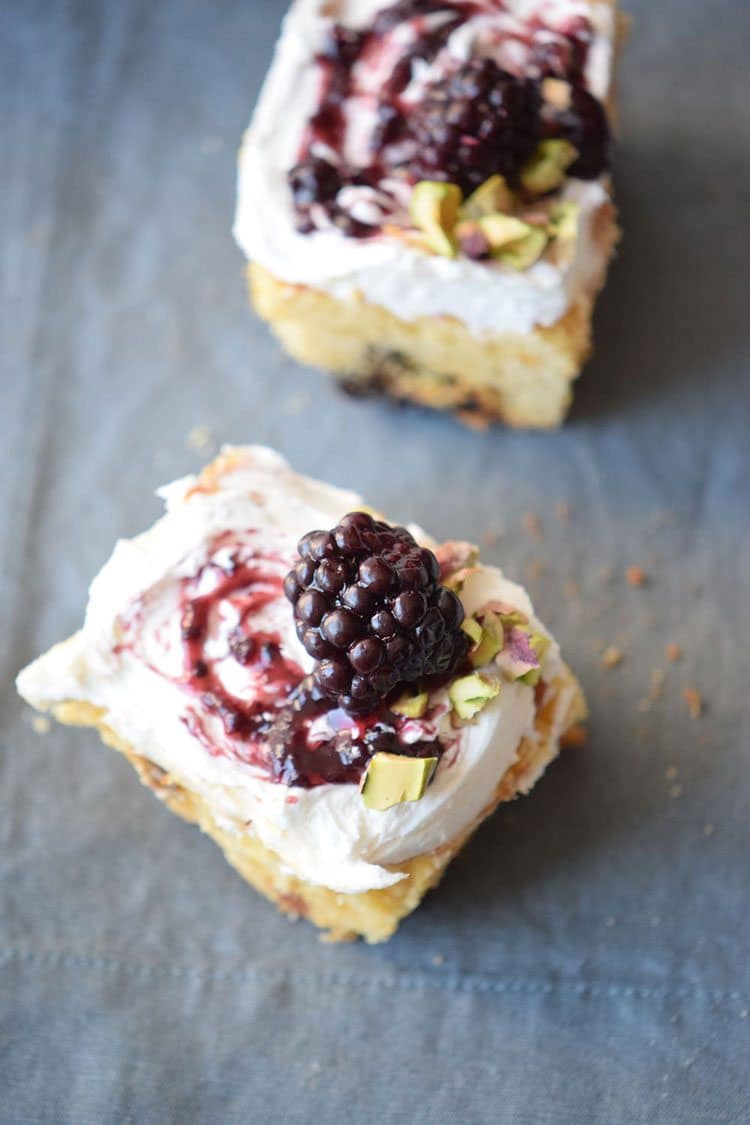 You'll love how easy these cake squares are to whip up. You'll also love how well received they are by everyone who tastes them. If you're looking for a winning dessert to add to your recipe box, this one definitely should make the cut.
Go preheat the oven and get ready to bake. Yum!
Print
Blackberry and Pistachios Cake Squares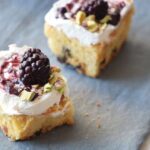 Ingredients
For the Cake Squares:
1 1/2 cups flour
1/2 cup sugar
1 1/2 teaspoons baking powder
3/4 cups butter
2 eggs
1/2 cup milk
1 teaspoon vanilla extract
2 teaspoons ground cinnamon
1/8 cup crushed pistachios
For the Topping:
Whipped cream
1/4 cup blackberries
1/8 cup crushed pistachios
Instructions
Preheat oven to 350°F.
In a bowl mix the eggs, cinnamon, sugar, and butter.
Add the milk, and while mixing incorporate the flour. Mix for 5 minutes.
Add the baking powder, pistachios, and vanilla. And mix until well incorporated and no lumps are left.
Take to the and bake for 30-40 minutes or until done.
Remove from the oven and let it cool down for 1o minutes.
Cut into squares, and then top with the whipped cream, blackberries, and pistachios.
Tips
Incorporate some blackberries into the mix.

The following two tabs change content below.
Latest posts by Jessica McCoy (see all)