Broccoli Chicken Swiss Cheese Casserole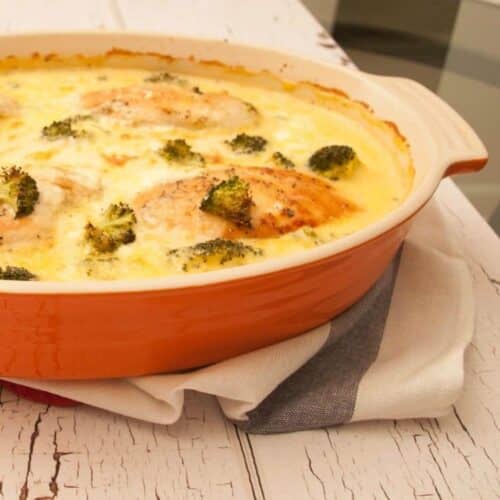 Broccoli chicken casserole recipes are very popular. Just 'Google it' and you will see what I mean! This broccoli chicken casserole is a family favorite, an easy to make dish that can be quickly put together with about 20 minutes prep time and baked in about 45 minutes. So in just one hour you can feed 4-6 really hungry people or have wonderful leftovers for lunches all week!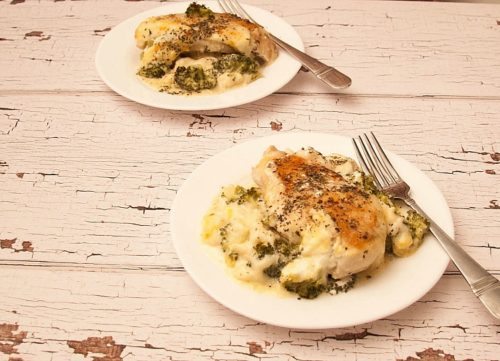 I find it's a quick and easy dish to put together on a weekend and then freeze in single portions. Just nuke and serve, add a salad and fresh bread and you've got a delicious and economical meal.
Chicken is always on sale somewhere, so I typically have some chicken breasts in the freezer. Canned 'cream of' soups are a staple in my pantry, ready to step up and help to pull a quick and easy meal together.
Swiss cheese gives the dish a light nutty flavor, it really pulls the entire dish together.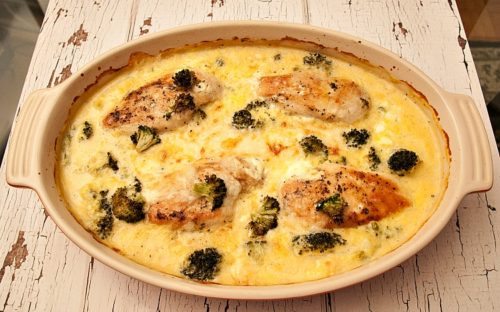 I cut the cheese into small cubes so that it will be evenly mixed with the chicken and broccoli making this Broccoli, Chicken Swiss Cheese Casserole the cheesiest!
Finding different and flavorful ways to cook chicken can be a challenge, especially if you have some picky eaters. I was lucky in that my daughter really loved broccoli, so it was finding different ways to include broccoli in our meals!
Brown the chicken breasts until golden on both sides in a cast iron skillet. Have you used a cast iron skillet yet? If not, I really recommend getting one. They require a different type of cleaning and curing – but once you get the idea, a cast iron skillet will be in your pantry forever, it will never wear out!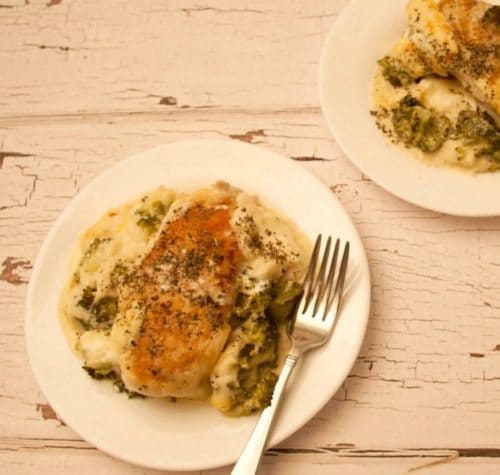 Mix up the cream of broccoli soup, the sour cream and melted butter – whisking until well blended.
Then mix in the Swiss cheese.
Place the browned chicken in your casserole dish. Top with chopped broccoli – but keep a half cup of broccoli aside.
Pour the sour cream/cheese mixture over all, and then top with some sprigs of broccoli – this is just for a visual – the green broccoli really looks delicious when its sitting up on top of the casserole.
And voila – a Broccoli Chicken Swiss Cheese Casserole, worthy of a glass of white wine or two!
For another really great chicken recipe, please see my Easy Chicken Pot Pie Recipe that uses a special ingredient to make prep time so quick and easy!
Print
Broccoli Chicken Swiss Cheese Casserole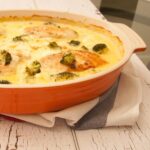 Ingredients
4 large skinless boneless chicken breasts
4 cups of fresh washed and chopped broccoli (mostly florets)
1 can of Cream of Broccoli Soup
1 cup of Sour Cream
1/2 cup of water
1/4 cup of White Wine or Cooking Wine
1 cup of Sliced Mushrooms
1 lb/500 g of swiss cheese (choose a block, not slices)
Salt and Pepper to taste
Instructions
Using a cast iron skillet, sautee the chicken breasts in olive oil until golden brown on both sides and set aside
Using the skillet again, sautee the mushrooms and set these aside
In a large mixing bowl combine the soup, sour cream, water and wine, mixing until smooth and creamy
Cut the swiss cheese into small 1″ cubes (approximately)
Set aside 1/2 cup of swiss cheese cubes
Mix the cheese into the sour cream/soup mixture
Place the chicken breasts in the bottom of your greased casserole
Next put the broccoli on top and fill out the gaps, keeping a cup of broccoli florets for the top
Add Salt and Pepper (optional)
Pour the soup mixture over the chicken and broccoli, covering everything well
Top with the remaining broccoli florets and swiss cheese
Bake at 375F/xxxxC for 45 to 60 minutes – depending on your oven
Check casserole at the 45 minute mark, increase time if necessary
Casserole is done when it bubbles, and has a light golden color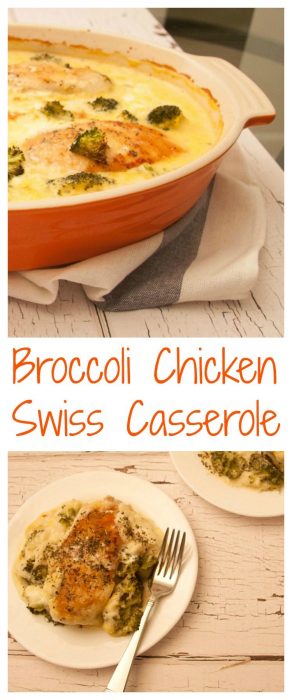 The following two tabs change content below.
I love to bake & create easy recipes that will turn novice bakers into rockstars! A full time administrator, writer, food blogger, mom and grandma, Perfect Pies and Pastry lets my creativity shine.
Latest posts by Judy Kahansky (see all)