Earlier this week, we had the opportunity to go see Cabaret at the Overture Center for the Arts in Madison, Wisconsin. Direct from Broadway, the acclaimed masterpiece returns to Madison! As part of their 50th Anniversary Season, the critically acclaimed and award-winning Roundabout Theatre Company is proud to present Sam Mendes (Skyfall, American Beauty) and Rob Marshall's (Into the Woods and Chicago, the films) Tony Award®-winning production of Cabaret.
Our take? It's a must see!
Because everything is better at the Cabaret, right? This show is full of singing, masterful instrumentals (hello, sweet saxophone!) and comedic acting that will engage play-goers all night long. Grab a cocktail, take your seat, and settle in for an amazing ride.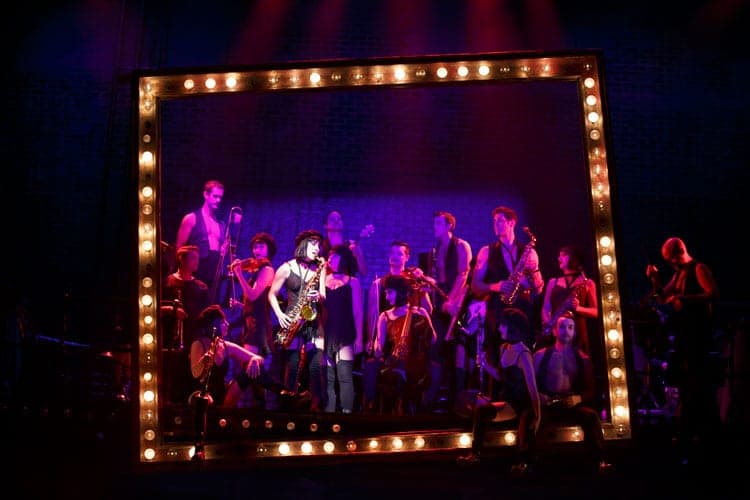 "Five stars! WILLKOMMEN HOME. A Broadway jewel returns in all its glittering glory."
–Time Out New York
 "Truly unmissable! Even if you saw it last time, you are strongly advised – no, URGED – to return."
–USA Today
 "Sam Mendes & Rob Marshall's production is thrilling!" – Hollywood Reporter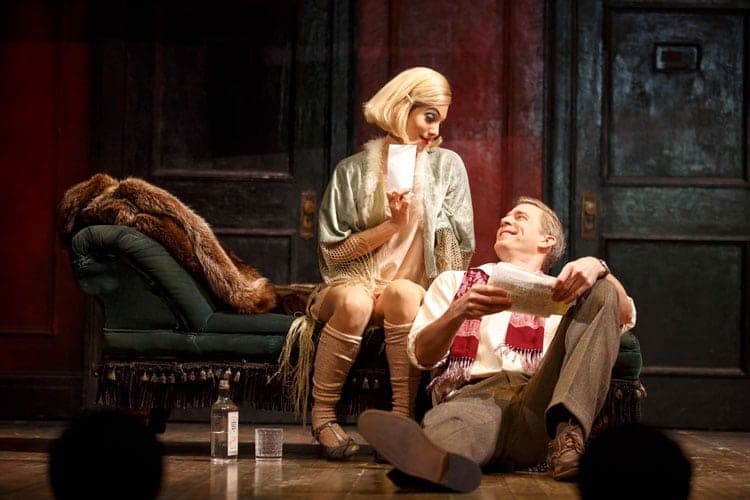 Welcome to the infamous Kit Kat Klub, where the Emcee, Sally Bowles and a raucous ensemble take the stage nightly to tantalize the crowd—and to leave their troubles outside. But as life in pre-WWII Germany grows more and more uncertain, will the decadent allure of Berlin nightlife be enough to get them through their dangerous times?
Come hear some of the most memorable songs in theatre history, including "Cabaret," "Willkommen" and "Maybe This Time." Leave your troubles outside—life is beautiful at Cabaret, John Kander, Fred Ebb and Joe Masteroff's Tony Award®-winning musical about following your heart while the world loses its way.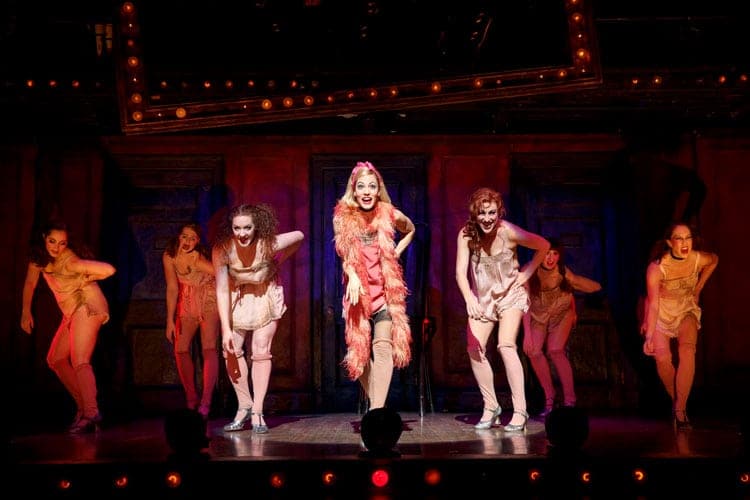 We had a Q & A with KELSEY BECKERT (Swing). National Tour: Seven Brides… (Liza, Milly u/s). Regional: Oklahoma! (Laurey u/s), Do Black… Reflect Up? (Nancy). Dedicated to family, friends, teachers, casting, and Eddie at Take 3 who have helped make this dream come true. Montclair State University BFA. www.kelseybeckert.com
1- What got you into musical theater? What path did you take to meet your goals (community theater, high school, college, etc.)?
I know it sounds cliché, but I've been singing and dancing for as long as I can remember. My earliest memories consist of me dancing in the aisles to the music at church on Sunday mornings. (I have very supportive parents.) When I was 7, I took that enthusiasm and started competitively Irish Dancing. Due to the intense training and travel schedule that the competition world brings, Irish Dance quickly took priority in my life for the next ten years. However, I never lost sight of musical theatre. I was in all of the musicals at school, took private clarinet, voice, and acting lessons, and also participated in summer theatre camps in my hometown of West Chester, Pennsylvania. When it came time to decide on a major for college, my priorities shifted a bit. I knew that there was a very limited professional future linked to Irish Dance so I started to focus more and more on musical theatre. I attended Montclair State University in Montclair, NJ and graduated with a BFA in Musical Theatre in 2012. I believe that my passion for being on stage and a strong work ethic have gotten me to where I am today. It's been an exciting journey so far and I'm looking forward to the rest of it!
2- Being in a traveling show brings you to new areas constantly. How do you settle in to each new location?
It's crazy how quickly a week can fly by on the road! I always try my best to research the city we're going to next before we get there. I love to see where the local yoga studios are, what restaurants are nearby, and the tourist attractions I might like to see. When I arrive in a new city, my first priority is to go grocery shopping! It might sound silly but tour is a little homier when you can cook for yourself! Also, I always reach out to family and friends I know living in the various cities. My favorite part of tour is seeing loved ones on the road.
3- What's your favorite part of this particular show?
This particular show is so unique because all of the ensemble members play their own instruments as part of the Kit Kat Klub orchestra. It is one of the most humbling and rewarding experiences to come together with 15 former band geeks every night to produce a beautiful sound. Most of us come from a musical theatre background so this has challenged and bonded all of us in a new way. Everyone's dedication and growth to this aspect of the show is nothing short of magical.
4- Give us a little background on what it takes for a show to come together from casting to tour time? Are you constantly rehearsing even while in production?
"Cabaret" was cast in the summer of 2015 and rehearsals started that December for three weeks in New York City. For the ensemble, our mornings consisted of "band camp", where all the cast members who play instruments would work on music with our music supervisor. In the afternoons, the ladies would go learn choreography and the men would continue to work on music since they play the most in the show. We had tech rehearsals for a week in Providence, RI in January and then we were open! You would think that our rehearsal days were over, but in fact they had nearly begun! Once a week we have a day dedicated to what is called "understudy rehearsal" where all the understudies and swings have the opportunity to rehearse the show on stage with props. Another day is used for "music sectionals" for either the woodwinds, brass, or strings, depending on the week. Every now and then the ensemble will be called in for a "dance brush up" rehearsal with our dance captain who makes sure all of our dance numbers are as clean and sharp as possible. When our director visits, our principles are called for rehearsals to work on the scene work in the show. Also, if we receive a new cast member, there are plenty of rehearsals for them to make sure they are ready to be integrated into the show. Then we have what is called a "put in" which is where the new cast member does their show with full ensemble, principles, lights, costumes, hair, and makeup. They definitely keep us busy on the road!
The following two tabs change content below.
Latest posts by Jessica McCoy (see all)