Cabbage Soup Diet Recipe Plan
I remember a version of this recipe from when I was a kid. Cabbage soup for weight loss. It was a recipe that my mom cooked up and my dad ate off of for days.
So, of course when I decided to try to eat some low-calorie meals, like banana smoothies and my egg white scramble (which is my new favorite breakfast) in an attempt to get back into my jeans from last year--I thought of 7 day cabbage diet soup.
Now of course (in my humble opinion), if you're going to go all out on the Cabbage Soup Diet, you might want to shake things up a bit and try some of the other real foods soups. I was thrilled to see that someone has come up with a 28-Day Soup Diet Cookbook that does just that! Don't get me wrong--cabbage soup is the bomb dot com, but I don't want to eat anything for 28 days straight!
Make Ahead Meals for Freezer
Now, to be real, I only at this for a few days, and didn't follow the classic 7 day cabbage diet, where you basically only eat this soup. But, I also made enough of this recipe to freeze some, because having some low-calorie lunches on hand is at the top of my list.
Between this soup and all the healthy smoothies I've been whipping up in my Ninja Master Prep smoothie maker blender, I'm definitely on the road to healthy living.
Recipe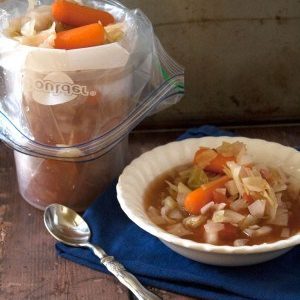 Cabbage Soup Diet Recipe Plan
This cabbage soup is the perfect easy diet soup!
Ingredients
Instructions
Combine all ingredients and cook for one hour. Divide into 3-4 bagged portions. I use freezer bags and double bag those for my freezer cooking meals.

To cook freezer meal- defrost in refrigerator overnight. Heat on stovetop until warmed through, or cook in individual portions in microwave.

Enjoy!
Nutrition
Calories:
138
kcal
Carbohydrates:
32
g
Protein:
7
g
Fat:
1
g
Saturated Fat:
1
g
Cholesterol:
1
mg
Sodium:
1889
mg
Potassium:
1006
mg
Fiber:
10
g
Sugar:
17
g
Vitamin A:
1255
IU
Vitamin C:
100
mg
Calcium:
200
mg
Iron:
3
mg