This candied pecan pear salad recipe is perfect for fall. It is  paired with a homemade balsamic vinaigrette dressing that brings all the flavors together in every bite. 
Best Candied Pecan Pear Salad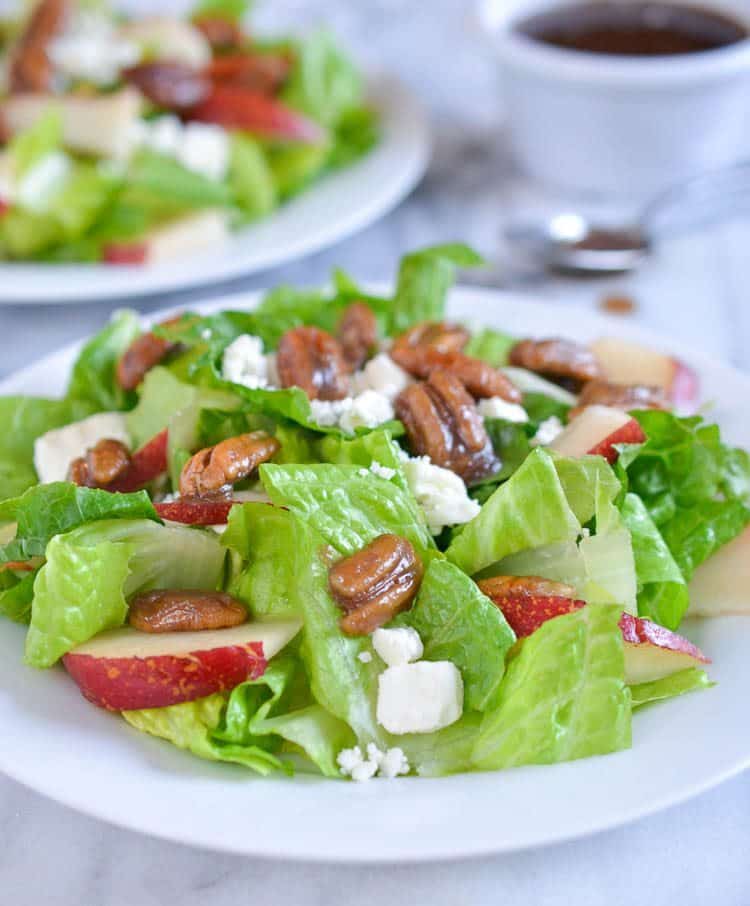 Can you believe it is fall?
Actually, in a couple more weeks we will be a month into fall.
It is hard to believe fall is here already because here in Virginia one day it is cool and the next day it is hot. I guess summer does not want to officially leave us.
Guess what? I am not mad one bit. I will take the nice weather as long as I can.
However, one thing I do know is that fall fruits and vegetables have made have made their grand entrance.
Pumpkins, pears, apples and all the other produce that fall brings in has arrived.
I love seeing the pumpkin patches around. Even though fall is here and summer is gone, one thing I do know: we can switch from our summer salads to fall salads.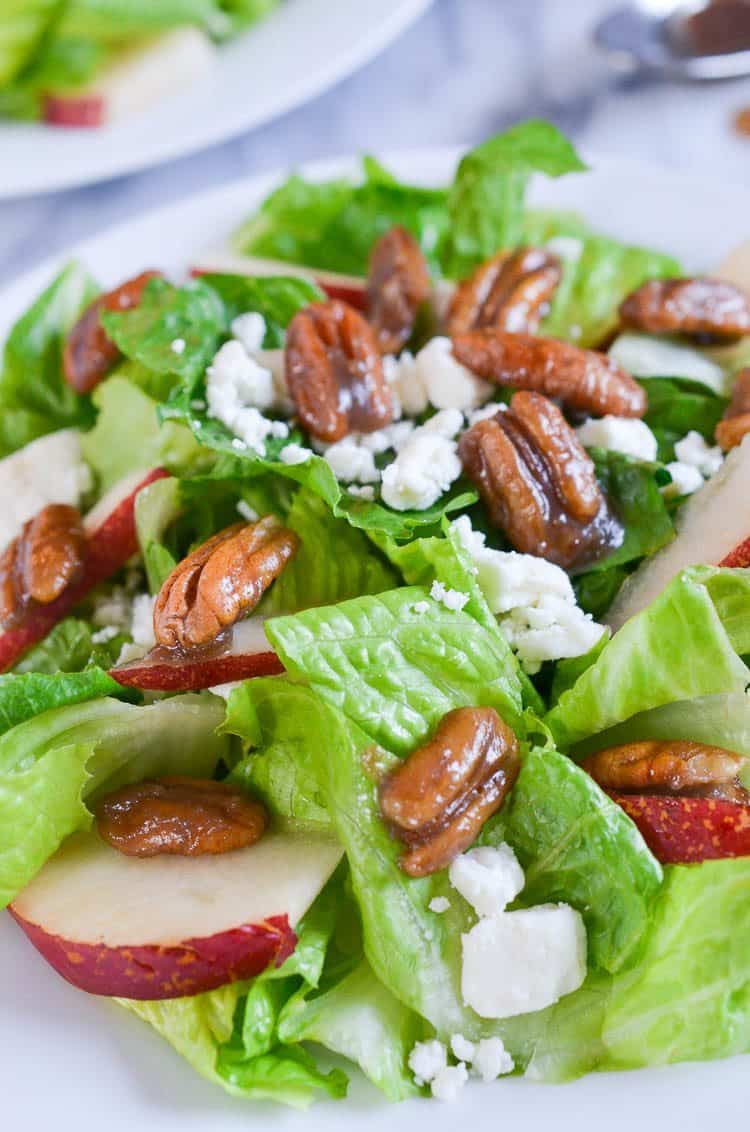 I know salads do not excite many people, but let me tell you: salads are endless.
You can switch them up with the season by incorporating different in seasonal produce like I did here. I love the idea of this because it helps you not get tired of the same ole same ole thing. I do not know about you, but I need variations.
Now that pears are in season, I could not help to get my hands on this sweet and juicy fruit. Once I did I thought, what better way to have it in a refreshing meal than to put it in a salad?
That is exactly what I did with this Candied Pecan Pear Salad with Homemade Balsamic Vinaigrette.
The Salad
I took some pecans and candied them in a skillet. I sliced up the sweet, juicy, pear and then built a delicious seasonal salad with some romaine and feta cheese. Everything is better with cheese right?
The Dressing
As for the balsamic dressing, I whipped it up really quick with everyday pantry staples such as oil, balsamic vinegar, Dijon mustard, a little bit of honey and garlic.
I totally forgot how easy it is to whip up a homemade dressing. I was really thinking to myself, why do I buy dressing in the grocery store?
Oh yeah, the word that gets us every time: CONVENIENCE.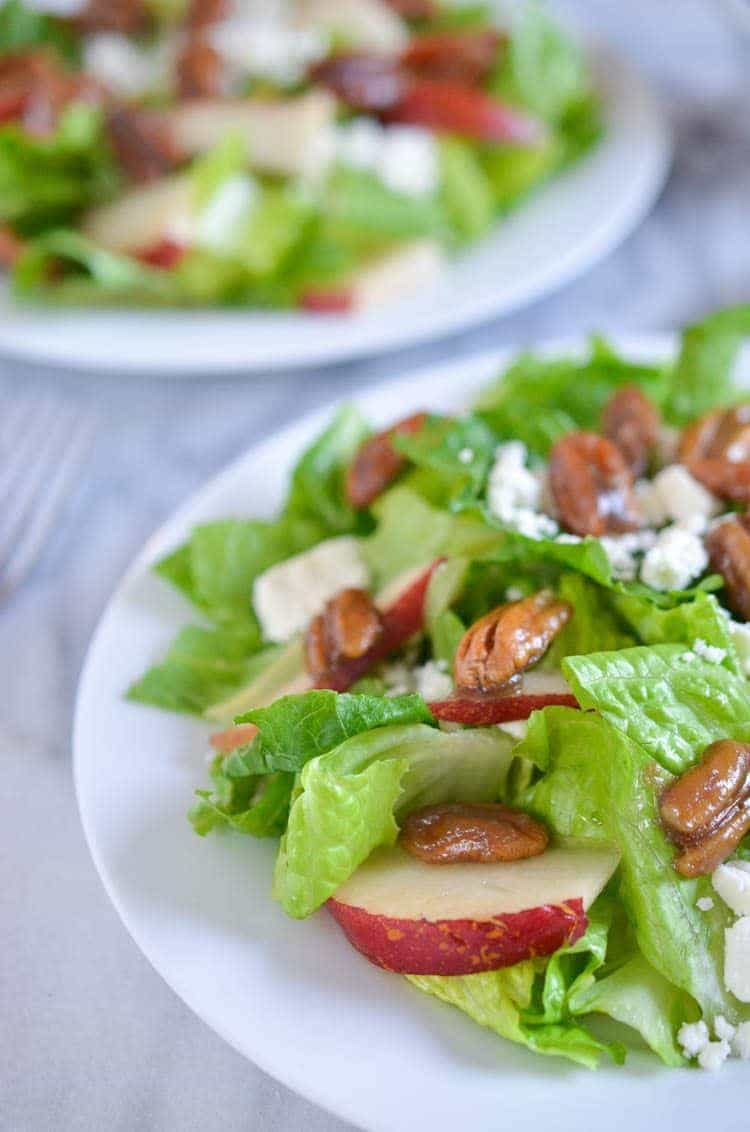 Well, I hope you are convinced that this Candied Pecan Pear Salad is one to add to your to make list asap.
Let me know how it goes and any custom creations you made in the comments below.
Print
Candied Pecan Pear Salad
Ingredients
Candied Pecans
¼ cup butter, unsalted
¼ cup dark brown sugar
Pinch of salt
½ cup of pecans
Homemade Balsamic Vinaigrette
2 garlic cloves, minced
2 tablespoons of balsamic vinegar
1 teaspoon Dijon mustard
½ tablespoon of honey
½ cup of canola oil
Salt and pepper, to taste
Salad
1 head of romaine lettuce, chopped
4 tablespoons of feta cheese
1 Red pear, sliced
Instructions
Candied Pecans
Line a 13×9 cookie sheet with parchment paper.
In a medium sized skillet on low heat( number 2 on my gas stove) whisk butter and brown sugar, about 5 minutes. Once butter and sugar mixture is blended sprinkle with salt and fold in pecans.
Once pecans are fully coated, spread them on the lined cookie sheet to cool. Separate any pecans stuck together with a fork.
Homemade Balsamic Vinaigrette
In a small bowl mix the first 4 ingredients. Slowly pour the oil in the mixture while whisking. Season with salt and pepper.
Salad
Divide Lettuce, feta cheese, candied pecans and sliced pears among two salad plates.
Drizzle with the homemade balsamic vinaigrette.

The following two tabs change content below.
Dionne is a contributor here at All She Cooks. She is the blogger behind Domestic Dee. She makes easy, quick, and flavorful recipes for people who value providing good meals to share with their family. To keep up with her she can be found on Facebook, Pinterest, Instagram, Twitter, and by subscribing to her blog.
Latest posts by Dionne Farmer (see all)