We decided to go all out and make a unique hamburger recipe that combines two classics that we love: prepared pesto and a fresh caprese salad. Sure, you could enjoy the same ole burger recipe you dive into every other weekend...but we thought, why not mix things up and make it better?
While this might not be the fanciest burger you've ever seen, you can sink your teeth into it without having to squish it flat, which wins in our mind.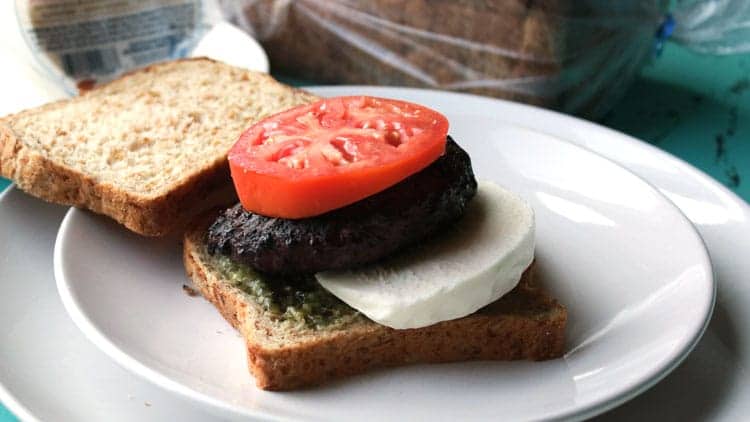 This post is sponsored by our partnership with Festival Foods.
Not only that, but you can serve this tasty Caprese Pesto Burger on a bun, or add a bit of flavor by serving it up on a couple slices of multi-grain bread. We happen to love the Sprouted Seven Grain bread that Festival Foods carries.
Looking for the perfect side dishes to serve with our Caprese Pesto Burgers while keeping up the Caprese theme? You'll love our Caprese Pasta Salad recipe as well as our classic Fresh Caprese Salad.
We also have an absolutely amazing Pesto Cheese Blossom that you'll want to try.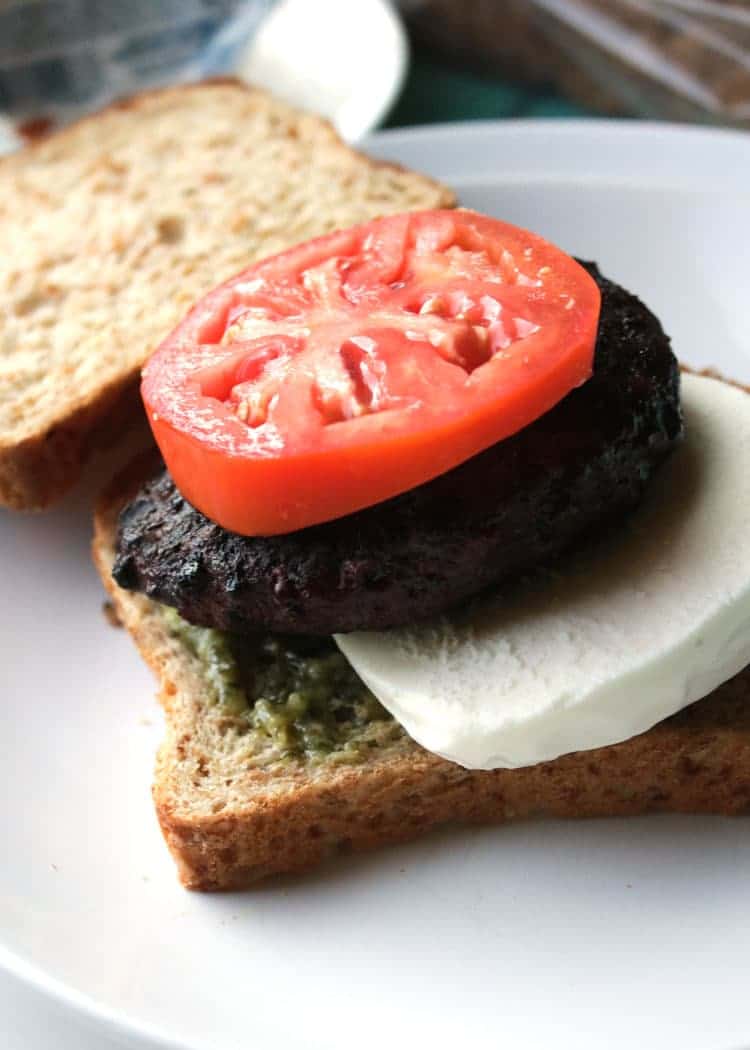 Make Your Own Pesto
If you want to learn how to make your own pesto, pesto ingredients are easily available at Festival Foods. There are several varieties of pesto that you can make, but the most common is made with fresh basil, olive oil and pine nuts.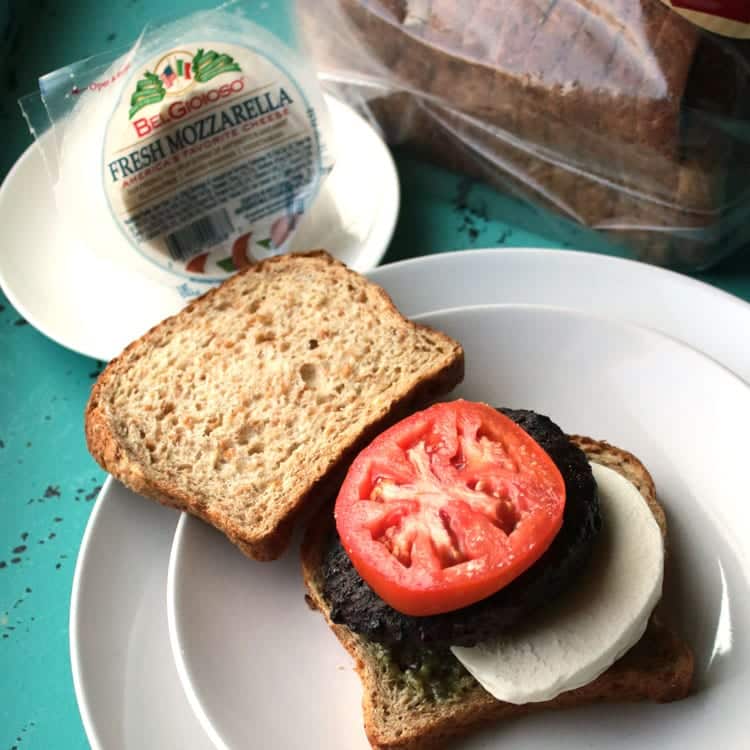 We learned how to make our own pesto several years ago, and surprisingly the first pesto recipe that we created was actually using garlic scapes instead of basil. It was a tasty adventure!
If you're not up to making your own fresh pesto...or if you just don't have enough time...prepared pesto is a great alternative and tastes great. We like to use it on a variety of dishes, like pasta, bruschetta, pizza and more.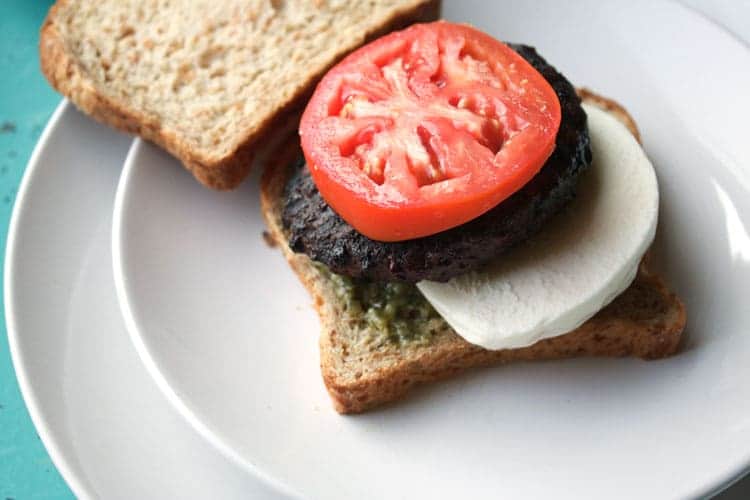 Burger Cheese - Which is the Best?
Everyone has an opinion, but it really all comes down to what kind of burger you're making up. Sure...I like a Mushroom & Swiss as much as the next person, but I'm also fond of a burger with cheddar cheese melted on top of it.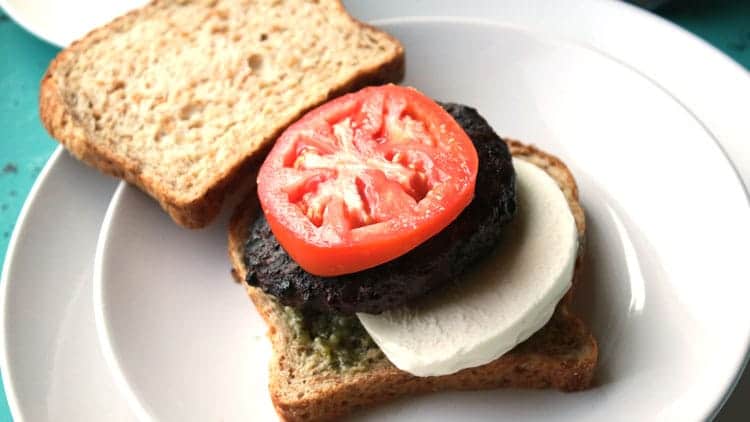 Our Caprese Pesto Burger is different than a classic burger recipe in that we've topped it with pesto, tomatoes and a thick slice of fresh Mozzarella cheese. And we're talking about the traditional kind of Mozzarella cheese made in Wisconsin the old fashioned Italian way. Yes, we love supporting local businesses.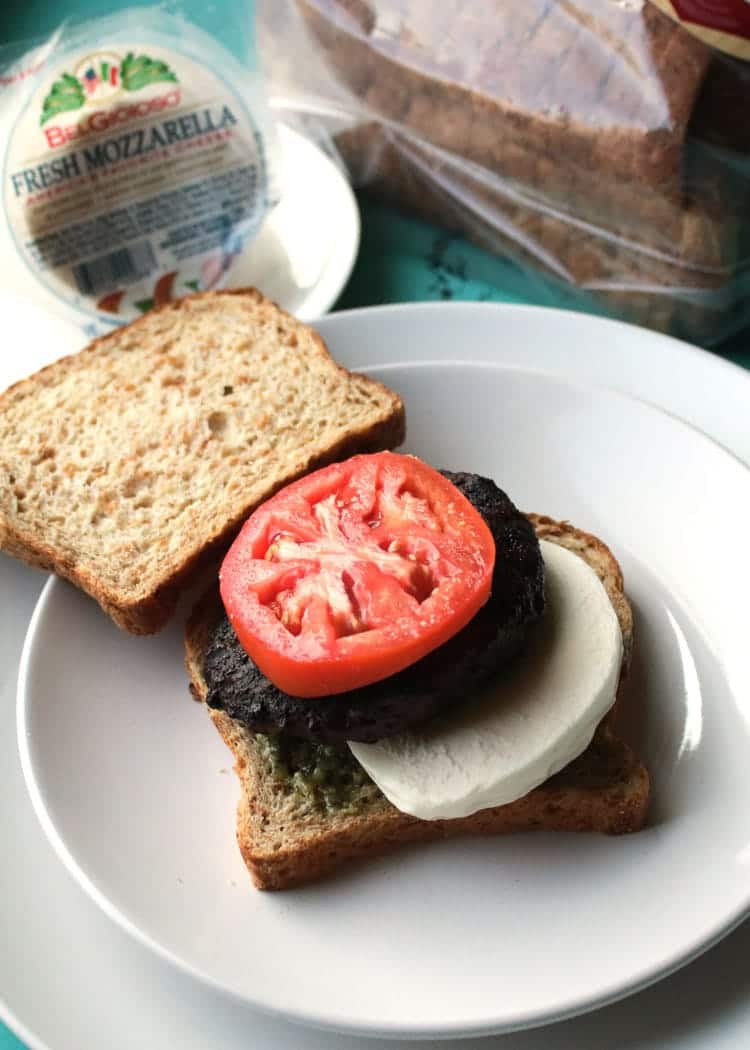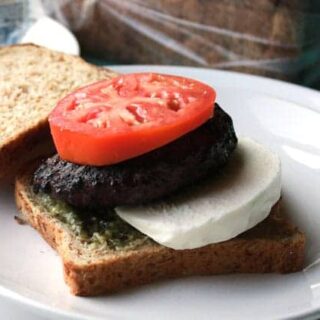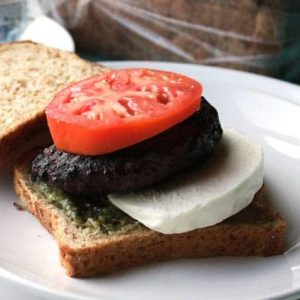 Caprese Pesto Burger Recipe with Prepared Pesto
Tasty Caprese Pesto Burger recipe is easy to make and packed with layers of flavor you'll want to bite into. This weeknight dinner is simple and delicious.
Ingredients
4

hamburger patties

salt and pepper

to taste

¼

cup

pesto sauce

4

hamburger buns

1

tomato

sliced

3

oz

mozzarella cheese

sliced
Instructions
Season burgers with salt and pepper.

Cook burgers on grill on stove top until desired internal temperature has been reached.

Spread pesto over the bun or bread. Top with burger. Add tomato and Mozzarella cheese to the top of the burger and then add the second piece of bread/bun.
Nutrition
Calories:
479
kcal
Carbohydrates:
24
g
Protein:
27
g
Fat:
30
g
Saturated Fat:
11
g
Cholesterol:
78
mg
Sodium:
578
mg
Potassium:
448
mg
Fiber:
2
g
Sugar:
4
g
Vitamin A:
712
IU
Vitamin C:
5
mg
Calcium:
218
mg
Iron:
4
mg