Caramel Apple Hand Pies are a delectable, delicious dessert that's a perfect personal pie for the entire family. These pies are baked in a flaky, buttery pie dough and filled with a cinnamon apple caramel filling.
Caramel Apple Hand Pies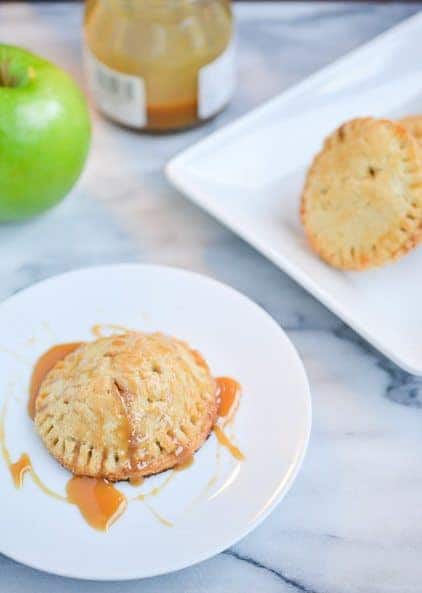 CARAMEL+CINNAMON APPLES+ BUTTERY PIE CRUST= CARAMEL APPLE HAND PIES
When fall hits it seems like you can't go anywhere without seeing Fall-centric desserts. Everywhere you go it is either pear, pumpkin or apple. 
Not too long ago, I was talking to my Grandmother and she even said she had been baking fall desserts to see if she still had it.  She told me how she had baked up a pear pie for the entire family to enjoy. 
Like usual, that thing didn't even make it out of the kitchen, let alone the oven.  It was like a bull-rush, she said.  That's my Grandma for ya.  She is an excellent cook and knows how to get an entire family to the kitchen table…or the kitchen, LOL!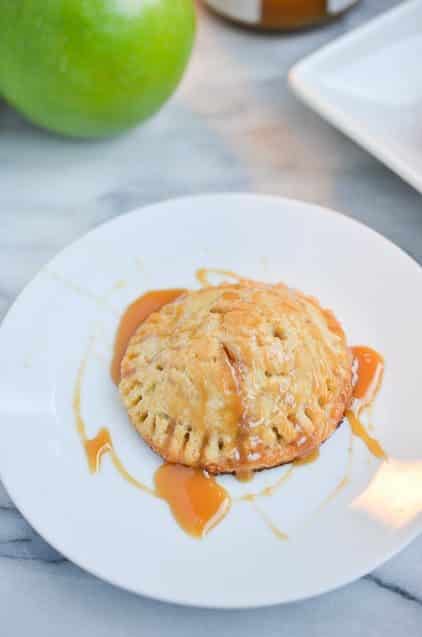 After that conversation, it inspired me to bake a dessert.
I did not have any pears on hand because I had used the last of what I had in this Candied Pecan Pear Salad. But, low and behold, I had some good ole bright vibrant green Granny Smith apples.
So I thought to myself, what could I make with these?  I love pie but I prefer hand pies so I thought Caramel Apple Hand pies.
Yummy.
THE PIE CRUST
I decided to use my grandmother's recipe for the crust because I love the butter goodness it has. Nothing beats a good pie crust. 
The best person in my family to test out pie crust is my silly husband.  He eats more crust than pie.  Do you know anyone in your family who loves to try out pie crust versus the pie?  Wonderful souls aren't they?
THE CINNAMON APPLES
For the apples, I diced up two green granny smith apples into small pieces.  The goal is to get the pieces cut so small that they're equivalent to the size of a piece of corn or pea. 
Luckily, I had those apples left over in the refrigerator from a previous grocery outing.  If they are too large they take longer to cook. That in turn can cause you little tedious issues where sealing the hand pie can be a bit challenging.  Also, if the size proportion isn't accurate the apples may have the tendency to poke out  of the crust, which can lead to ripping your dough.  Not a good thing!   
THE CARAMEL SAUCE
As for the caramel sauce, I used my favorite store brought brand, but feel free to use any kind to your liking.  Also, you are more than welcome to make homemade caramel sauce and replace it in the recipe. 
While making this recipe, I was short for time and needed to execute the necessary steps to avoid any mishaps.  This helped cut time and not corners to get these cute caramel apple hand pies done. If you are like me you want to hurry and indulge in desserts without sacrifices to quality.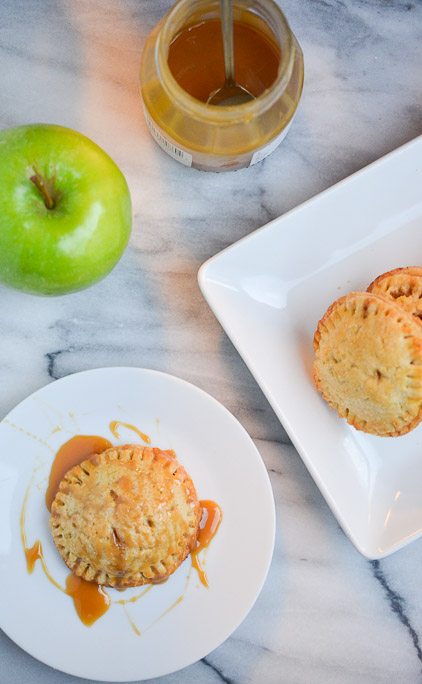 Warning, warning, warning: once these beauties are in the oven, you may get a visit from a heard of random visitors!  LOL! 
No but seriously, the aroma of apple pie goodness will definitely begin to fill your home and heads will be turning.  If you do happen to get any drive-by visits from hungry people, tell them to just hang tight and that dessert will be ready sooner than they can say "Apple Pie!"
Go ahead and carve in your schedule to make these delicious caramel apple hand pies.
Before I go, let me pass along one tip. These are even better with a scoop of ice cream on top  Wooohooo!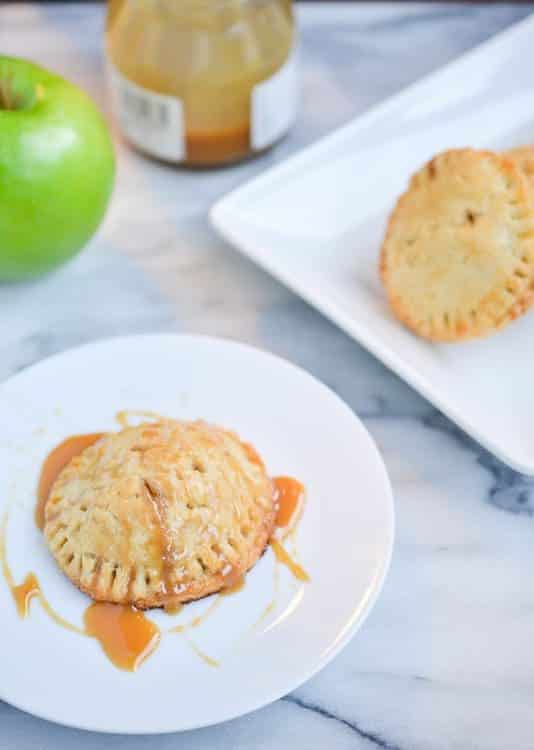 Print
Caramel Apple Hand Pies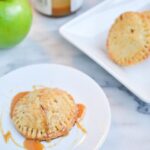 Yield:

about 20 hand pies
Ingredients
Pie Crust:
3 cups of flour
1 teaspoon salt
1 tablespoon sugar
1 cup butter shortening
¼ cup unsalted butter
6 tablespoons ice water
1 tablespoon vinegar
1 egg
Filling:
2 small granny smith apples, diced
½ juice of lemon
¼ cup brown sugar
1 tablespoon flour
½ teaspoon cinnamon
pinch of salt
½ teaspoon vanilla
Caramel:
You favorite caramel sauce
Egg wash:
1 large egg lightly beaten with 1 tablespoon of water or milk
Sugar for sprinkling
Instructions
Pie Crust:
Whisk flour, salt, and sugar in a medium bowl.
Mix egg, vinegar and water.
Add the egg mixture to the flour mixture
Put the dough in the freezer.
For the Apple Filling:
Peel, core, and dice the apples.
Add the lemon juice.
Add the brown sugar, flour, and cinnamon.
Using a rubber spatula, stir to combine the ingredients.
To Assemble:
Preheat oven to 425 degrees F.
Remove pie dough from the freezer.
Split the dough in half and put the rest back in the freezer.
Roll the dough on a well-floured surface into a rectangle about ? inch thick.
Using a round cutter (I used a glass about 3 inches) cut dough into circles, re-rolling any scraps you may have until more circles.
Add one tablespoon of filling making sure not to get much liquid. Then ½ teaspoon of caramel.
Egg wash the entire edges of bottom.
Place the circle on top and seal the edges with a fork. Brush egg wash on top and sprinkle with sugar.
Cut two slits in the center of the pie.
Bake for about 15 minutes or until golden brown.
Let cool slightly before serving and drizzle with additional caramel sauce to serve.

The following two tabs change content below.
Dionne is a contributor here at All She Cooks. She is the blogger behind Domestic Dee. She makes easy, quick, and flavorful recipes for people who value providing good meals to share with their family. To keep up with her she can be found on Facebook, Pinterest, Instagram, Twitter, and by subscribing to her blog.
Latest posts by Dionne Farmer (see all)