This post brought to you by KRAFT Natural Shredded Cheese and Safeway. All opinions are 100% mine.
Cheese is a staple in my kitchen and finds its way into nearly every meal: nachos, casseroles, pasta.  My counter used to end up with shredded cheese spilled on the counter with the old-style bags of cheese, but not anymore.
So you can make a quick fine meal like Shrimp Nachos without the added hassle of a big clean-up.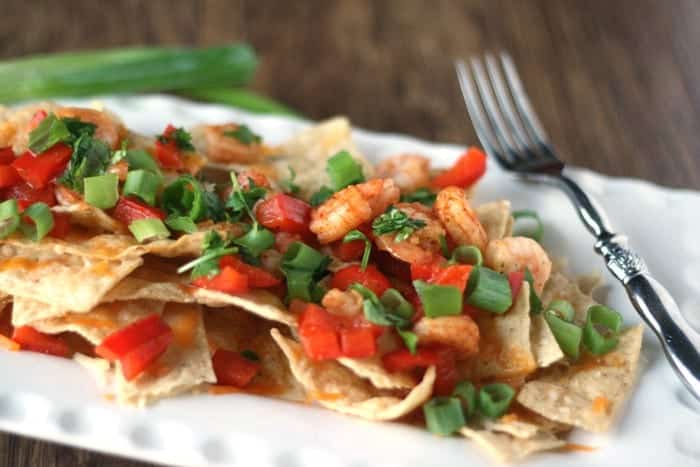 I found the KRAFT Natural Cheese Stand-Up Pouch at Safeway, and it was so easy to find on the new in-store displays.  Even though the amount of packaging has been reduced, the amount of cheese in the package is still the same 2 cups… a perfect amount to make any dish cheesier.
Check out the bottom of the KRAFT cheese packaging.  These bags are made for standing up.  What a great idea!  And, you can still find all the same varieties.  Yum!
Dinner's as simple as 1, 2, 3 with this super simple Shrimp Nachos recipe from KRAFT.  I mean, SERIOUSLY EASY.  It takes just a few minutes too.  We're talking dinner done quick.  So, for all those times when you think you don't have time to cook, guess what: you really do!  So, skip the takeout or the drive thru (come on, you know you do that!) and have dinner in.  Remember, it's as easy as 1, 2, 3.
Cut up your peppers and throw those and some fully cooked shrimp into a hot skillet with some EVOO and seasoning.  Heat it all up and watch those colorful peppers sizzle.
Layer chips, shredded cheese, more chips, followed by more cheese onto a plate.  Microwave until the cheese has melted.
Top the cheesy chips with shrimp and peppers, and then garnish with green onions and cilantro.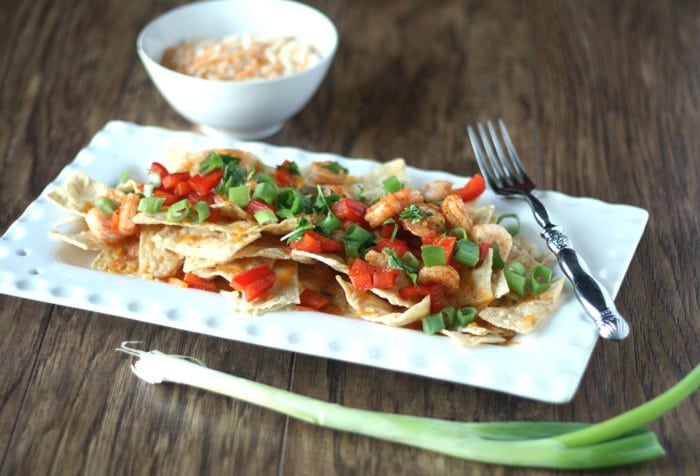 Can you believe making dinner can be just that simple?  Its incredible because its so easy and its not your ordinary dinner.  Adding shrimp takes dinner up a notch, and guarantees it will be well-received by any seafood loving people in your family.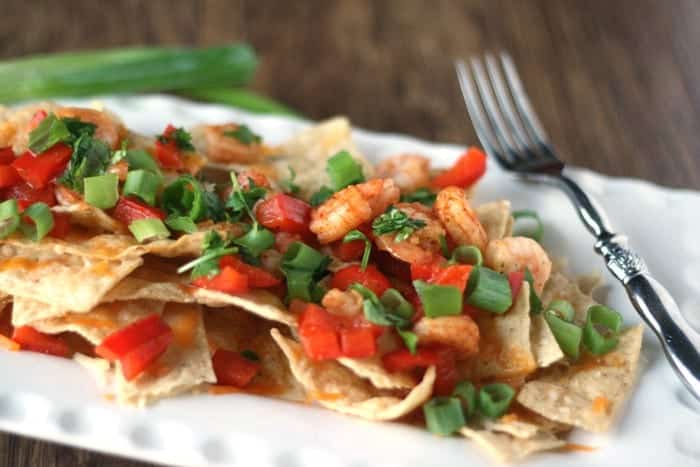 Ready for the recipe?  Enjoy!
Print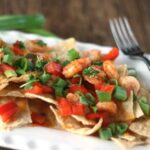 The following two tabs change content below.
Latest posts by Jessica McCoy (see all)