Hello, my name is Ashley and I write over at Supremely Divine Life.  I am the mother of two fabulously wonderful children, and a very proud military spouse.  I am a family-friendly blogger who blogs about all the things that bring me Joy.  This includes family, food, crafts, product reviews and giveaways.
I can not even begin to express how wonderful I feel today, simply because I am super excited to be an All She Cooks contributor.  I think that Jessica is one of the best food bloggers and to be able to contribute to such an amazing blog is a huge deal for me.  Thank you for allowing me to take over your space today Jessica!
Today I am sharing a super easy and quick lunch idea.  If you're anything like me, you know how difficult it is to try to find something to cook at the last minute.  Well, this is one of those recipes to keep for just such an occasion.  I came up with this easy recipe while scouring my kitchen for something quick and easy to make the hubby for lunch.  Honestly, I think I do my best thinking when I'm in a hurry.
Cheesy Chicken Texas Toast Pizza.  Sounds delicious right?  I will be the first one to say that it tastes great and is definitely quick and easy to make.  This may have been a last minute, thought-up recipe, but it will be staying in my recipe box for sure.
Print
Cheesy Chicken Texas Toast Pizza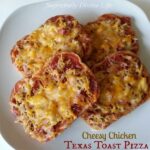 Author:

Ashley, SupremelyDivineLife.com

Yield:

4-8
Ingredients
1-12.5oz Can Premium Chunk White Chicken (drained)
1/2 Cup Marinara or Spaghetti Sauce
2 Tablespoons of Butter or Margarine
1/4 Teaspoon Garlic
1 Tablespoon of Sugar
4-8 Slices Whole Wheat or White Texas Toast
Salt and Pepper to Taste
1 Cup Shredded Cheese of Choice
Instructions
Preheat oven to 375 degrees.
Melt butter on medium/low heat in a small skillet or sauce pan.
Add canned chicken, garlic and salt and pepper.
Heat for 5 minutes, stirring occasionally.
Remove from heat.
In a small bowl, mix the marinara sauce with the sugar and add to chicken mixture.
Line a baking sheet with the slices of bread.
Very lightly top the bread with the chicken and sauce mixture. **(Too much of the mixture will make the bread soggy)
Top each bread slice with shredded cheese and place in the oven for 7-10 minutes or until your toast edges have lightly browned and your cheese has melted.
Remove from oven and serve.
Thanks again to Jessica for having me, and I hope you all enjoy this recipe.  Feel free to connect with me via Facebook, Twitter, Pinterest, Instagram and don't forget to follow me on Bloglovin'.
Have a beautiful day!!!
Ashley
The following two tabs change content below.
Latest posts by Jessica McCoy (see all)