Healthy Cauliflower Chicken Soup With A Kick
I don't know what it is about Poblano Peppers but I seem to want to use them in my recipes more often lately. They're so delicious and have just the right amount of spice, the perfect portion of heat without being overpowering.
Soup With Roasted Poblano Peppers
Today I wanted to make soup. But not just any soup. I wanted to create a hearty and healthy chicken soup that also included none other than Roasted Poblano Peppers.
Add in some cauliflower and some other great ingredients and a delicious new soup is born!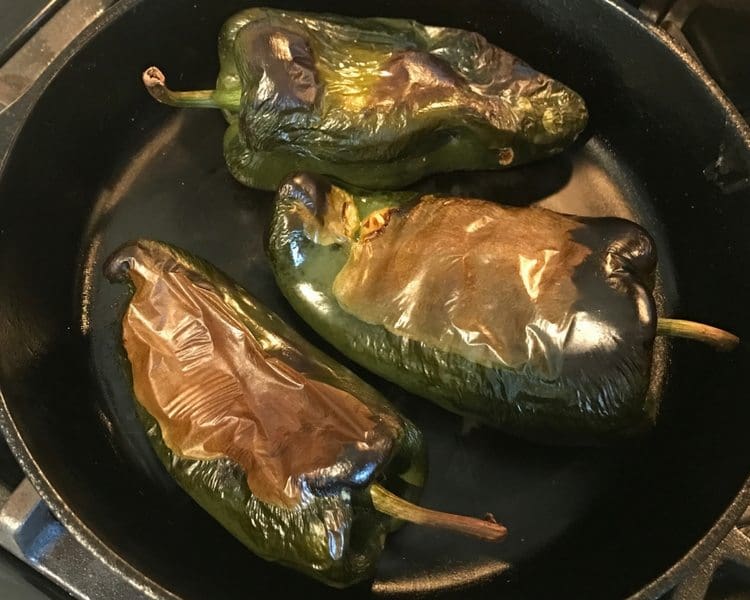 To roast the Poblano Peppers, place them in a hot 450 degree oven and cook them for 30 minutes or until the skin is charred and black. When you take them out of the oven, put them in a bowl of cool water.
There is plenty of spice in the seeds and skin so be sure to wear gloves to protect your skin and eyes from the pepper. You can peel the skin off the peppers and remove the stems and seeds.
Then the peppers are ready for the soup!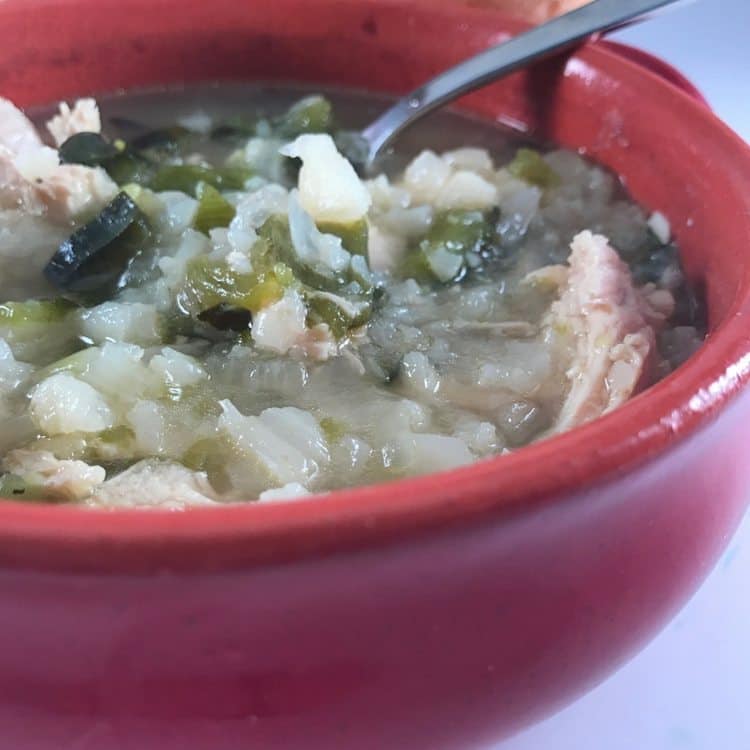 The cauliflower and chicken stock are cooked together until the onions and cauliflower are tender and can be mashed into the broth. To bring a little sweet touch, I chose to add nutmeg. Not what you would normally find in a chicken soup, but it worked perfectly.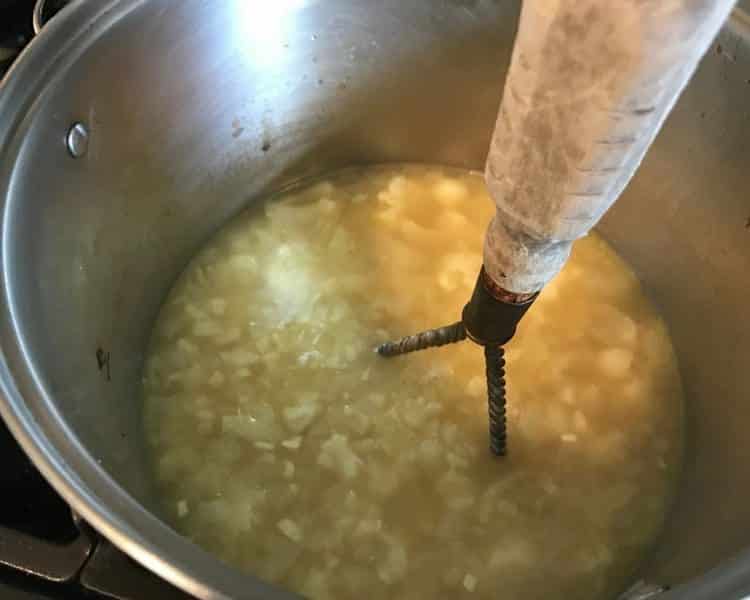 This soup is crazy healthy too! Only one tablespoon of oil was used for the whole recipe and the cauliflower provides a healthy dose of vegetables in every serving. I bet the kids won't even know it's there!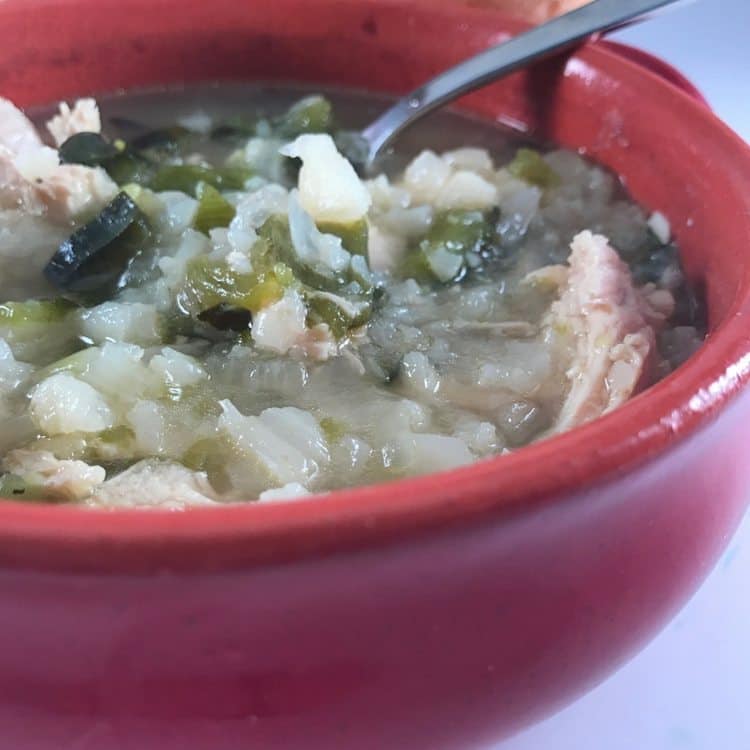 This soup turned out just as I'd hoped and will become a staple in our dinner routine around here. As soon as it was ready, it got the stamp of approval from my soup hound husband (after he had two bowls) 🙂
Another way I use these wonderful peppers is in my chicken and poblano enchilada casserole recipe.
Enjoy!
Print
Healthy Chicken & Cauliflower Soup With Roasted Poblano Peppers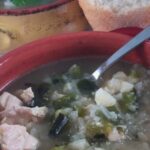 Ingredients
1 lb. cooked boneless, skinless chicken
3 large fresh Poblano Peppers roasted
15 oz. frozen cauliflower
1 small yellow onion
1 clove garlic
1 tbsp olive or vegetable oil
32 oz chicken stock
32 oz chicken broth
1 1/2 cups water
1/2 tsp black pepper
1/4 tsp nutmeg
1 1/4 tsp sea salt
Instructions
Bake or boil the chicken. When done, coarsely chop and set aside.
Roast the Poblano Peppers in a 450 degree oven for about 30 minutes or until the skin is dark brown/black and charred. Put the peppers in a bowl of cool water. Then wearing gloves, remove the skin, seeds and stems and coarsely chop. Set aside with the chicken.
Chop the onion and garlic.
Add 1 tbsp oil to a soup pan and when hot add the onions, garlic and cauliflower. Saute until onions are soft.
Add 32 oz of chicken stock and 16 oz of chicken broth to the cauliflower mixture. Bring to a boil and cook on low for about 30 minutes until the cauliflower is very soft.
Remove from heat and using a potato masher, mash the cauliflower into the broth until it's in small chunks.
Add the chicken, poblano peppers, 1 1/2 cups of water and the remaining 16 oz of chicken broth
to the pot.
Season with salt, pepper and nutmeg.
Bring to a quick boil then turn down to low heat and let it simmer for 30 minutes.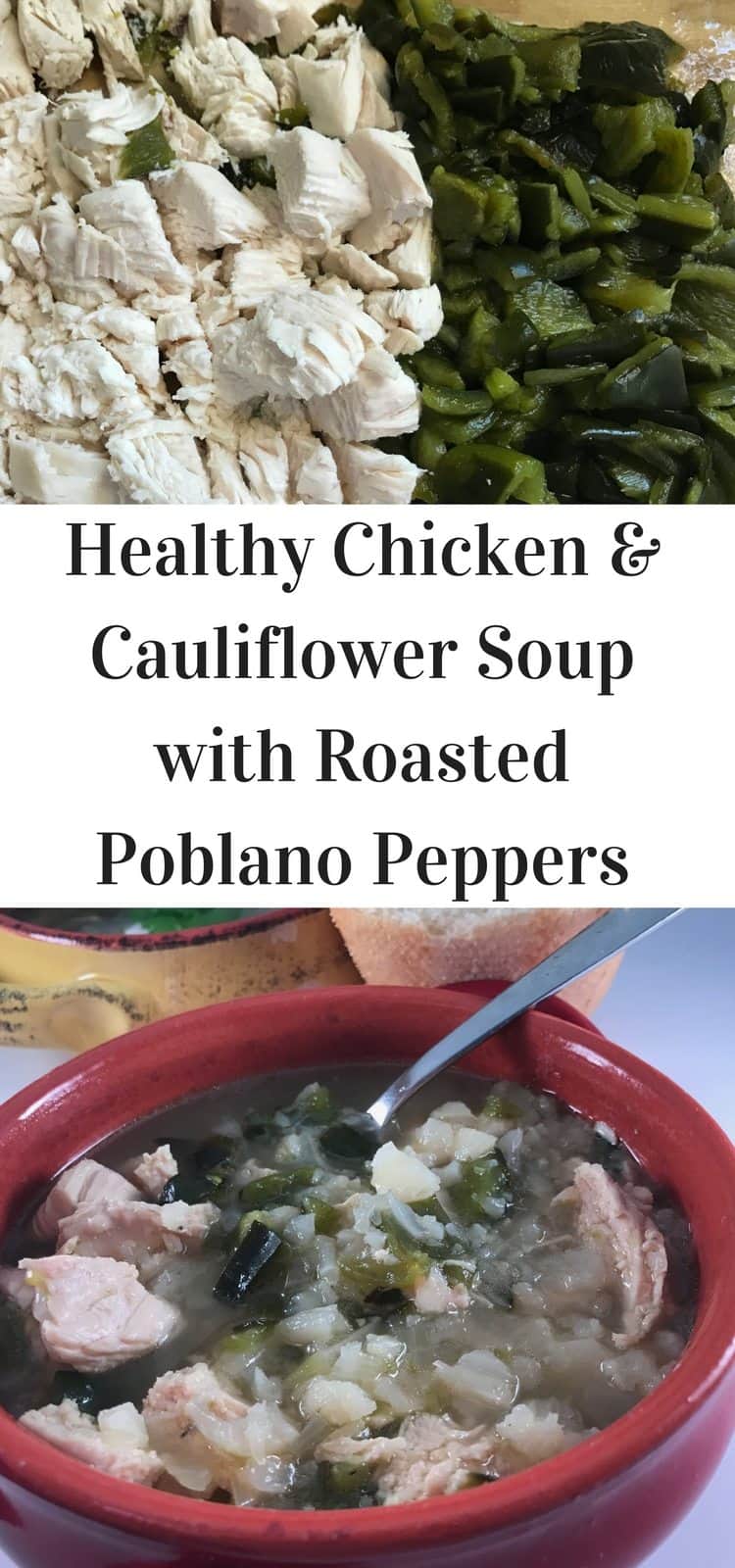 Save
The following two tabs change content below.
Melissa is a contributor for All She Cooks and also owns and operates her own blog featuring Recipes, DIY and Home projects. You can find Melissa on Facebook, Pinterest, Twitter and her blog MelClaire.com.