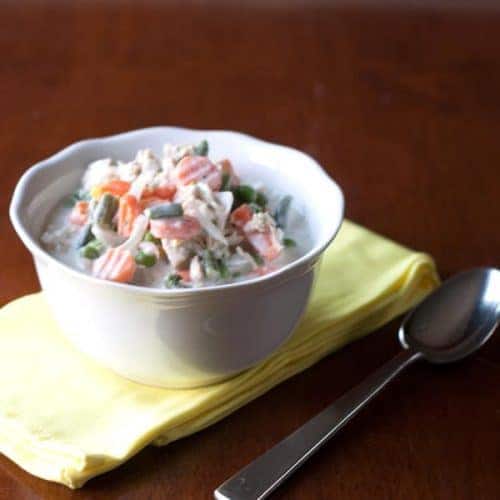 Chicken and Vegetable Chowder is a hearty meal in a bowl.  Now, if you're like me, soup on a cold day is a staple.  In our house, we cook soups, stews and chilies on a frequent basis through the winter and spring.  There is something soothing about a hot bowl of soup.
This year, I've been experimenting a ton with cream soups (like Zuppa Tuscana and Meat & Potato Parsley Soup) and have found some new family favorites.
If you've been here before, you probably know that I like to make homemade chicken stock, and in doing so that I boil a whole chicken or chicken pieces, and then take the meat off of that chicken and use it in yummy recipes.  Like Chicken Enchilada Casserole.  And then I use the chicken stock in yummy soups, goulashes and casseroles.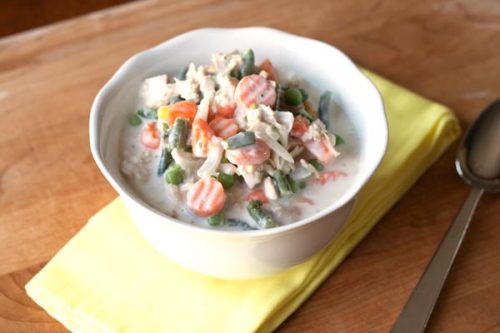 This soup is filled with healthy vegetables, so you'll get a full serving right in your soup.  For ease of preparation, I used a bag of mixed frozen vegetables, but you could just as easily include fresh vegetables if you chose.
Now, next time I make this, I think I'll be using a mixture of frozen green beans and peas, and just a few carrots because I have a picky eater in my house who is anti-cooked-carrot.  How someone can't like a cooked carrot, I don't particularity understand, but I get not liking this or that.  Food tastes vary.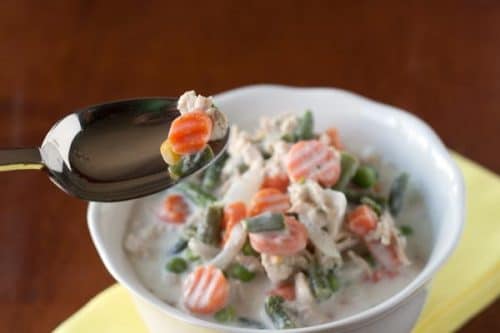 I have to admit, I couldn't just take one single bite of this yummy soup.  In fact, I think I ended up having a second bowl.  I know… not your normal serving size, but hey- I'm not perfect.  I think I mentioned I love soup, right?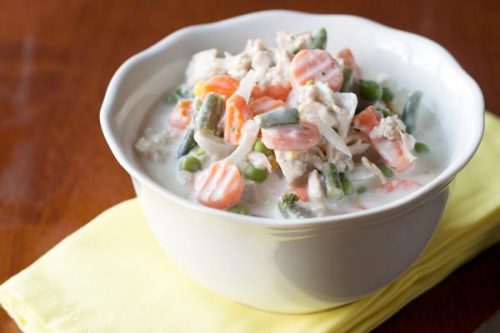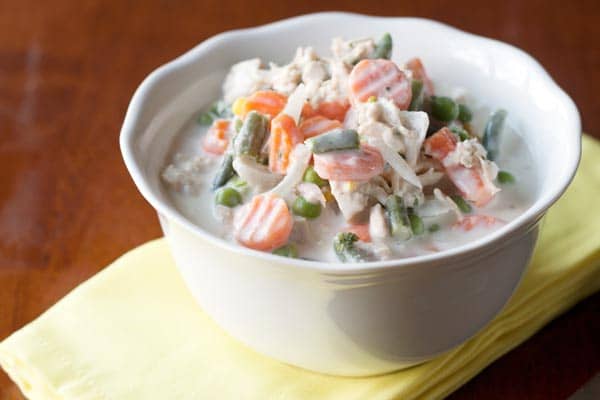 If you have chicken ready to go, Chicken and Vegetable Chowder is a quick meal to prepare.  It's a great leftovers meal.  Use up that chicken (or turkey), toss in some vegetables, and you're golden.  You've re-plated your leftovers into a new dish.
This recipe serves 8-10 and makes fabulous leftovers for bringing lunch to work or heating up at home.
Print
Chicken and Vegetable Chowder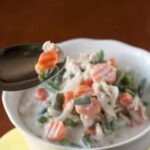 This hearty soup is perfect for a cold day. It also works as a great way to re-plate leftovers into a a bright new dish.
Author:

Jessica, AllSheCooks.com

Category:

Soups
Ingredients
3 cups chicken (or turkey), chopped or shredded
3 tablespoons butter
3/4 cup chopped onion
2 garlic cloves, crushed or chopped
1 teaspoon pepper
1/4 teaspoon cayenne pepper
1/2 cup flour
1 quart (4 cups) chicken stock or broth
2 cups water
2 cups heavy cream
16 ounces mixed frozen vegetabales
2 teaspoons dried parsley flakes
1 1/2 teaspoons salt
1/2 teaspoon garlic powder
Instructions
Combine first 6 ingredients in stock pot and cook over medium heat until onions become tender.
Add flour and stir into ingredients in the stock pot, making a thick roux.
Slowly add liquid, stirring as you go to avoid any lumps from the flour.
Add remaining ingredients and cook on low for 25-30 minutes, stirring occasionally.
Check vegetables for tenderness and add any additional seasonings to taste.
Serves 8-10 Heats well as leftovers.
The following two tabs change content below.
Latest posts by Jessica McCoy (see all)