Author of the popular cookbook Paynard's Desserts, chef François Payard goes above and beyond with his yummy twist on a classic soup.
Grilled cheese and tomato soup have always been a favorite combination of mine.  What about mixing things up with the chef's Chilled Tomato Soup with Guacamole and my personal favorite twist on a grilled cheese sandwich–tomato slices, avocado, and a little bit of cream cheese–along with a slice of cheddar of course.
And for a soup that is picture perfect…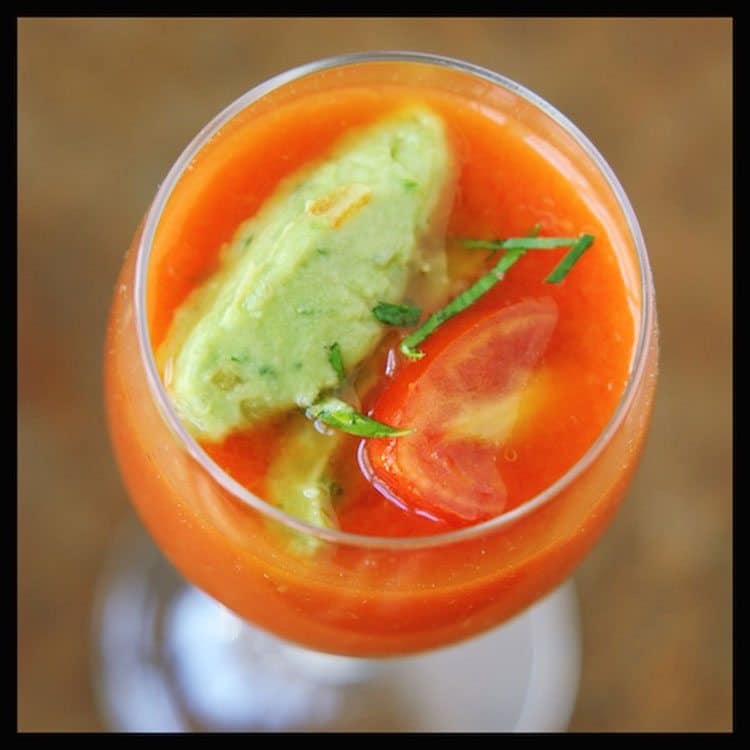 Well, it almost makes you not want to eat it!
Find some of the Chef's well-know (YUMMY!!) sweet recipes here: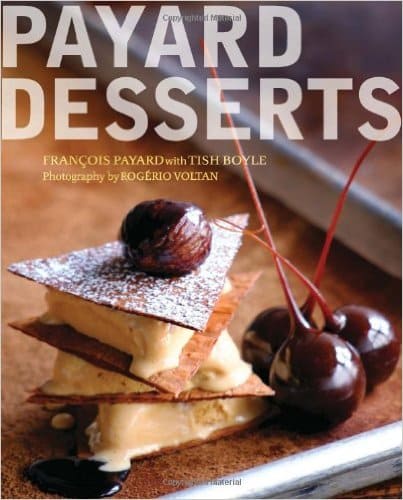 :
Print
Chilled Tomato Soup with Guacamole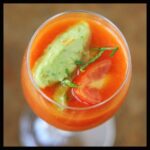 Yield:

20

Category:

Appetizer
Ingredients
For the Soup
2 tablespoons extra virgin olive oil
1/2 medium Spanish onion, chopped
1 celery stalk, chopped
1/2 fennel bulb
1 red bell pepper, seeds and ribs removed, chopped
4 garlic cloves, chopped
1 bouquet garni (1 thyme sprig, 1 rosemary sprig, 2 parsley sprigs, and 3 basil sprigs, all tied together with kitchen twine)
8 large, very ripe beefsteak tomatoes, cut into 8 pieces each
Fine sea salt
Freshly ground white pepper
4 drops Tabasco sauce
1/4 teaspoon celery salt
For the Guacamole
1/2 ripe avocado, coarsely chopped
Grated zest and juice of 1/2 lime
1 tablespoon finely chopped red onion
1/2 jalapeño pepper, seeds and ribs removed, finely chopped
1/4 red bell pepper, peeled, seeded, and finely chopped
1 cilantro sprig, chopped
Fine sea salt
Freshly ground white pepper
For the Garnish
20 basil leaves
Instructions
) Heat the olive oil in a stockpot over medium-high heat. Add the onion, celery, fennel, bell pepper, and garlic. Cook for 10 minutes, until very soft. Do not let the vegetables brown. Add the bouquet garni, tomatoes, and 2 1/2 cups water. Bring to a boil and cook for 15 minutes, or until the tomatoes have softened. Season with salt and pepper.
) While the soup is cooking, fill a large pot with very cold water and ice cubes to make an ice water bath. When the soup is ready, place the stockpot in the ice water bath to cool. Remove the bouquet garni.
) When the soup has cooled, transfer it to a blender and puree until smooth. Pass the purée through a fine-mesh strainer into a bowl. Add the Tabasco sauce and celery salt, and season to taste with salt and pepper. Set the soup aside.
) Place the avocado in a small bowl and mash it with a fork until smooth. Stir in the lime zest and juice, red onion, jalapeño, bell pepper, and cilantro, and season with salt and pepper.
) Ladle the chilled soup into 20 small glasses or bowls. Place a spoonful of the guacamole in the center of each one, and garnish with a basil leaf. Arrange on a platter, and serve cold.
Makes Enough for 20 Small Glasses
This post contains affiliate links. Chef's recipe and images used with permission.
The following two tabs change content below.
Latest posts by Jessica McCoy (see all)