I am a member of the Collective Bias®  Social Fabric® Community.  This shop has been compensated as part of a social shopper amplification for Collective Bias and its advertiser.
Great chicken recipes make dinner at home and a movie out with the family so much easier.  So, when I was at Walmart and saw that Tyson Grilled and Ready products have a promotion right now to get free tickets to see Blended, I grabbed it up.  Win, win, because by doing that I made dinner prep and my life as a cooking on the go kind of mom that much easier.
I'm a huge Adam Sandler and Drew Barrymore fan, and as soon as I saw the previews for Blended, it became a must-see movie for me.  I can tell it's going to be full of hilarious moments that will keep me laughing, which is exactly the kind of movie that helps me unwind after a stressful week.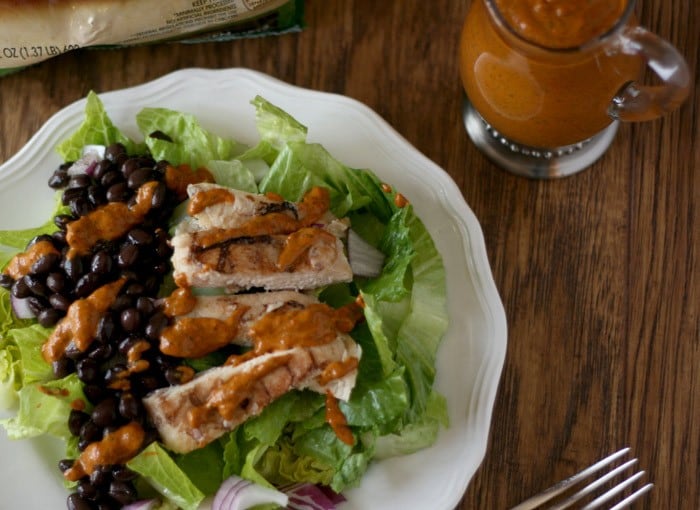 When we decided to have a spur of the moment movie night out with the family this weekend (Blended wasn't out yet, so we opted for a different comedy), I knew I wanted to serve dinner before we went out.  I mean, why make a night out even more expensive by adding in eating out?  Not only that, but movie concessions!  Ugh… that is something I try to avoid at all costs when going out to the movies with my kids because it can quickly add up to more than the movie tickets.
So… I decided to leave no room for 'I need a snack' requests at the movies and made my Chipotle Chicken Salad.  It is an easy grilled chicken salad with a spicy Chipotle and cilantro dressing that will set your mouth on fire… in a good way.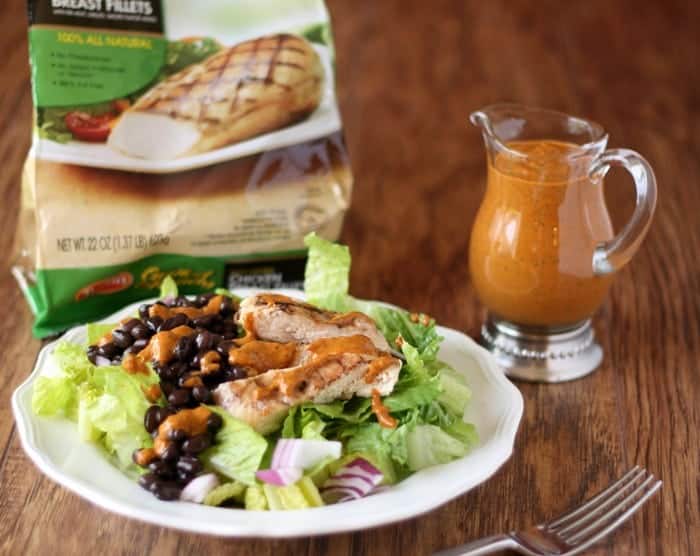 In keeping with my standards of easy recipes, I used just a few ingredients with my Chipotle Chicken Salad recipe.  For the salad: Romaine lettuce, black beans, red onion and Tyson Grilled and Ready chicken breasts.  For the dressing: a can of chipotle peppers in adobo sauce, olive oil, cilantro, lime juice and a tad bit of salt.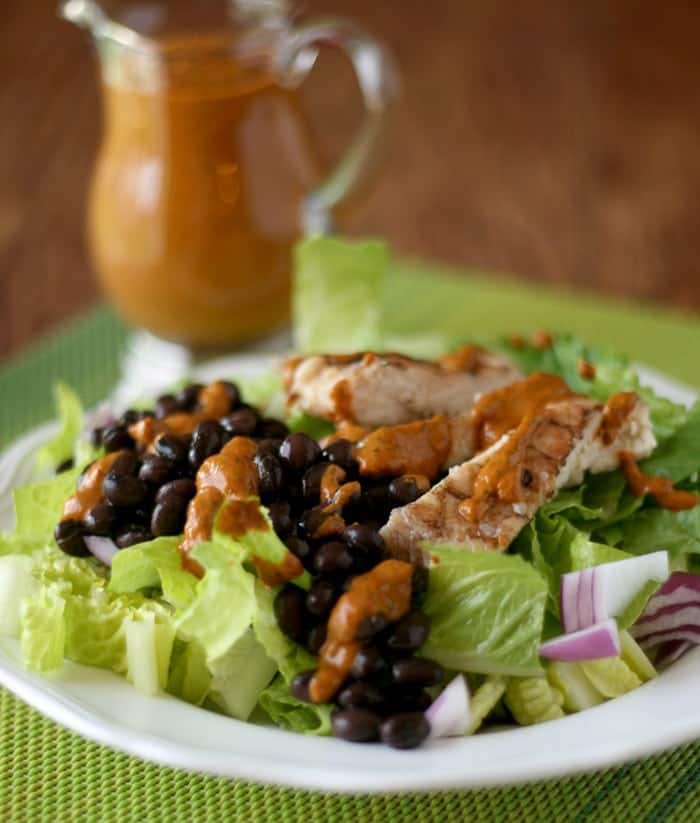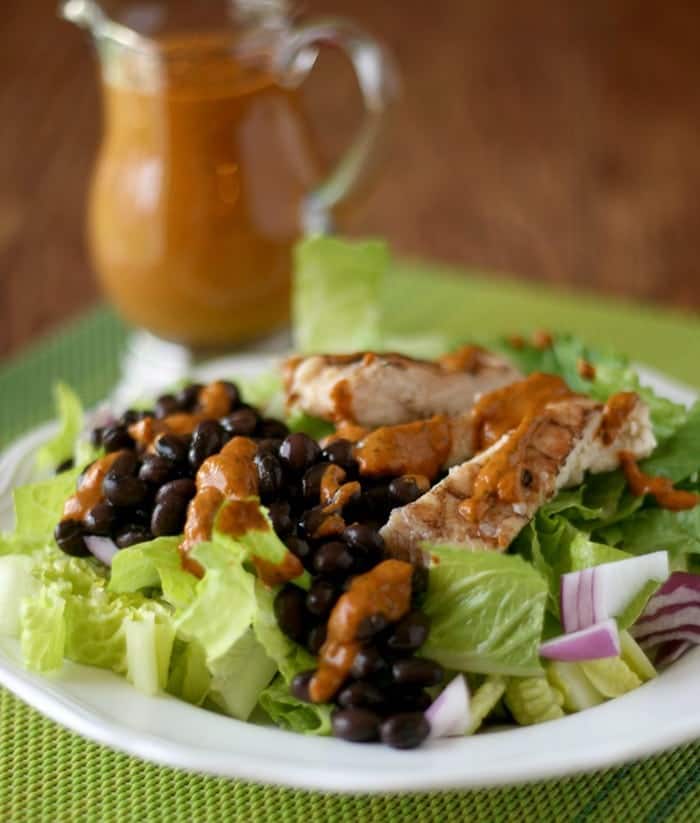 to make the Chipotle dressing, simply put all of the ingredients in the blender and blend until smooth.  This chipotle sauce would also be SO good on burritos- especially with a combination of rice, black beans and chicken, steak or pork.  Yum!  I'm seeing another recipe creation in my future!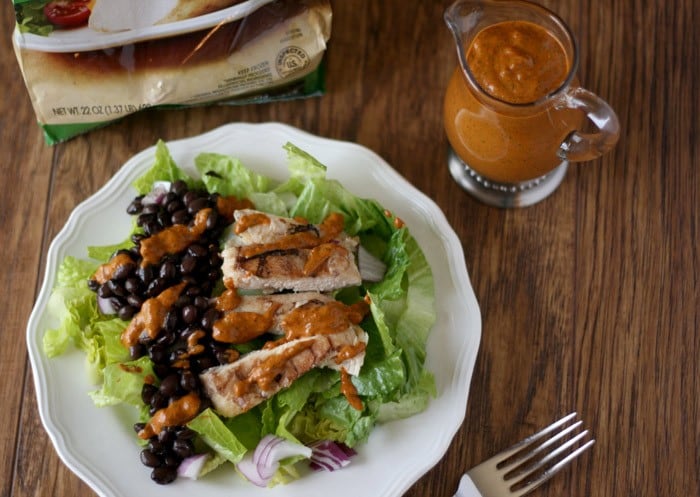 If you're heading out to the store to look for Tyson Grilled and Ready chicken, don't forget to look for the packaging with the deal for free Blended tickets.  You'll get an amazingly easy grilled chicken dinner and save some money on going to the movies. #TysonMovieTicket and #CollectiveBias have you covered on that one!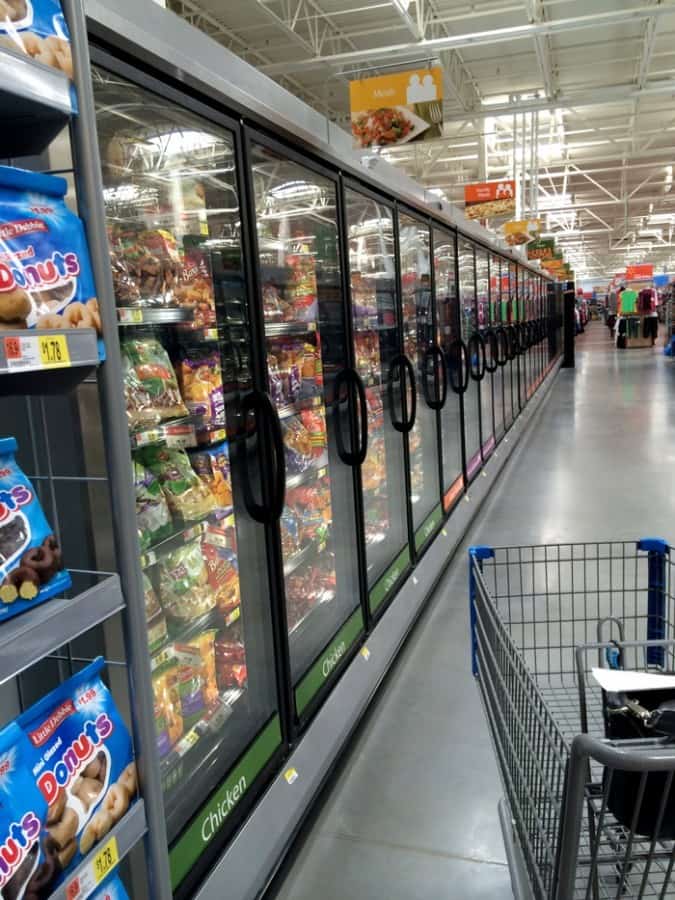 Saving money on movie tickets is definitely worth it if you ask me, which is something I'm always aiming to do.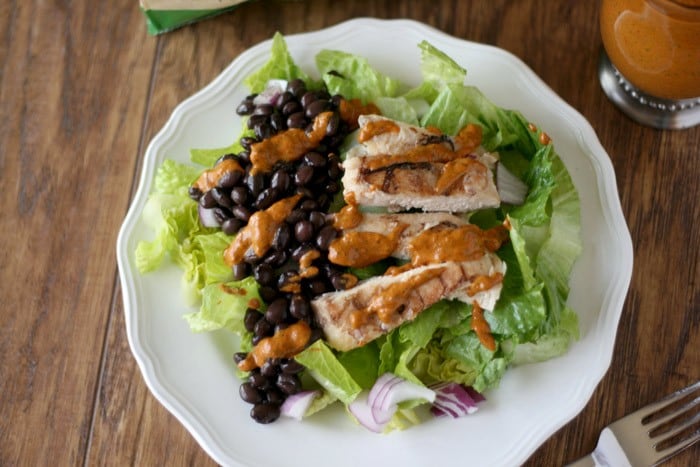 Print
Chipotle Chicken Salad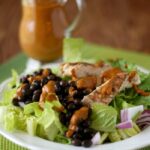 Ingredients
Romaine lettuce (1-2 heads)
1 14 ounce can black beans
1/2 red onion, chopped
Tyson Grilled and Ready chicken breasts (2)
For sauce:
1 (7 ounce) can chipotle in adobo sauce
1 lime, squeezed
2/3 cup cilantro (packed down in measuring cup, not chopped)
1/2 cup Olive Oil
1/2 teaspoon salt
Instructions
Combine all sauce ingredients in blender and blend until smooth.
Wash and chop lettuce. Arrange lettuce, beans, onions and chicken on plates and top with the homemade sauce. Serve.
The following two tabs change content below.
Latest posts by Jessica McCoy (see all)