A soft chocolate cookie with a Hershey's Kiss candy center!
Hi y'all! It's Jamie from Love Bakes Good Cakes again! It's been hot in Phoenix the past few days – over 100°F …. And yes, I just may be crazy for baking cookies when the temperatures soar that high. The other day, Brian told me that cookies sounded good. How could I resist?! He wants cookies, I make him cookies. He's a chocolate chip kinda guy … nothing wrong with that …. but I like a little more chocolate in my cookies – or most any dessert to be honest!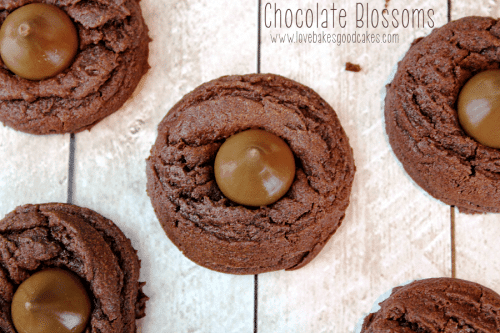 This month, I'm back with a recipe full of chocolate …. Chocolate Blossoms to be exact! You may familiar with Peanut Butter Blossoms, these cookies are very similar. It was very important to me to keep these cookies soft and chocolaty! If you're a chocolate lover – you're gonna love these little gems! Just a side note, you can dip the tops of the cookie balls into sprinkles before baking for a fun and festive cookie! 🙂
Chocolate Blossoms
Printable recipe
Yield: 36-42 cookies
3/4 cup butter, softened
1/2 cup Hershey's Spread – chocolate flavor
1/2 cup sugar
1/2 cup brown sugar
2 eggs
1 tsp. vanilla
1/4 cup cocoa powder
2-1/4 cups all-purpose flour
1 tsp. baking soda
1/2 tsp. salt
1 box (3.4 oz.) instant chocolate pudding mix
1 bag (12 oz.) Hershey's Kisses Brand Milk Chocolate
In a medium bowl, cream the butter, Hershey's Spread, sugar and brown sugar with an electric mixer until thoroughly combined. Add the eggs and vanilla; mix well.
In a separate medium bowl, combine the cocoa powder, flour, baking soda, salt and instant pudding mix. Slowly add the dry ingredients to the creamed mixture, mixing well. Cover and chill for at least 30 minutes.
Preheat oven to 350°F. Line baking sheets with parchment paper of Silpat mats. Roll the dough into 1-inch balls and place onto the prepared baking sheets. Bake for 8 minutes. Remove from the oven and immediately press one unwrapped Hershey's Kiss onto the center of each cookie. Allow to cool for 2 minutes on the pan, then remove to a cooling rack to cool completely.
Store cookies in a covered container.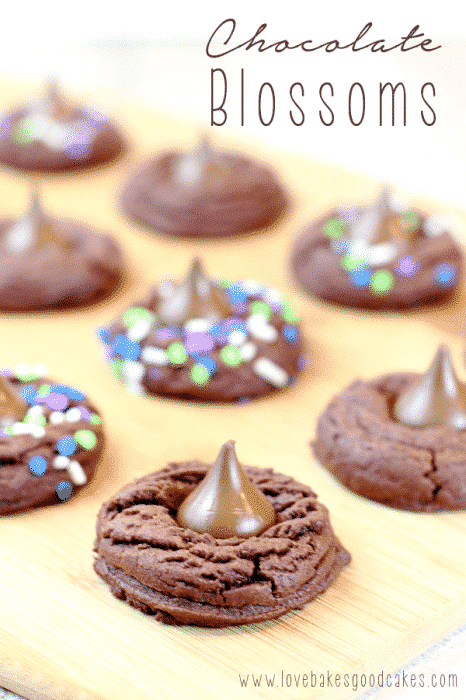 Other Posts You May Enjoy:
Cappuccino Crème Brûlée
The following two tabs change content below.
Latest posts by Jessica McCoy (see all)