Chocolate Chip Banana Nut Cake with Chocolate Marshmallow Creme Icing.
Easy cakes are the perfect recipe for spring and summer. This chocolate chip cake with chocolate frosting is just about to die for.
Looking for some other sweet treat ideas? Some other warm weather recipes we're especially fond of are: Lemon Poppy Seed Pudding Cake with Strawberry Topping, Melt in Your Mouth Carrot Cake, and Pineapple Upside Down Cake.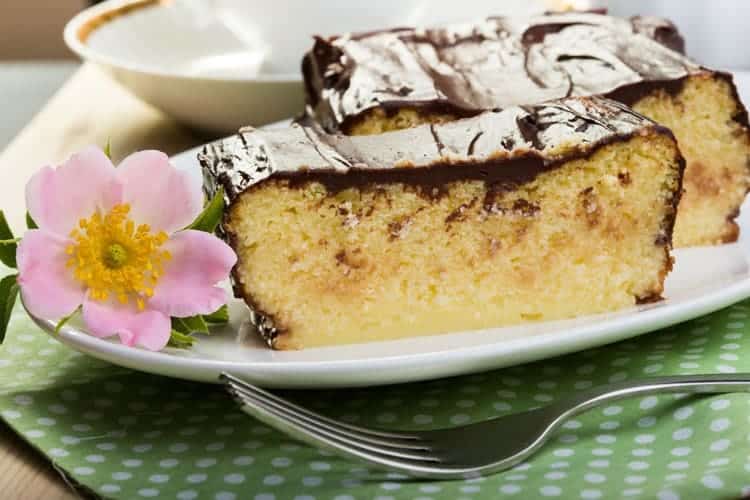 The recipe for this cake calls for making it in a 9×13 pan, but we've also made it in a bread pan and a bundt pan, all with great results and a little adjusting to the baking time. We especially love decorative bundt pans for baking.  They are a lot of fun.
Print
Chocolate Chip Banana Nut Cake w/ Chocolate Marshmallow Fluff Icing
Banana nut cake with chocolate icing.
Author:

Ashley @ Supremely Divine Life

Category:

Dessert
Ingredients
Cake:
1 Cup Mashed Bananas
3 Cups of Self Rising Flour
1 1/2 Cups of White Sugar
1/2 Cup Brown Sugar
2 Cups of Buttermilk
1 Cup of Vegetable Oil
3 Eggs
1 Tblsp Vanilla Flavor
1/2 Cup Semi-Sweet Chocolate Chips
1/2 Cup White Chocolate Chips
1/2 Cup Pecans
Icing:
4 oz Semi-Sweet Chocolate Baking Bar
1 7oz Jar Marshmallow Cream
1 1/2-2 Cups Powdered Sugar
1/4 Cup of hot Heavy or Whipping Cream
4 Tbls Shortening
Instructions
Cake:
Pre-heat oven to 325 degrees.
Place the flour, white sugar and brown sugar in your mixing bowl and mix on low speed until combined.
Add the vegetable oil and mix until the dry mixture is wet.
Add the eggs one at a time.
Add your buttermilk and vanilla flavor and mix on a medium speed until well combined and there are no lumps.
Add your pecans, chocolate chips, white chocolate chips and banana and hand-mix just until all the ingredients are combined.
Pour the mixture into a coated 9x13in pan or you may use a cupcake tin. (Note: With the 9x13in pan, I noticed that I had about a cup or so of batter left over, so you don't need to fill your pan completely. You could if you wanted to, just be careful of spillage in your oven.)
Bake for 48-50 mins or until a toothpick inserted into the center comes out clean.
Remove from the oven and immediately cover with foil and place into the freezer for 45 minutes. This step helps to seal in moisture.
Top with icing and enjoy.
Icing:
Melt baking chocolate per package instructions.
Place marshmallow creme and shortening in a mixing bowl and mix until well combined.
Add melted chocolate to the bowl while still warm.
Add powdered sugar. (Please Note: At this stage, your mixture will have really thick, dough like consistency.)
Heat your cream in the microwave for 1 minute and add to the mixing bowl one tablespoon at a time. Mix on a medium speed until all ingredients combine and the icing is smooth. It will only take a few seconds for the icing to become smooth.
Top your cake and enjoy.
This cake is very moist and in my opinion has just the right amount of banana.  Not too much, but just enough to for a good banana flavor.
The following two tabs change content below.
Latest posts by Jessica McCoy (see all)