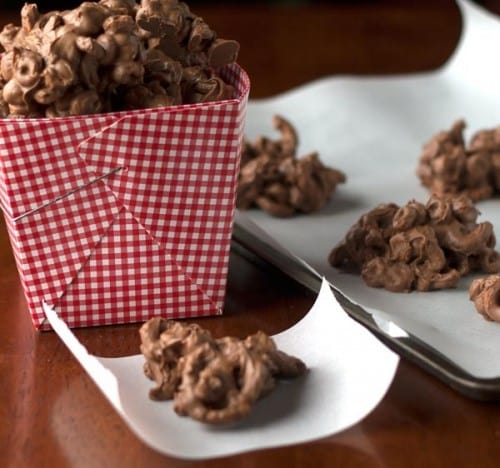 I love cooking for my kids.
Cooking with my kids is even more fun.  Or in this case, not cooking.  Like when I made Banana Split Kabobs.
I'm all about quick, easy to prepare snacks that are yummy, crunchy and kid-friendly.  We make a lot of cereal treats (like Cheerios Snack Crunch and Mocha Puppy Chow), because I tend to buy cereal on sale and snack-food is one way to use it up in a non-breakfast way.  And because my kids just chow down on it.
Not only are cereal treats so good to eat, they are easy to make that kids can jump right in and help.  Depending on their age, they might even be able to make these treats themselves!  Less work for you, right?  Just make sure they take care of the clean-up too. 😉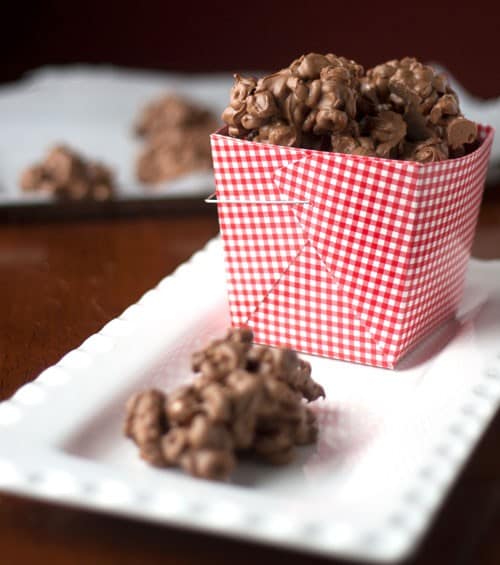 We have been making these Chocolate Clusters for a few years now.  The ingredients are fairly basic: chocolate, pretzels, cheerios and marshmallows.  I love to throw peanuts in these chocolate candy pieces too, but didn't have any on hand this time.
This is one of those kitchen sink recipes.  Throw in what you have, when you have it, and mix it up differently the next time.  Unless you find  just the right mixture that you want to repeat over and over again and can't live without.  In which case, I hope you wrote down your list of ingredients!
Now… this time I melted Reese's peanut butter chips and chocolate chips together and mixed them in with the other ingredients.  Other times I've used dark chocolate and no peanut butter.  Dark chocolate.  Yum!
My daughter requested that we make chocolate clusters again and next time use dark chocolate and no peanut butter chips because dark chocolate is her ultimate favorite.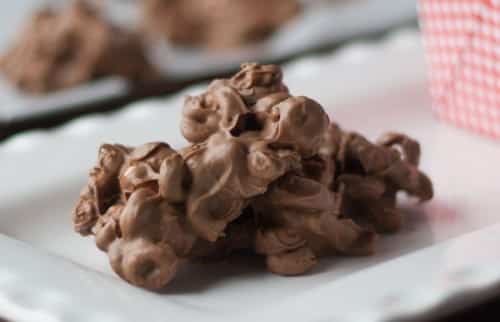 You know what else?  Pack these candy coated goodies up in a cute little gingham gift box, and your child has a perfect treat to give their teacher.  Something that they made themselves.  What could be better than a sweet treat that your child helped to create?  Perfect.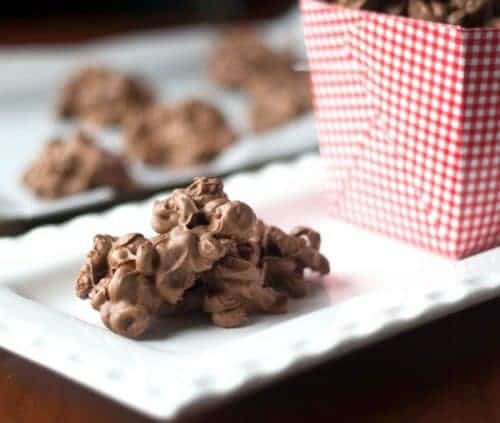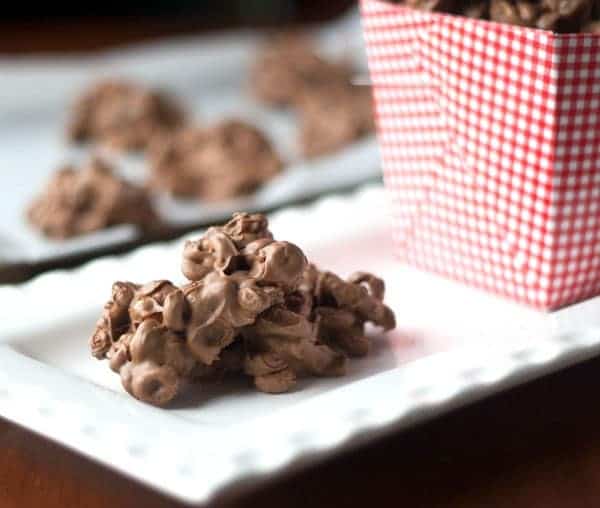 I love seeing kids being creative, and since I'm partial to creativity in the kitchen… that's where my focus is.  My big recommendation when getting creative with your kids in the kitchen: take notes!  You never know when you will come up with the perfect recipe.
Add in some peanuts and make it a chocolate peanut cluster recipe!
Print
Chocolate Clusters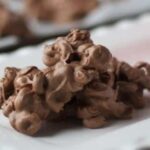 Author:

Jessica, AllSheCooks.com

Category:

Snack
Ingredients
1 cup pretzel pieces
3/4 cup cheerios
1/2 cup mini-marshmallows
1 cup chocolate chips, melted
1 cup Reese's peanut butter chips, melted
Instructions
Break pretzels into pieces. Mix together with cheerios and mini-marshmallows.
Melt chocolate chips and peanut butter chips together by microwaving in glass bowl for a minute. After one minute, stir chips and microwave for 30 seconds at a time stirring in between.
Pour melted chips into pretzel mix and stir to combine.
Drop spoonfuls of the chocolate covered mixture onto wax or parchment paper and let sit for a few hours to harden.
Amount made varies depending on size. (I made a dozen.)
The following two tabs change content below.
Latest posts by Jessica McCoy (see all)