Have you ever wanted something sweet, but you didn't want to go to the store or take a lot of time baking?  Well, have I got a treat for you.  It's quick, easy and definitely worth the few minutes wait.  Chocolate mug cake is a great treat to have in a short amount of time, and once you add a little strawberry filling and some white chocolate to the mix, and you've got yourself a perfect sweet-tooth fix.  I enjoyed every minute it took me to eat this cake!
Print
Chocolate Covered Strawberry Mug Cake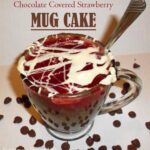 Chocolate Mug Cake topped with strawberry filling and melted white chocolate.
Ingredients
2 Tbsp Self Rising Flour
2 Tbsp Sugar
1-2 Tbsp of Cocoa Powder
1 Tbsp of Oil (Vegetable or Canola)
1 Tbsp Milk
1 Egg
2 Tbsp of Strawberry Filling
1 Tbsp of Melted Chocolate of your choice
1 tsp Vanilla (Optional)
Instructions
Mix all the dry ingredients in a mug.
Add all of the wet ingredients and mix until well combined.
Place the mug in the microwave for 1 1/2-2 minutes.
Remove from microwave and cover with strawberry filling.
Drizzle with melted chocolate and enjoy.
This mug cake is just the right amount of sweet for me, and I hope you enjoy it as much as I did.
Have a beautiful day.
Ashley @ Supremely Divine Life
The following two tabs change content below.
Latest posts by Jessica McCoy (see all)