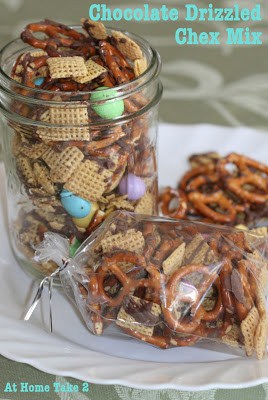 My kids like to snack, and I'm constantly trying to think of ways to make those snacks a little less sugary.  Because let's face it… in reality my kids love sugar.  They do.  And I'm guilty of letting them have it.
This Chocolate Chex Mix was the perfect answer.  Salty with a touch of sweet, and in my house we can't go wrong with chocolate.
I try to cut back and add natural sweeteners when I can, like in our Very Berry Waffles or Chocolate, Chocolate Waffles.  But alas, somehow something like CHOCOLATE gets added to the mix, and we all know that has sugar.
But, who can say no to chocolate?
This time I was determined to cut down the amount of chocolate (aka sugar) in this after school snack.  Who can go wrong with Chex, pretzels and M&Ms… love them all!  Chocolate Chex Mix has just a bit of chocolate.  Enough to keep my snackers happy.
How am I cutting down while adding a whole BAG of chocolate chips, you might ask?  Well, quite simply I'm increasing the amount of pretzels while keeping the chocolate the same.  Now… the key is eating all the different ingredients and not picking out the M&Ms.  If you're anything like my kids, it had to be said.  Just sayin.
This treat is fast to make and easy to eat.  Can't get much better than that!  Oh, and it's so good for breakfast.  After the kids have already left for the day that is.  Enjoy this tasty treat.
Now, if you want a healthier version of this Chocolate Chex Mix… leave out the M&Ms, substitute some nuts, and think about reducing the amount of chocolate that is drizzled over the whole thing.  But, when you think about the amount of chocolate that really makes it into a 1/2- 3/4 cup serving size… we aren't talking about that much sugar after all.
Print
Chocolate Drizzled Chex Mix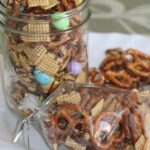 Author:

Jessica, AllSheCooks.com

Prep Time:

10 minutes

Total Time:

10 minutes
Ingredients
8 cups chex
16 oz bag pretzels
12.6 oz peanut M&Ms
12 oz bag chocolate chips (we used mint)
Instructions
Dump first three ingredients into a large bowl and mix them all together. Pour out onto baking sheets or counter lined with wax paper. Spread out so mix is in a single layer.
Melt chocolate chips in microwave safe glass bowl for 1 minute, stir and the in 30 second increments until melted, stirring in between. Scraping the sides of the bowl with a spatula, pour chocolate into a candy icing bottle (like a clear condiment bottle with a fine tip).
Drizzle chocolate over Chex Mix. Let sit until dry. Store in airtight container.
The following two tabs change content below.
Latest posts by Jessica McCoy (see all)