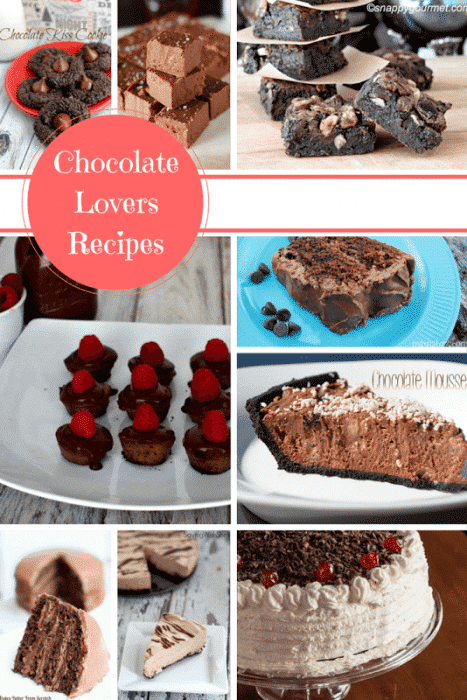 If you have a sweet tooth, you know how hard it can be to satisfy your craving. There's some good news for all of the chocolate lovers, however! You can help satisfy your sweet tooth by treating yourself to one of these delicious chocolate recipes.
Chocolate Lovers
1. Dark Chocolate Hazelnut Pie Bars ~Snappy Gourmet
2. Chocolate Kiss Cookie ~Wendy's Hat
3. Mini Chocolate Cheesecake with Raspberries ~Upstate Ramblings
4. Salted Dark Chocolate Bourbon Fudge ~The Kitchen is my Playground
5. Easy Chocolate Covered Oreo Truffle Balls ~Pays 2 Save
6. Chocolate Mousse Pie Recipe ~This Mom Can Cook
7. Chocolate Cream Pie ~Saving with Shellie
8. Chocolate Mousse Oreo Pie ~Upstate Ramblings
9. Black Forest Cake ~Andrea's Recipes
10. Chocolate Cake with Chocolate Mousse ~Tastes Better from Scratch
11. Double Chocolate Frosted Brownies ~Texas Type A Mom
12. Moist and Delicious Chocolate Cake ~Mama Buzz
The following two tabs change content below.
Latest posts by Jessica McCoy (see all)