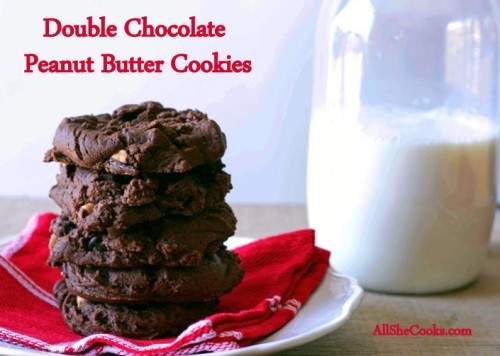 Double chocolate cookie recipes- double yum!  But add in a kick of double peanut butter?  Hello!
So, I've mentioned that my son is a peanut butter lover.  He helped me make these deliciously peanut butter and chocolate cookies.  We made them about a week ago and they were devoured super quick.  Devoured.  No lie. Chocolate chip chewy cookies… really can't go wrong there.
I didn't even get a chance to take any pictures.  And what's a recipe blog post without an image of the goodies?  I  mean, come on!  You all want to see the food before you cook it, don't you?
I love cookbooks, but that one thing that irritates me is not having a picture to go along with each recipe.  I'm a visual person, so even though I can get the idea of what a recipe will be like from the description… an image can make the difference in whether or not I decide to make a recipe.
Needless to say, without any pictures I was forced to make these chocolatey cookies a second time.  I know… forced, right?  I bet you can tell that my arm really had to be twisted to make that happen.
Anyway.  The result was once amazing!  I mean… chocolate, peanut butter, chocolate chips, peanut butter chips.  You get the idea.
So, we this time we got to shoot some pictures.  Just for you.
We love cookies, like Snickerdoodle and  No Bake Chocolate Oatmeal, so in reality, making these yummy chocolate-peanut butter treats really wasn't much of a chore.  Eating them was even less so.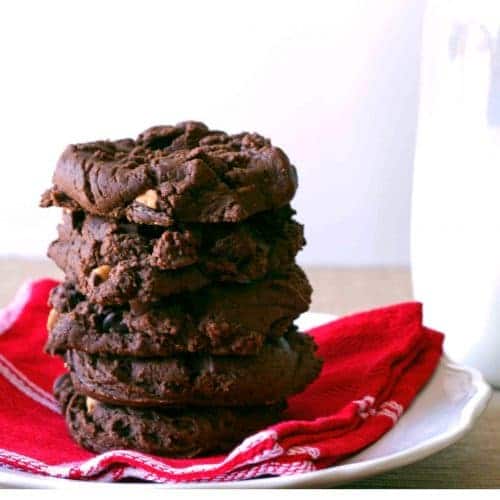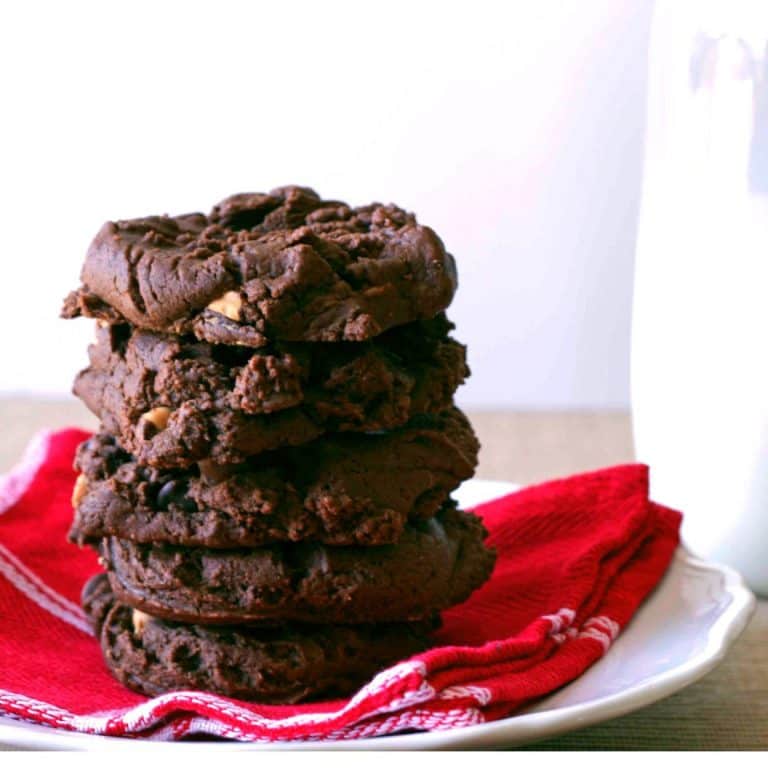 I attempted to take a bite and savor the flavor, but quickly found myself taking another bite and another.  Yeah… savoring the flavor didn't work so great for me.
Print
Double Chocolate Peanut Butter Cookies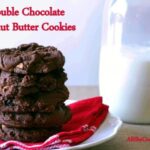 Author:

Jessica, AllSheCooks.com
Ingredients
1/2 Cup butter or margarine
1/2 Cup peanut butter
1/2 Cup brown sugar
1/2 Cup sugar
2 Eggs
2 Cups flour
2/3 Cup cocoa powder
1 Teaspoon baking soda
1/2 Teaspoon baking powder
1/2 Teaspoon salt
1/2 Cup chocolate chips
1/2 Cup Reese's peanut butter chips
Instructions
Preheat oven to 350.
Soften butter and peanut butter together in microwave in a microwave safe bowl. Cream together with sugar and then mix in eggs until smooth.
In a separate bowl, mix together next 5 ingredients. Add to the wet ingredients and mix until well combined.
Stir in chocolate and peanut butter chips until evenly dispersed.
Use a 1-inch cookie dough scoop or shape into balls about 1-1 1/2 inches depending on the size of cookie desired. Drop cookie dough balls onto cookie sheets and use a fork to press the cookies down (just like peanut butter cookies). Cookies will spread a little.
Bake for 10-12 minutes. Take cookie sheet out of the oven and let cookies sit for 3-5 minutes before removing to a cooling rack.
Delicious, right?  What's your favorite cookie?
The following two tabs change content below.
Latest posts by Jessica McCoy (see all)