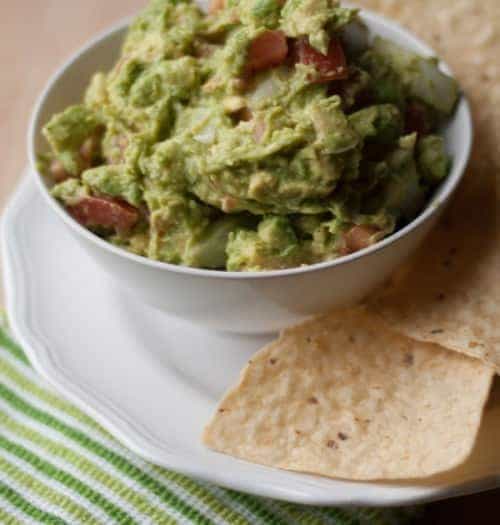 Guacamole is a family favorite around my house, and my husband and I both have our own ways of making this Mexican-inspired dip.  We both stick to the key ingredients though: avocados, tomatoes, and onions.  The one thing we don't agree on: cream cheese!
Now, you know I love cream cheese.   And I use it in SO many recipes: Easy Cream Cheese Roll-Ups, Cream Cheese Danish, and Mint Cheesecake Cups, just to name a few.  And that's not even counting all the dips I make with cream cheese.
So, it might come as a surprise to you that it's my husband that likes to add cream cheese to his Guac.  Now… I'm not saying I won't eat it.  I will in fact devour Guac just about any way you could make it…unless it's doused with pepper like the Guacamole my daughter made… and then I just have to bow out!
But yes… he likes to make Guacamole with Cream Cheese, and it makes a lovely avocado dip that I'll share with you another day.
Today is for a classic Guacamole.  Plain.  Simple.  Avocado.  Tomato.  Onion.
Salt. Pepper.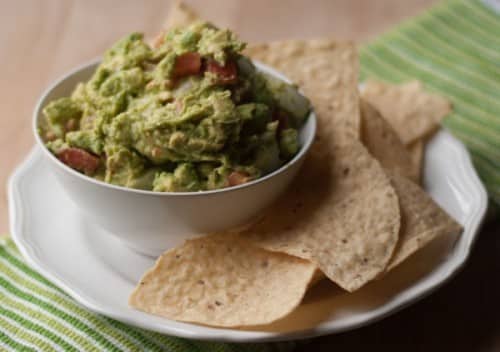 And chips.  Because you can't experience Guacamole without the perfect chip for dipping, right?
Now… the key to this Guacamole is to leave it chunky.  Peel the avocados, scoop out the green goodness, add in the tomatoes and onion and stir it together with a fork, kind of chopping and squishing some of the avocado as you go.  Add in some salt and pepper.  Add some more if you need it… it's really a personal choice with this one.
Now mix it up a little more.  It's really a lot of fun to mush this Guacamole up.  Just don't mush it up too much.  Unless that's the way you like it.
I like this Guacamole on the chunky side.
Then I can pick and choose what I want to scoop up.  I'll go for a bunch of avocado, a piece or two of tomato, and an onion chuck, thank you.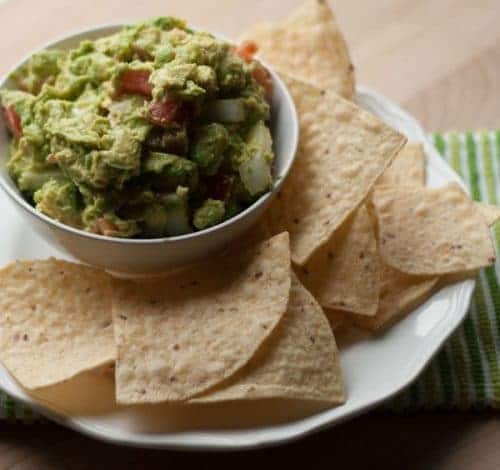 Print
Chunky Guacamole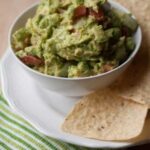 Author:

Jessica, AllSheCooks.com

Category:

Appetizer
Ingredients
2 avocados
1 Roma tomato
1/2 cup onion
Salt and pepper to taste
Splash of lemon juice, optional
Instructions
Peel avocados and remove seed. Chop up tomato and onion.
Mix together, mashing avocado slightly with a fork to make a chunky mixture.
Add salt and pepper to taste.
Serve immediately, or add a splash of lemon juice, stir and chill for 30 minutes to an hour.
The following two tabs change content below.
Latest posts by Jessica McCoy (see all)