Are you ready for a yummy variation on how to make a classic fruit dip?  Whether you're gearing up for a fab party or looking for a little incentive to go with a family fruit platter, this Cinnamon Fruit Dip has got you covered.  Because, if your family is anything like mine, everything is better with dip!
Light and fluffy, this dip is low on fat and the perfect pairing for strawberries, apples and grapes.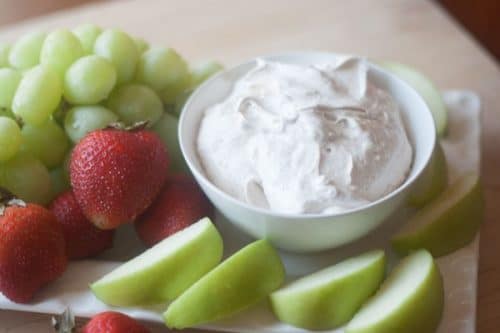 We all know that fruits and veggies should make up a very important part of your daily food intake.  Ever since I started 52 Weeks of No-Repeat Meal Plans, I've been more aware of how many fruits and vegetables my family is or is not eating each day.  Even with the vegetables that  I include in my meal plans, I typically have either a salad or a vegetable side dish… even if it's just quickly boiling a bag of frozen vegetables.  Or, for a party… try making Corn on the Cob in the Cooler!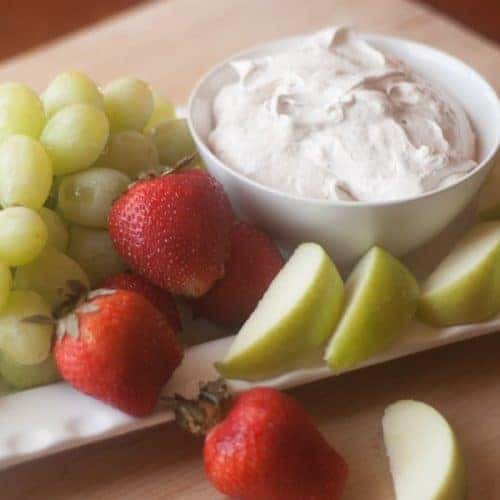 One of our favorite ways to enjoy more fruits and berries is to enjoy some Banana Split Kabobs with chocolate sauce.  If  you haven't tried those, it is a must, and another great option for a party.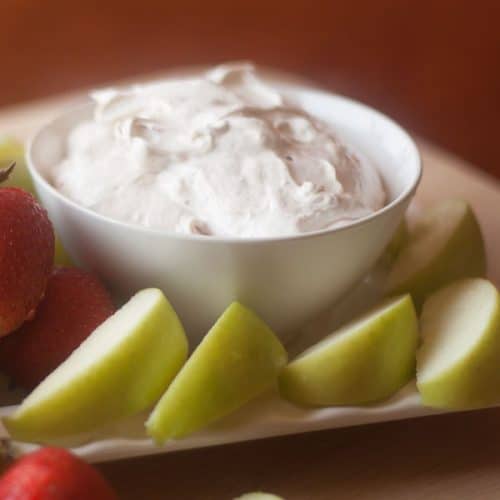 Cinnamon Fruit Dip is super easy to whip up, and I do mean whip up.  Make sure your cream cheese is just slightly softened… a good 20 minutes on the counter should do, or soften in the microwave.  Toss cream cheese and marshmallow full in a mixing bowl (either with your stand mixer or a bowl you can use a hand mixer with) and whip.  It'll be ready in no time!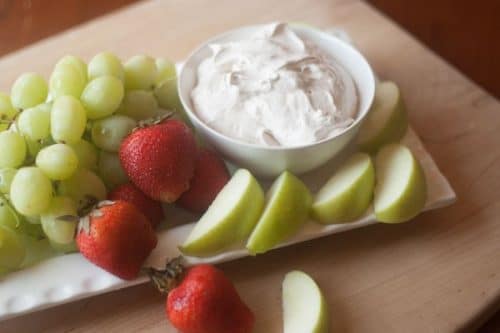 Add in cinnamon and mix it all up!  It's that easy.  And now you get to enjoy this delicious dip that is SO perfect with all sorts of fruit and berries.  It's creamy and fluffy, and the cinnamon gives it a little twist that is just perfect.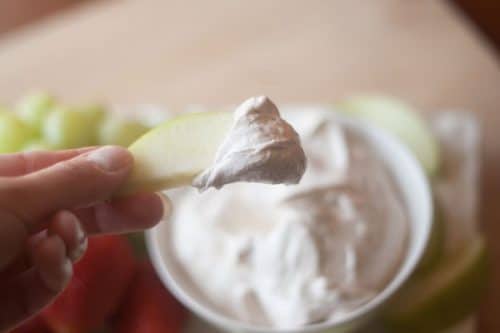 Ready for the recipe?  Here you go:
Print
Cinnamon Fruit Dip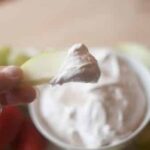 Cinnamon fruit dip is a perfect addition to fruit or perfect accompaniment to a party tray.
Author:

Jessica, AllSheCooks.com

Category:

Appetizer, Snack
Ingredients
8 ounces low-fat cream cheese
7.5 ounces marshmallow fluff
1 teaspoon cinnamon
Instructions
Whip together slightly softened cream cheese and marshmallow fluff until smooth. Mix in cinnamon. Serve right away or chill and serve. Perfect with fruits and berries.
The following two tabs change content below.
Latest posts by Jessica McCoy (see all)