Coconut Oil Weight Loss
Much research has shown that coconut oil can help with weight loss.  Coconut oil weight loss comes down to curbing appetite and reducing belly fat.  Some people take coconut oil mixed with water or in a drink–however, others prefer to replace oils in food that is prepared and get their intake through coconut oil recipes like the those we've compiled here.
Recipes to Use Coconut Oil Weight Loss
Coconut Milk Hot Cocoa Recipe– not only does this delightful drink include coconut milk, but it also includes healthy for you coconut oil
Best Dark Chocolate Cookie Recipe– it's certainly okay to indulge in a bite of sweetness that is made with nutritious ingredients–as always, the key is portion control and counting your calories
Almond and Apple Cake-enjoy a slice of this gorgeous breakfast cake and let the coconut oil do its work pumping up your metabolism and curbing your appetite until lunch
Eggnog– while this delicious drink has just a dose of coconut oil, it is also packed with coconut water and coconut milk…making it a beneficial addition to your coconut oil plan–again, remember the key with all diets is to avoid over-indulgence
Healthy Nut Truffles- as you can see in the recipe below, these treats are full of nutty protein power, coconut milk and coconut oil, making them a perfect addition to any selection of healthy party snacks…and a perfect addition to any holiday party
Healthy Nut Truffles
We've got a winner with this one.  No matter how much time you spend wondering about the beneficial use of coconut oil and weight loss, we think you'll come to the same conclusion we did. Any time you take a heart healthy ingredient and substitute it into foods that use a less-healthy ingredient, you've got yourself a winner.
When you take a lot of healthy ingredients and put them together into one recipe? Well, you've got yourself a power snack to be raved about. And this one's a winner!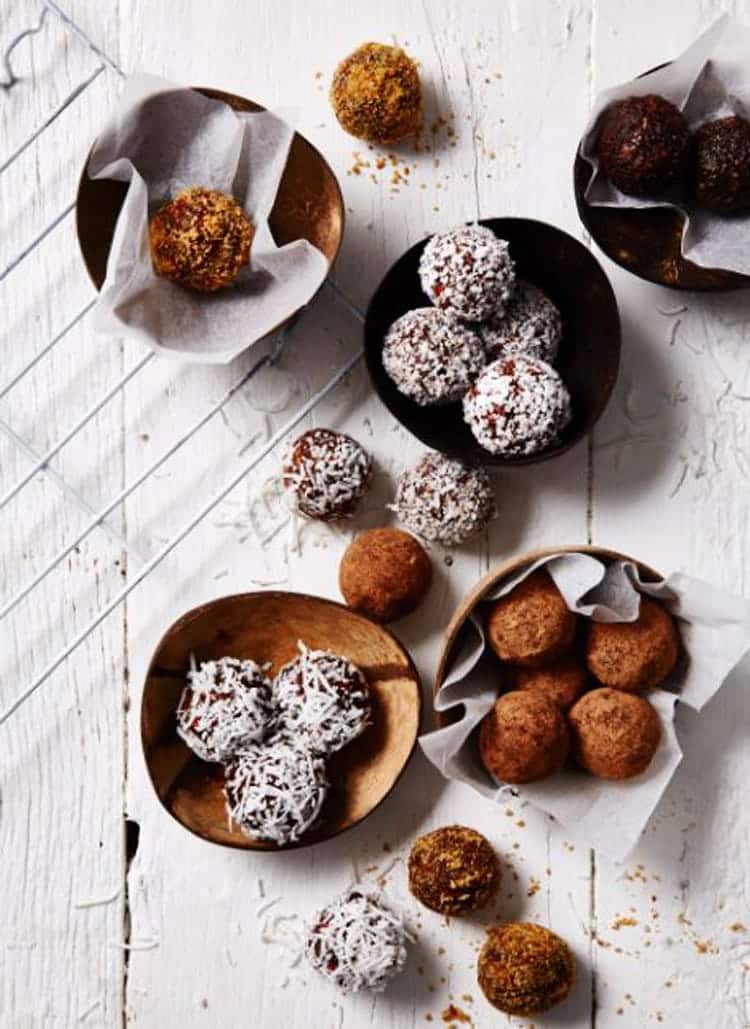 So..Where to Buy Coconut Oil?
We see this question a bit.  Coconut oil can be purchased at many retailers or even on Amazon–which is where we like to buy it because heck, we get free shipping with Amazon Prime.
If you really want to see what you can do when you use coconut oil weight loss ideas, check out that and other beneficial ideas in The Coconut Oil Cure: Essential Recipes and Remedies to Heal Your Body Inside and Out.  It is a great book that you don't want to miss as you're starting out on your coconut oil journey.
Print
Healthy Nut Truffles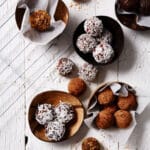 Ingredients
3/4 cup Raw Unsweetened Cacao Powder
2 cup Raw Almonds
1/4 cup Raw Cashews
1/2 cup Maple Syrup
1/4 cup Coco Joy Coconut Water
1 Heaped tbsp. Coco Joy Coconut Oil
Pinch of Salt
Coating Options: Crushed Almonds; Cacao
Instructions
In a food processor on high speed, combine all ingredients and blend until you have a thick batter. Shape into small balls about 1 inch in diameter; roll in desired coating; place on a plate. Cover and keep in the freezer until ready to eat
The following two tabs change content below.
Latest posts by Jessica McCoy (see all)