The next time I make Zuppa Toscana,  or just about any other soup for that matter, I will be making these bread sticks!  These Copycat Olive Garden Breadsticks rock the socks off any store-bought breadstick I have ever bought.  And that is saying something big.
And the next time I do make them… I'm going to have to take a little more time to make the breadsticks pretty, because truth be told- this time I was way more concerned with popping them in the oven because I was HUNGRY!  Yeah… stinks to be a food blogger when you're starving, because there are so many more things to consider, like food photography, and staging.  I let it go this time… so when I do update the photos, I will be sure to post a before and after so you can see what a difference prep work and food photo staging can make.
You really can't go wrong adding these yummy breadsticks to your menu.  Simply put, they will be a huge hit.  Dipped into a bowl of Bountiful Beef Stew or Meat & Potato and Parsley Soup, and you'll be in breadstick heaven.
There is just something so comforting and refreshing about a bowl of soup and breadsticks… especially when its cold outside.
Now… I don't know about you, but I'm filling up my meal plans with soups and chilies this time of year.  Sometimes I like to serve soup with Texas toast, other times crackers, and sometimes chips depending on the type of soup.  I think we'll be adding this easy breadsticks recipe to accompany several of those soup recipes.
What's your favorite thing to serve with soup?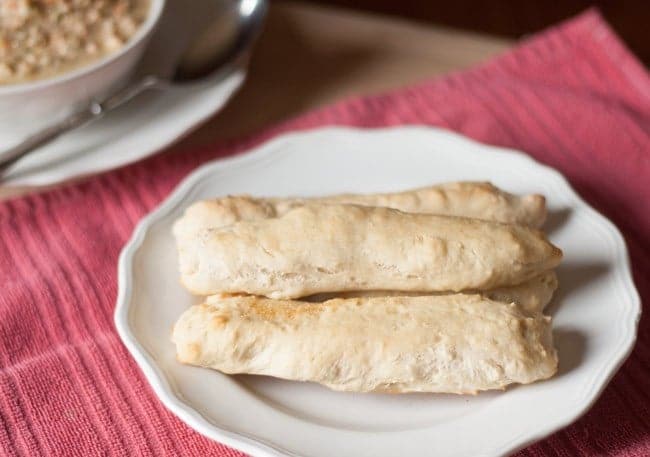 Ingredients
Dough:
1 (1/4 ounce) package active dry yeast
1 1/4 cup warm water (add a little more while you mix the dough if it is necessary to form nice dough ball)
4 1/4 cups all-purpose flour (extra 1/2 cup or so to dust pieces of dough before rolling into sticks)
2 tablespoons sugar
2 tablespoons unsalted butter, melted
2 teaspoons salt
Top with:
3 tablespoons unsalted butter, melted
1/2 teaspoon kosher salt
1/4 teaspoon garlic powder
Instructions
Combine warm water with yeast in mixing bowl and let sit for 5 minutes. Add the rest of the dough ingredients and mix until well incorporated with a dough hook. Mix with the dough hook for 5-7 minutes.
Remove dough from mixing bowl and knead for another 2-3 minutes until it is smooth. Break into two equal parts and work into 2 (foot long) logs. Divide each of these into nine equal pieces and then work those into smooth breadsticks about
inches long.
Arrange breadsticks on baking sheets, leaving an inch or two between each breadstick. Cover for 60 minutes and let dough double.
Preheat oven to 400 degrees and bake for 15 minutes.
https://allshecooks.com/copycat-olive-garden-breadsticks/
The following two tabs change content below.
Latest posts by Jessica McCoy (see all)