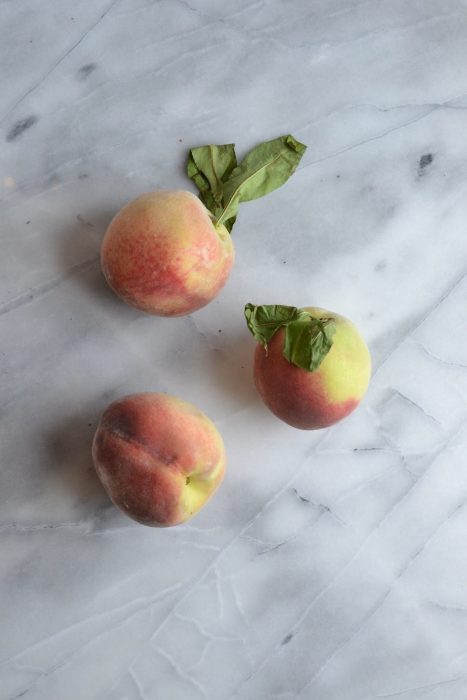 Ah, late summer. The perfect time of year for a fuzzy peach. Yes, it's hot out, but here's a reason to turn your oven on (but not for too long – don't worry!).
This tart has a base of your typical pâte sucrée – French for "sweet dough," – which is a dough similar to pâte brisée, just sweeter. Therefore, it is used more often for desserts, unlike brisée which is best for pies or quiche.
The most important thing when it comes to any type of dough, sucrée or brisée, is… KEEP IT COLD! Please, read all steps of the recipe before trying it so you don't miss anything!
Here's what you'll need:
3 large, ripe thinly sliced peaches
3 egg yolks
1/4 cup + 1 tablespoon heavy cream
2 1/4 cups all purpose flour
1/2 cup of yellow cornmeal
2 sticks of good quality butter, unsalted (sweet cream)
1/4 cup of sugar
1/2 teaspoon of kosher salt
A 9″ tart pan or similar – I used a pie plate!
baking beans, or pennies, or something similar for blind baking
You want to make sure all of your ingredients are cold, and you can even pop your Kitchen Aid's bowl into the freezer for 10 minutes or longer!
* Sucrée recipe adapted from Bon Appetit.
Combine yolks & cream in small bowl.
In a stand mixer, add your sugar, salt, butter, and flour. Mix on lowest speed for approximately 5 minutes, until there are no more large butter chunks.
Add your cream & yolks in slowly with mixer still running. Just bring the ingredients together until it is one solid color – do NOT overmix or you will ruin the quality of your dough!
Remove dough from bowl onto lightly floured surface (just enough that it doesn't stick to the table!). Shape into a disk. Wrap in plastic, chill for 1-2 hours until cold throughout.
Roll out your sucrée into a large circle on a floured work surface. Work quickly so your dough does not get to warm, and if it does, put it back in the freezer for 10 minutes.
Line your tart or pie pan with your dough. You want one even layer, so trim any excess dough with scissors. Bring the walls of the tart up as high as you want your tart to be. I did about 1 inch high.
Poke holes with a fork in the bottom of the tart. You need to blind bake the tart to prevent the bottom from rising. My preferred way of blind baking is pressing a piece of parchment over the surface of the tart, then pouring in some baking beans.
Bake on 350 for about 15 minutes, but check before the 15 minutes are up! You want the center of the tart to be dry, not raw, but not too far baked because it will go back into the oven for a little longer after blind baking!
Remove baking beans (lift the parchment & pour them into a container). Let the tart cool for 10 minutes, until you are able to touch it. Arrange your peaches in the crust nicely. You could also add berries or another fruit of your choice. I did a swirl of honey over my peaches, and a few sprigs of thyme before popping it back into the oven. Bake for 20 minutes, or until peaches are soft and easily punctured with a fork. Enjoy!
Before baking: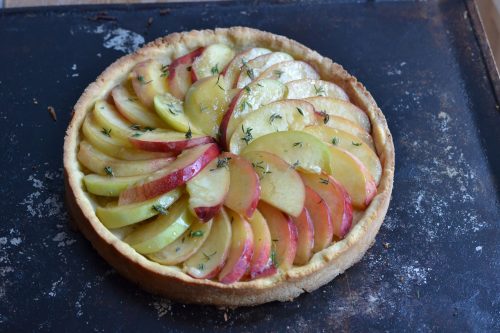 After baking: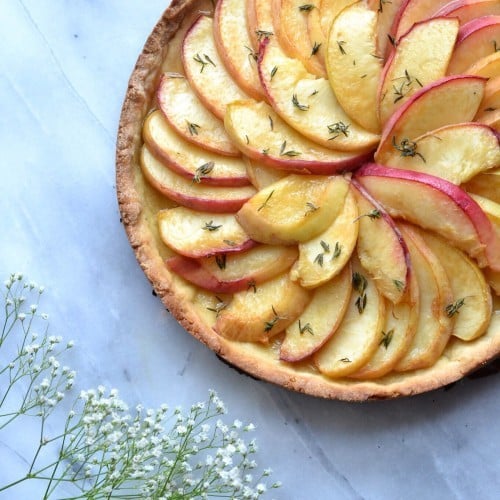 The following two tabs change content below.
Alex is a food blogger, photographer, and chef currently based in Paris, France.
Latest posts by Alex Roberts (see all)