This post has been sponsored by the National Pork Board and Fred Meyer.
Good-bye hamburgers.  Hello Sweet and Spicy Rub Pork Chops and deliciousness that will have me dreaming of crashing the grill with pork chops for days.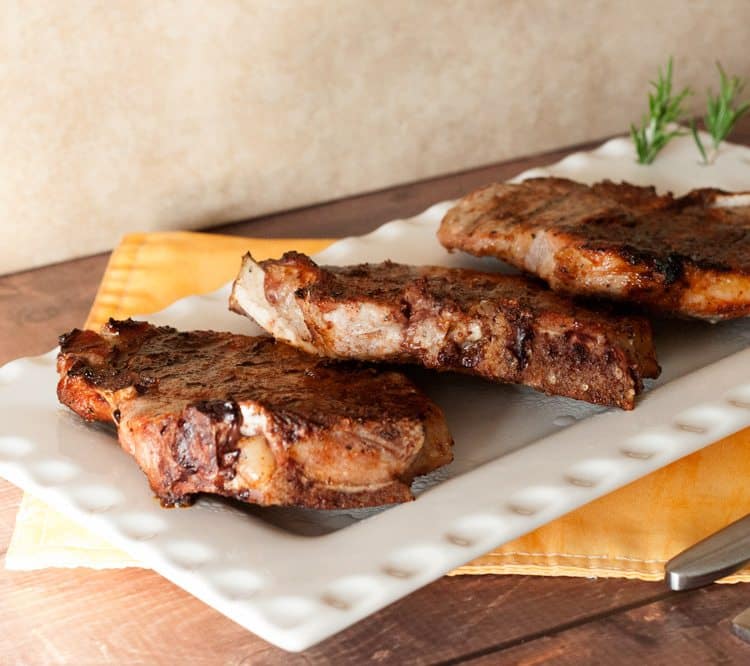 So… it went kind of like this.  Hubs is a big hamburger lover–and I have to admit he makes the best burgers I have ever sunk my teeth into.  Well, he got to talking about grilling out and the next thing he knew, I had these fabulous Sweet and Spicy Rub Pork Chops on the grill cooking up dinner.  You know he's still going to get his turn, but everyone in the family enjoyed this amazing twist on a pork chop classic.
I don't think I'd ever had pork chops on the grill until the last month.  I've had ribs, hot dogs, brats… and probably a couple other types of pork.  However, I have to say that my new-found favorite meat for cooking on the grill has to be pork chops.  Considering they are usually a great price, I really can't go wrong with that idea.  It's the perfect time to celebrate grilling season at Kroger – the "go-to" source for all your cookout essentials and fresh cuts of pork, from chops and roasts, to pork tenderloin and ribs.  I have to say, I certainly found what I was looking for and more!
---
 Giveaway Alert!
Okay… so if you haven't entered to win our contest yet, you have a little bit of time left.  Count down until Father's Day, my son's birthday, my brother-in-law's birthday, and I'm pretty sure about a million other people in the world's birthday– June 21st.  You have until June 21st to leave a comment on my first crashing the grill recipe post (which was also a delicious creation by the way), which will enter you to win a $75 #GrillPork Fred Meyer Gift Card Giveaway.  Sweet, right?
@allshecooks is hosting a $75 #GrillPork Fred Meyer Gift Card Giveaway from @allaboutpork & @Fred_Meyer Enter: http://t.co/7rE1gd3c2f #ad

— Jessica McCoy (@AllSheCooks) June 8, 2015
---
So, like I mentioned–the Basil-Garlic Pork Chops I made for my first Crash the Grill post were out of this world inspiring.  You can find the recipe over at pork Be Inspired, which has a ton of fab recipes I'm dying to try out this summer.  It's also where the Sweet and Spicy Rub recipe came from for the pork chops I grilled up this week.  Which I have to admit look aMAZing!  And, have to give props to my husband who built a very useful workbench in our garage that was able to double for a photo-studio when the natural light in our dining room got too low for me to work with.  #Foodphotographerproblems
Making pork chops with a rub is really super easy.  Of course, it helps when you have all the ingredients on hand, and the ingredients for the Sweet and Spicy Rub all happened to be in my spice cabinet.  Perfect!  Working with a rub involves mixing up the spices to incorporate them fairly well and then basically just massaging the meat with the seasonings.  I like to use a plastic bag to put my hand in or gloves to protect my hands from the meat and spices.
Once one side of the meat is coated, turn it over and follow the same procedure with the second side.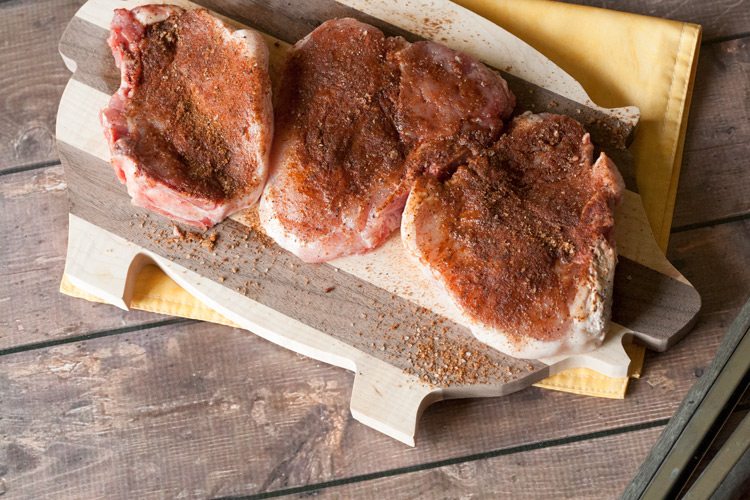 After that, those pork chops are ready for a hot charcoal grill.  Or whatever kind of grill you have.  I prefer the flavor of a charcoal grilled pork chop.  But that's just me.  And my family.  And probably half the world.  But, to each their own.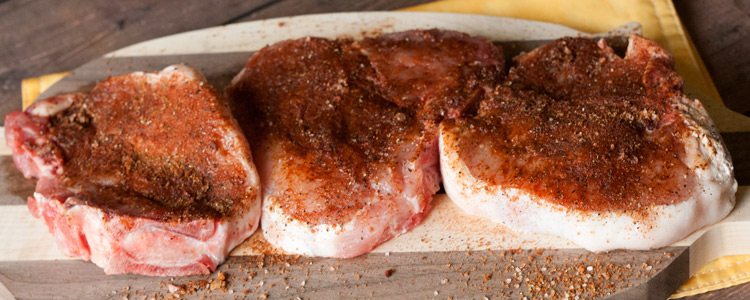 Don't forget to check out the other fab grilling recipes for pork over at pork Be Inspired.
Print
Sweet and Spicy Rub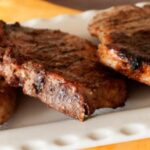 Ingredients
Pork Chops- thick, good quality
2 teaspoon sweet paprika
2 teaspoon brown sugar, light
1 1/2 teaspoons coarse salt
1 teaspoon cumin
1 teaspoon black pepper
1/2 teaspoon cinnamon
Grated zest of 1 orange
Instructions
Mix paprika, brown sugar, salt, cumin, pepper, cinnamon and orange zest in small bowl. Rub both sides of pork chops with spice mixture. Let stand 15 to 30 minutes. Grill each side of pork chop for 5 minutes. Check internal temperature and serve!
Makes 4 servings
Plate up those pork chops with a side of something out of the garden, and you're good to go.  Enjoy!

The following two tabs change content below.
Latest posts by Jessica McCoy (see all)