52 Weeks to a Cleaner House- How to Dust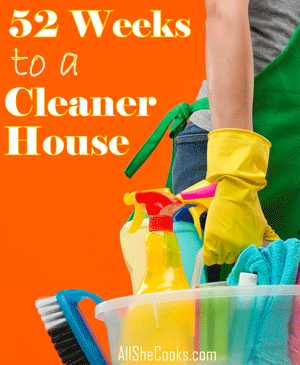 This week in our super helpful series "52 Weeks to a Cleaner House," we're tackling the D word.
DUST!
Unless you happen to live in an airless, vacuum sealed dwelling, then chances are high that there's dust in your home. GASP! Don't worry. We're not judging you. Because dust is one of those things that everyone, from billion dollar estate owners to Amazonian hut dwellers, must deal with.
There's not a surface in your home that isn't vulnerable to being covered with these fuzzy, miniscule particles. (As I sit here typing, I'm preoccupied with the carpet of dust enshrouding my TV and cable box. Didn't I dust them just last week? Yep. And I'll have to do it again next week.)
What's dust made of? You don't really want to know. But I'm going to tell you anyway because it's sort of fascinating (in the same way that televised surgeries are fascinating).
Household dust is made up of microscopic particles from food, clothing fibers, dead human skin, (so please use lotion!) pollen, pet dander, pet hair, live dust mites, dead dust mites, zombie dust mites…and here's the kicker… dust mite poo.
According to allergists, dust mite excrement is a leading cause of indoor allergies and asthma.
Things that make a home more prone to dust:
Indoor pets
Keeping windows open
Using your fireplace
Wearing shoes in your house (It's estimated that 80% of household dirt is brought in on the bottoms of our shoes.)
An older home with looser seals around windows and doors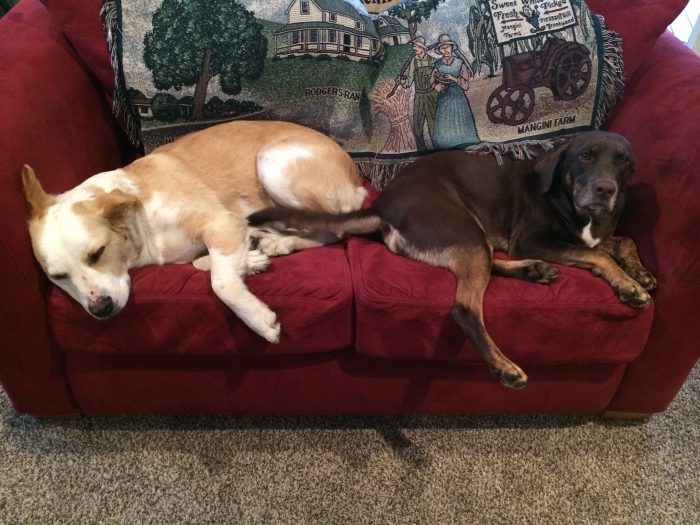 Tools for the job:
-a damp cloth (An old t-shirt dampened with a tiny bit of water works great.)
-Q-tips or a butter knife wrapped in cloth for tight spaces
–extendable duster for hard-to-reach cobwebs
-ceiling fan cleaning brush
-an old sock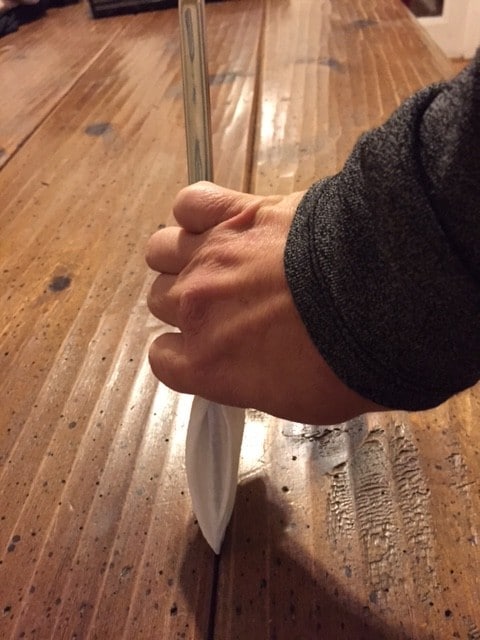 A note about furniture polish: Growing up, it was my job to dust the entire house once a week. My mom always had me use oil-based polishes like Pledge or Endust. Since then, I've learned to go easy on the oil, using it only when my wood needs a little extra shine. Too much polish can leave a film that's hard to remove. (I haven't had the courage to break this to my mom.)
Once a Week
While some people swear by their feather dusters, I find that they tend to stir dust around rather than remove it.
Wipe down your furniture (including shelves) and electronics with a slightly damp, old t-shirt or cleaning cloth. This includes removing and wiping everything on the furniture as well. No cutting corners, dusting around your knick knacks. (I once got grounded for that.)
Always start at the top and work your way down. It'll be easy to sweep or vacuum up the dust that's fallen to the floor.
Don't forget pictures and other wall hangings.
Be sure to sweep or vacuum the dust bunnies, jackals and rhinos (depending on size) lurking in your home's corners and under furniture. They seem to especially love electronics and tangled cords.
Once a Month
Wipe down baseboards.
Use a telescoping ceiling fan cleaning brush on fan blades.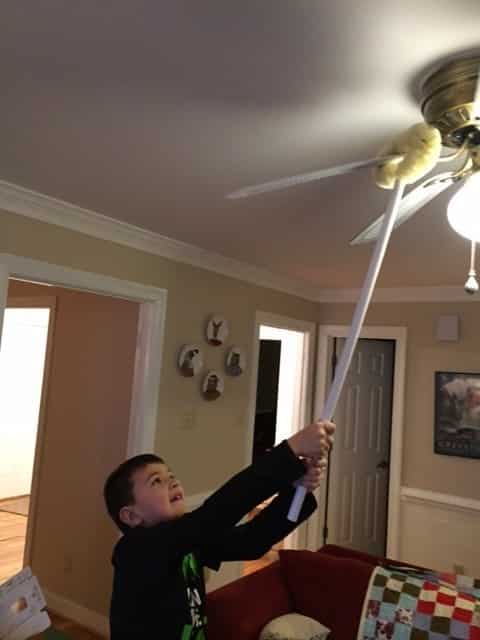 Use a telescoping duster on light fixtures
Put an old sock on your hand and wipe the dust off your window blinds, shutters, grids and molding. (Draw a face on the sock and create your own super hero dusting puppet if you'd like.)
And remember to wipe the top of your refrigerator. A few months of ignoring it and you'll have a dingy, gray snow village up there.
I hope you find these dust taming tips helpful. Next week, grab a gas mask. We're heading into the bathroom.
And if you missed it, last we we discussed how to clean the oven.  Want to get motivated to keep your house clean while we entertain you with our antics?  Subscribe to 52 Weeks to a Cleaner House and we'll make sure you get updates each week.
The following two tabs change content below.
Angela Weight is an award-winning journalist, blogger and somewhat motivational speaker, originally from Wrightsville, Georgia and currently living in Richmond, Virginia. Her laugh-out-loud accounts of life's ironies and irritations can be found on her blog angelaweight.com aka
Sanity Waiting to Happen
. You can also find Angela on
Instagram
and
Pinterest
.
Latest posts by Angela Weight (see all)