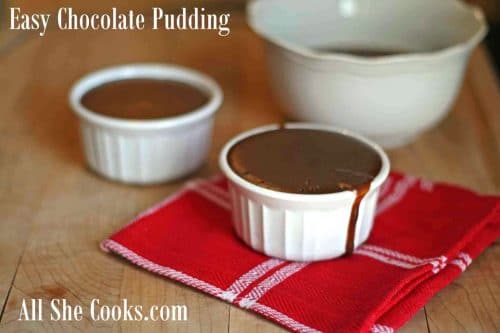 I love chocolate.  Chocolate pudding, well… that's something that I have adored since I can remember.
Once upon a time, when I was just a youngster… I used to 'try' to make chocolate pudding from scratch.  But try as I might, I just couldn't get it right.  It always ended up lumpy, eggy, and imperfect.  But you know what?  In the midst of all those lumps was chocolatey goodness that was still edible.  At least to me.
Fast forward 20 some years and I can make a mean chocolate pudding.  Really mean.  Ask my kids.
The requirements for making chocolate pudding from scratch: patience and a watchful eye.
Mix the flour, sugar, and cocoa powder in a saucepan.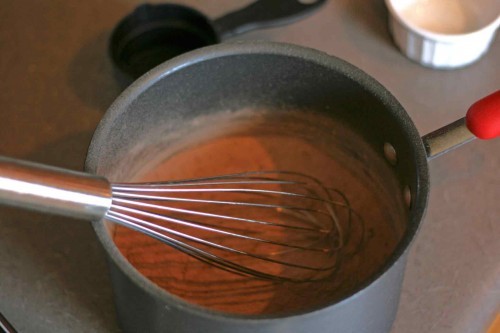 In a separate saucepan, scald the milk.  Yes, scald.  Don't stir it, just cook it on medium-high heat for about 5 minutes.  The pan will need to soak a little when you are finished cooking, but should clean up easy enough.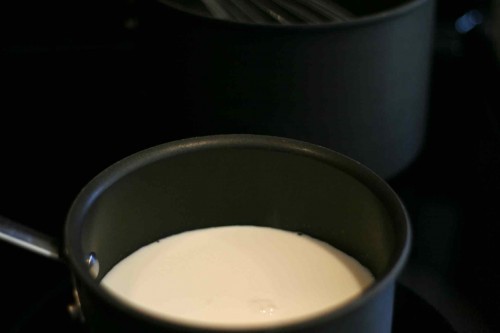 Prepare 3 egg yolks.  Beat them lightly and have them ready to go in a bowl near your stove-top.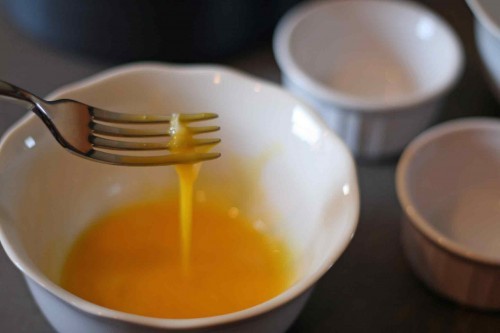 Next, put the saucepan with the dry ingredients on your burner where the milk was cooking.  With a whisk, stir in about 1/2 cup of milk at a time.  Stir until smooth, making sure to scrape the sides and bottom to get all of the flour, sugar and cocoa incorporated into the pudding.  Once it is all mixed together good, you can add 3/4 to one cup of the scalded milk at a time as you stir.
Cook on medium-low heat while stirring until thickened.  This should take around five minutes depending on your heat setting.
Now… the tricky part.  Once the pudding has thickened, it is time to add the egg yolk.  The key is to whisk continuously while slowly pouring in the egg yolk.  If you have a helper, this would be a great time to have an extra set of hands.
Once the egg yolk is mixed in, turn the pudding to low and let cook for an additional 2 minutes.
Take the pudding off the burner and add in the vanilla and stir.
A lot of people add in a couple tablespoons of butter during this step, or add salt in with the dry ingredients, but I just don't feel like those two ingredients add anything here.  The egg yolk, chocolate and sugar work together to make a very rich pudding, and I always use pure vanilla, which works wonders on any dessert.
Pour the pudding into small ramekin bowls, or for the heartier pudding portion, a regular bowl.  Personally, I like a nice 3/4 to 1 cup size portion, but I'm sure the official serving size here should be 1/2 cup.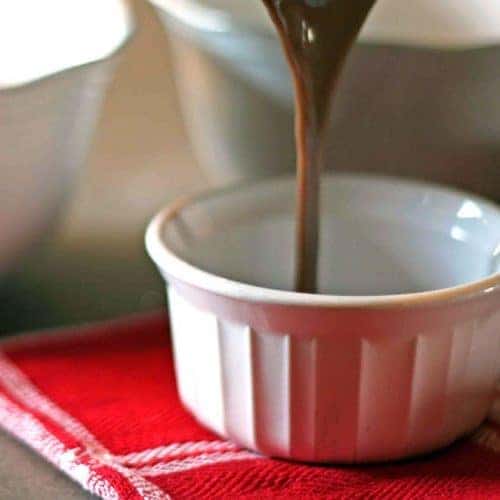 Serve this rich dessert up hot or cold.  My daughter and I like it either way, but I know a lot of people are partial to having their pudding chilled.  Chilling this Easy Chocolate Pudding in the refrigerator for an hour will give it a nice skin on top, which my husband thinks is the best part.
This is a super easy recipe for chocolate pudding that just takes a little patience watching it on the stove.  If you don't mind standing there while it is cooking, this is so much better than a store bought pudding mix!
Recipe below…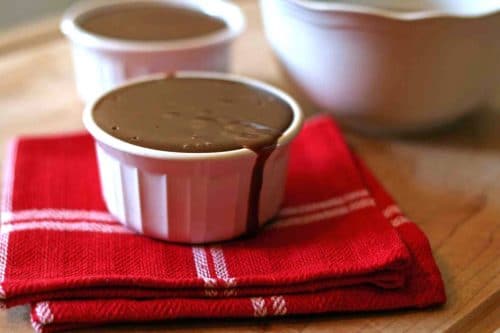 Print
Easy Chocolate Pudding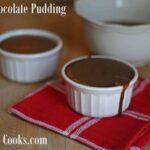 Author:

Jessica, AllSheCooks.com

Category:

Dessert
Ingredients
3 Cups Milk
1/3 Cup flour
1 Cup sugar
1/4 Cup cocoa powder
3 Egg yolks
1 Teaspoon pure vanilla
Instructions
Scald milk in saucepan over medium-high heat for about five minutes.
In a separate saucepan, mix together flour, sugar, and cocoa powder until well blended.
Remove milk from burner and reduce heat to medium-low. Put saucepan with dry ingredients on burner and slowly add in 1/2 cup of milk at a time while whisking. Make sure dry ingredients are all incorporated and mixed in by scraping the sides and the bottom of the saucepan. Continue to add milk and whisk.
Heat over medium-low while stirring until thickened. This should take approximately 5 minutes, depending on stove temperature.
Slowly add egg yolks while whisking quickly. If you have a helper, this would be a great two-person job.
Let the pudding cook for 2 additional minutes on low.
Remove from heat and stir in vanilla.
Pour into serving dishes and either serve hot or chill in refrigerator for an hour until ready to serve.
The following two tabs change content below.
Latest posts by Jessica McCoy (see all)