I've never been able to tackle a homemade cinnamon roll.  Probably because instead of following someone else's recipe, I try to make my own.  That's the one bad thing about being a crazy recipe developer.  I'm sure there are a gazillion great cinnamon roll recipes out there, but I like to put my own spin on things.
With that in mind–I decided to play around with some Rhodes Rolls dough and make a splash.  Sweet Potato Rolls are almost homemade, in that while it doesn't require you to make dough from scratch, it still requires hands on.  Which is something I love about this recipe.  It's easy- but its not too easy.  You can say you made them, and know that they didn't take all day to make.  You can keep that part to yourself.
And hey-Wisconsin moms–did you know that Rhodes Rolls dough is made right here in Wisconsin? In fact, its only about a 20 minute drive from where I live, which is so cool. I love that when I buy an item like Rhodes Rolls dough in my local grocery store that I can know that I'm helping to support jobs in nearby communities.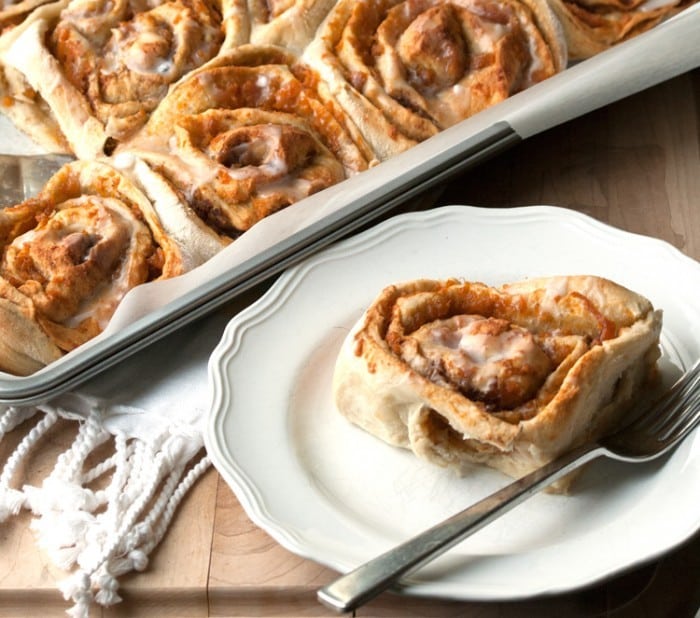 I don't usually do step-by-step instructions, but thought that it might be a good idea for this recipe.  I didn't photograph the whole dough rising bit, but I used Rhodes frozen rolls–the kind that you have to let rise before using.  This recipe uses a whole package of the frozen rolls, but you could easily cut it in half.
So- first, follow package instructions and let the dough rise.  I did the quick start method.  Make sure you turn the stove off after it preheats in this step (according to package directions), or you'll end up ruining a good batch of dough.  Just a friendly reminder, because I know someone who didn't turn the oven off.  Not naming names.
Once dough is ready, line a big section of table or counter with parchment paper.  Dust the parchment paper with a little bit of flour.
Next, dump the dough onto the parchment paper.  Working from the middle towards the edges, press the dough down into a large rectangle.  I would liken the desired thickens to be that of sugar cookie dough, but you can certainly make it thinner.  I added flour to the top of mine–just a little–and put parchment paper on top of it while working the dough into shape.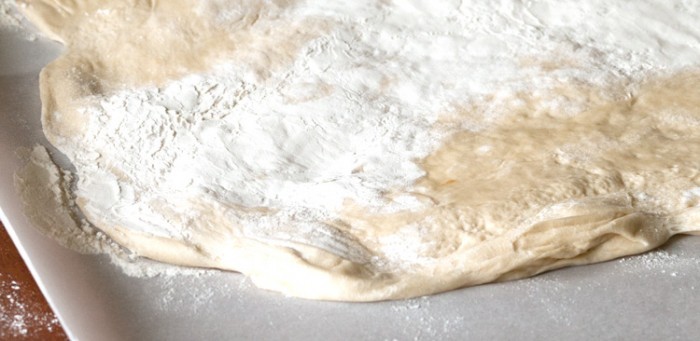 Once the dough has been shaped, it's time to make the filling.  This is a very simple filling to make.  Simply microwave 2 large sweet potatoes until soft, scoop the potatoes out, and mix together with 1/2 cup of butter and 1 cup of brown sugar.  See?  Easy!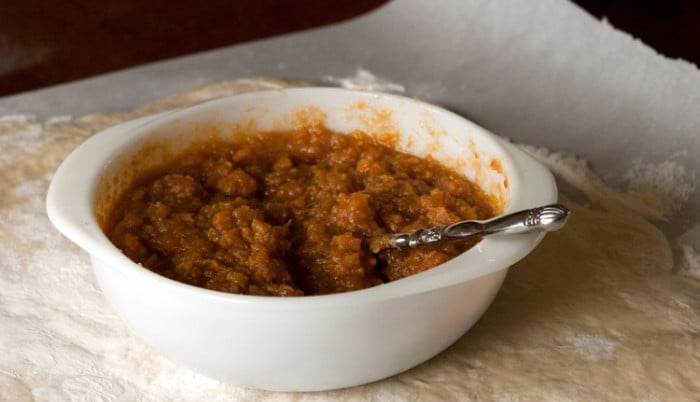 Then, spread the filling over the dough using the back of a spoon or a spatula.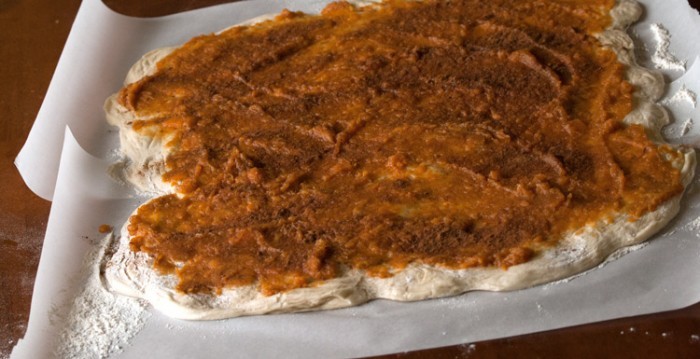 Roll the dough up.  Working with parchment paper really comes in handy here, because it helps lift the dough and filling.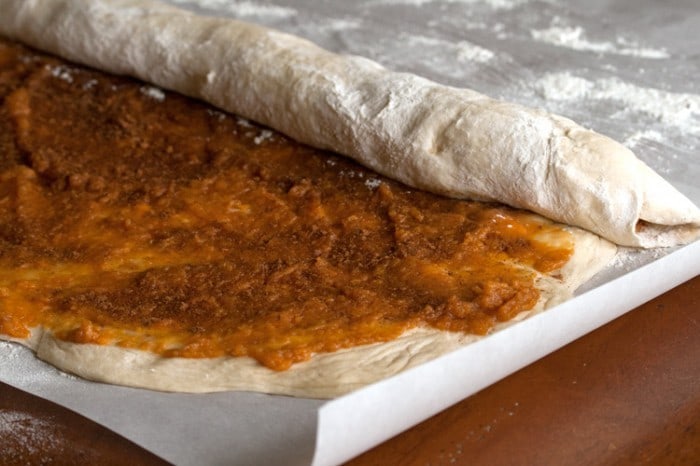 Slice the finished roll into 1 inch strips and line baking sheet with Sweet Potato Rolls.  Mine made 18.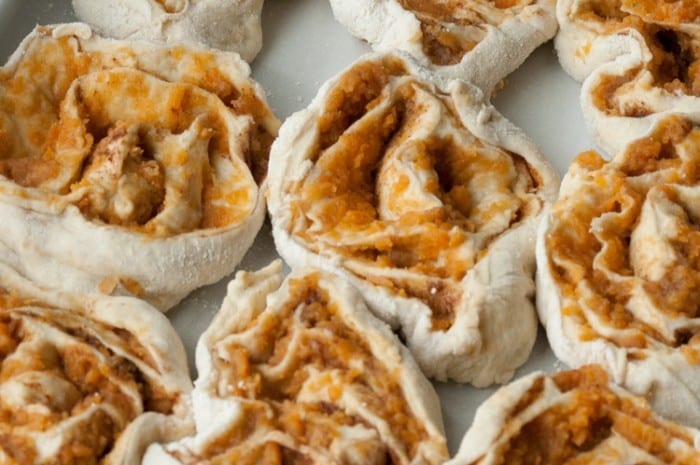 In a preheated oven, bake at 350 for 30-35 minutes on middle rack.
Serve with glaze and enjoy!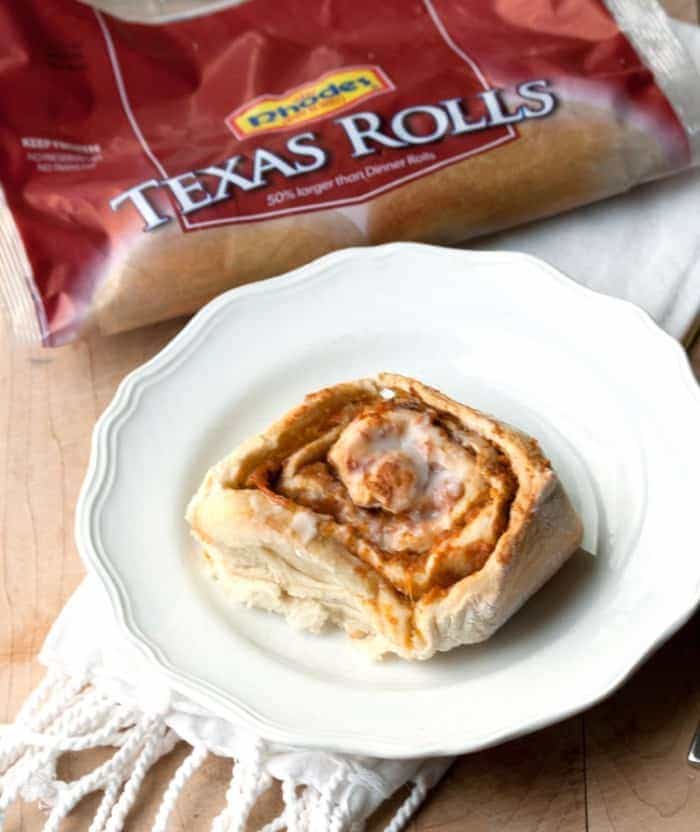 Print
Easy Sweet Potato Rolls Easy Glaze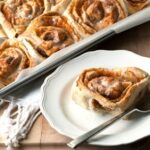 Ingredients
1 package Rhodes frozen rolls dough
2 sweet potatoes
1 cup brown sugar
1/2 cup melted butter
2 teaspoons cinnamon
2 cups powdered sugar
3/4 cup water
Instructions
Let dough rise according to package directions. Line counter with parchment paper and press dough dough into large rectangle- dough should be about the thickness of sugar cookie dough.
Microwave sweet potatoes and then remove peelings. Mix sweet potatoes together with melted butter and brown sugar. Spread mixture over dough.
Roll dough up and then slice into one-inch slices. Line Sweet Potato Rolls onto parchment paper lined baking sheet and bake at 350 degrees for 30-35 minutes or until lightly browned and not doughy.
Top with glaze (recipe below) and serve.
Mix together powdered sugar and water. Add additional sugar to reach desired thickness if needed.
(This post is sponsored by Rhodes Rolls.  All opinions are our own, but we can certainly attest to how fast we downed these Sweet Potato Rolls made using a Rhodes product.)
|
You May Also Like: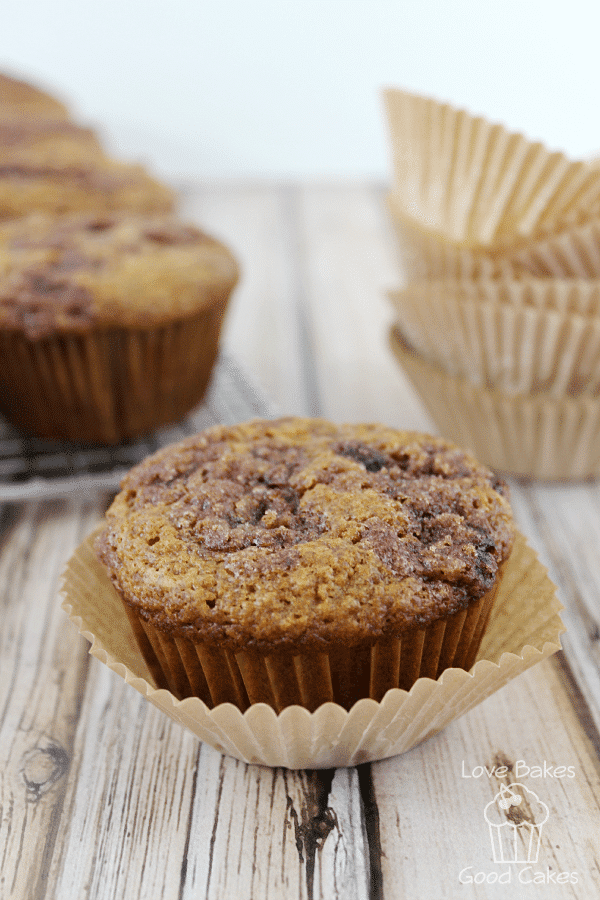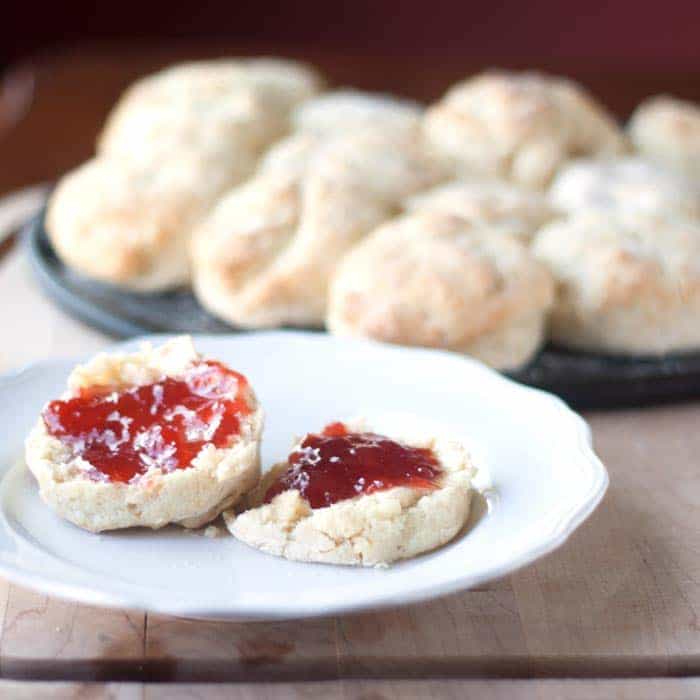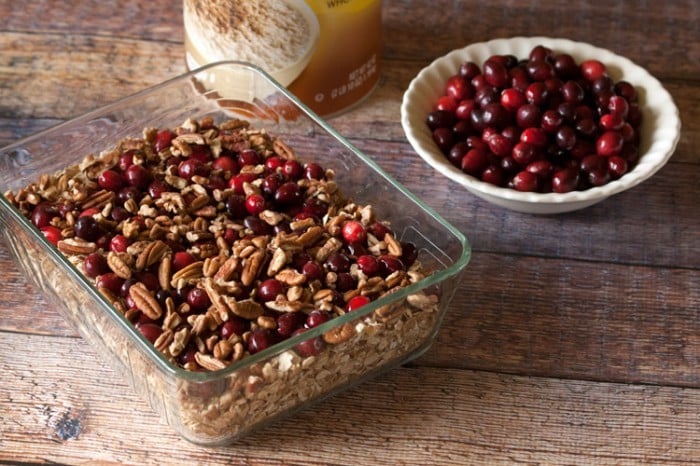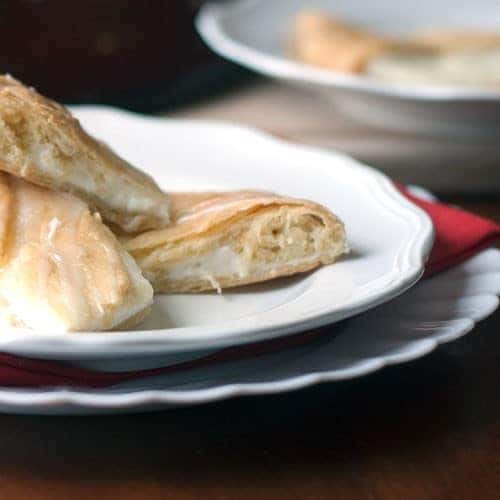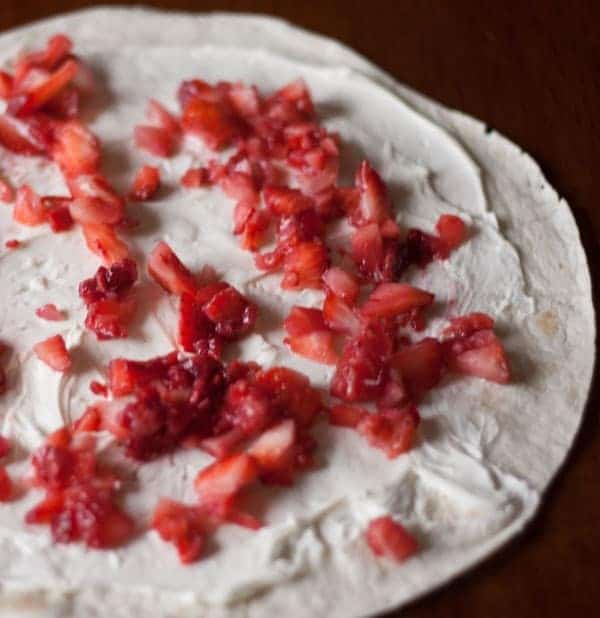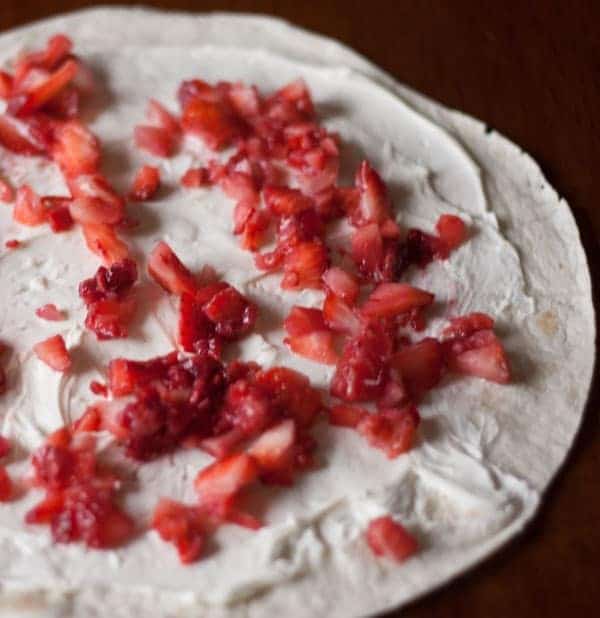 The following two tabs change content below.
Latest posts by Jessica McCoy (see all)