Bellisio Foods sponsors this blog post, and has paid me to write about its EatingWell™ frozen entrées. Samples of such products were provided to me free of charge by Bellisio. The opinions expressed herein are my own, based on my own experience.

If you're like most people, you don't always have a ton of time for cooking. But, you still enjoy eating well–just like everyone else. We've partnered with Bellisio Foods, who worked with EatingWell® to create this fabulous line of frozen meals. You might be familiar with EatingWell® magazine–we think it's pretty awesome.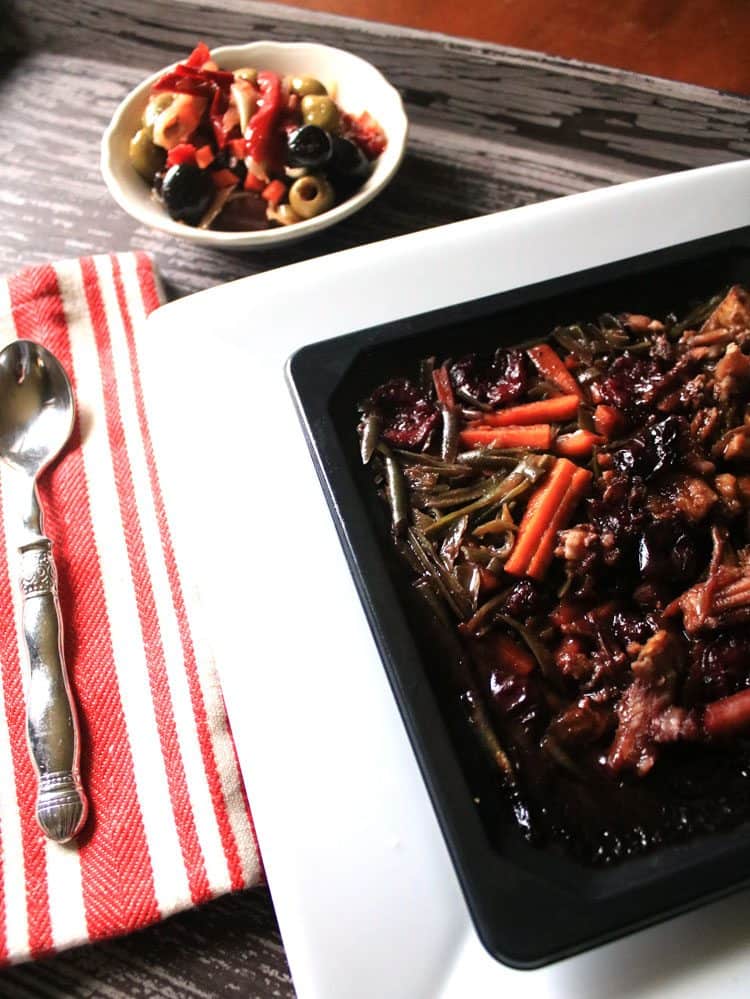 When we heard that EatingWell was putting out a line of tasty frozen meals, we were intrigued. There are eight different flavors ranging from Cherry Port Pork to Indian Inspired Chicken, which goes to show that you truly will be eating well.
Want to try them out for yourself? Find a store near you to buy one of these delicious meals.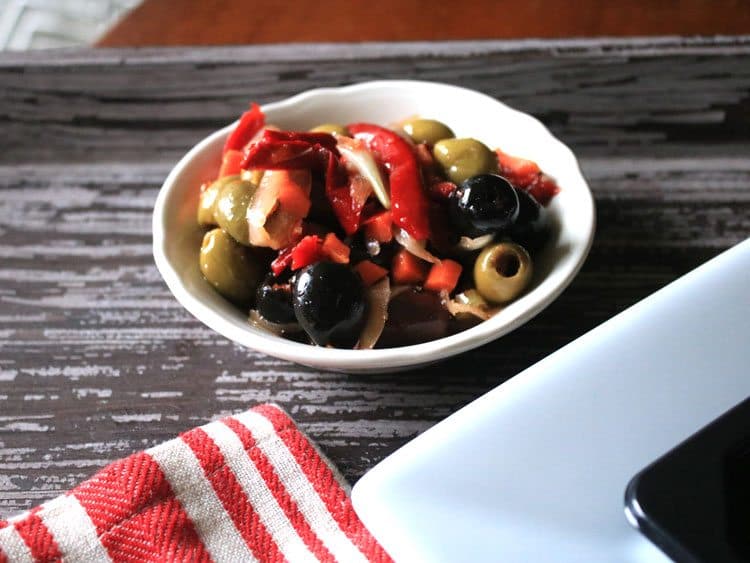 We're hoping to test out all 8 varieties of EatingWell™ frozen entrées, but our first taste test was of the Cherry Port Pork frozen entrée, which is fantastic. Not only was the tender pork flavorful, it tasted like it was fresh out of the oven…like it had been slow cooked all day.
The Cherry Port Pork frozen entrée is delicious and nutritious. Made with healthy-for-you ingredients like antibiotic-free pork and a full cup of vegetables (as packaged), you can feel good about what you're popping in the microwave. The sweet cherry port sauce is comparable to a quality restaurant recipe…you'll want to try it again and again.  In fact, while writing this post and looking at all the photos again, another Cherry Port Pork dinner is being heated up in the microwave. Because, if it tastes good, you might as well enjoy it more than once.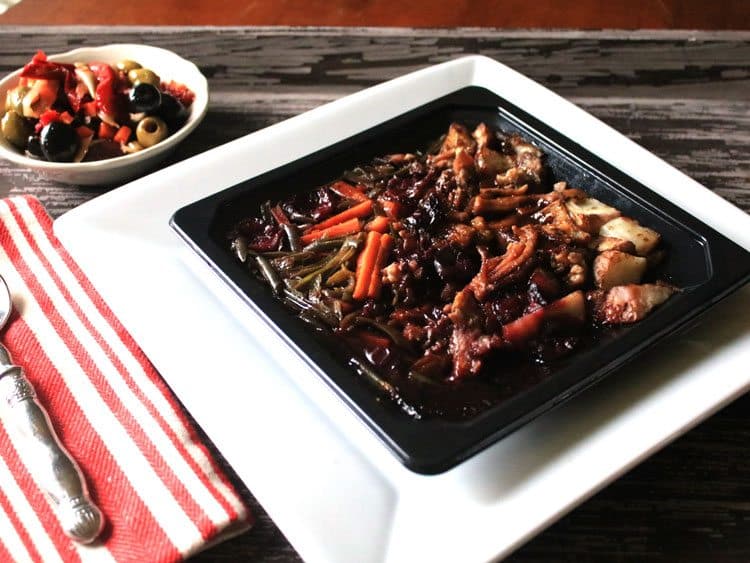 Quality ingredients are where it's at for this frozen meal, and it is so flavorful!
One of the things I especially like about EatingWell™ frozen entrées (besides the taste and freshness) is how they are packaged. The meals are vacuum-sealed to ensure the absolute freshest meal possible, and go right into the microwave without having to make any slits in the wrapping. Simply remove the stylish plate from the box and you're good to go!
Learn more when you follow EatingWell Frozen on Facebook and Twitter.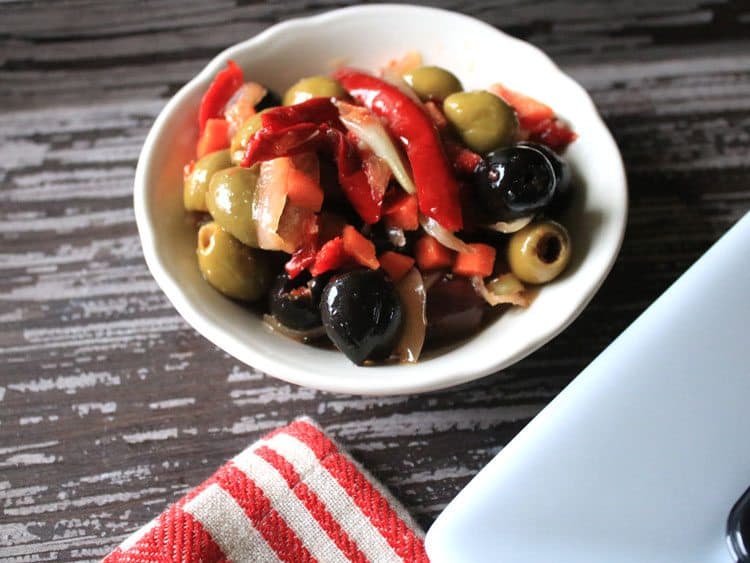 And when you're feeling especially adventurous, pair up a delicious Cherry Port Pork frozen entrée with a tasty Muffuletta Olive Salad.
MUFFALETTA RECIPE OLIVE SALAD
Since we love to create side dishes, we crafted a small Muffaletta Olive Salad to pair with the frozen meal.
It's pretty commonplace to find us snacking on olives around here, so tossing a few extra ingredients into a salad was a no-brainer.
Get ready for a simple olive salad that you'll love. This is a fun side dish to pair with many foods, or to snack on while you're preparing dinner. It's full of simple ingredients: olives, olives, and more olives. Oh, and some roasted red peppers and a few other things.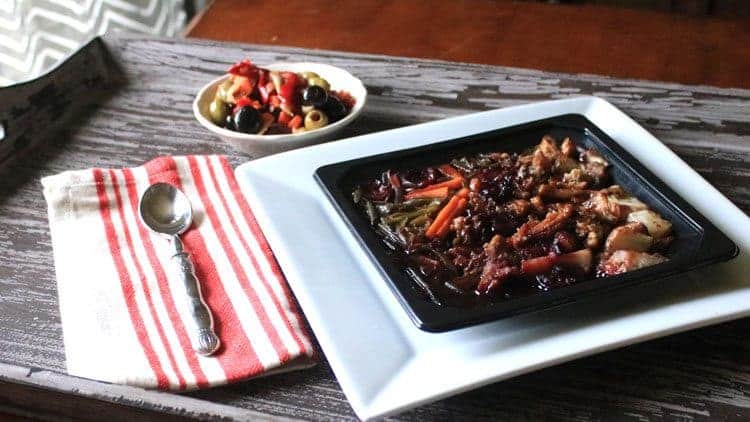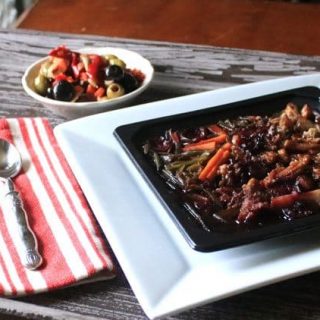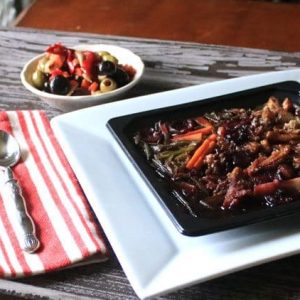 Muffaletta Olive Salad
This Muffaletta Olive Salad is a delicious sandwich topping or great served as a side salad. Think of it as a relish bar recipe salad. Delicious.
Ingredients
1

jar whole green olives

10 oz

1

can of whole black olives

6 oz

4

teaspoon

minced garlic

½

cup

roasted red peppers

¼

cup

chopped red onions

¼

teaspoon

celery salt

1

teaspoon

dried oregano

1

teaspoon

dried basil

¼

teaspoon

black pepper

¼

cup

red wine

½

cup

nice quality olive oil
Instructions
Mix all ingredients together and serve. If desired, olives and red peppers and be chopped up a bit. We prefer to serve them whole so we can pick through and take a bite of this or that.
Nutrition
Calories:
268
kcal
Carbohydrates:
4
g
Protein:
1
g
Fat:
27
g
Saturated Fat:
4
g
Sodium:
418
mg
Potassium:
71
mg
Fiber:
1
g
Sugar:
1
g
Vitamin A:
91
IU
Vitamin C:
10
mg
Calcium:
26
mg
Iron:
1
mg