Hello there and welcome to this week's installment of 52 Weeks to a Cleaner House.
This morning I accidentally dropped my phone between the wall and the head of our bed. For a second I contemplated just going out and buying a new phone. Though foolish and costly, it would be less scary than sliding the bed out to reveal the deep, dark abyss which never sees the light of day nor vacuum cleaner.
Since we have no land line and I was in the middle of answering a text, I had to be a grown up and plunge into Dust Mite Canyon to retrieve my communication device. Once down there, I found 37 stray pony tail holders, 19 bobby pins, six mismatched socks, a rawhide bone, a phone book from 2009, a half-full bottle of petrified Nyquil, three errant Hall's cough drops, a charger from four phones ago, SPANX from when I thought I was fat but was smaller than I am now, an old Percy Sledge album, an unloaded 357 magnum, two back issues of Country Living and a never-opened box of tampons. They were all covered in a heavy layer of dust.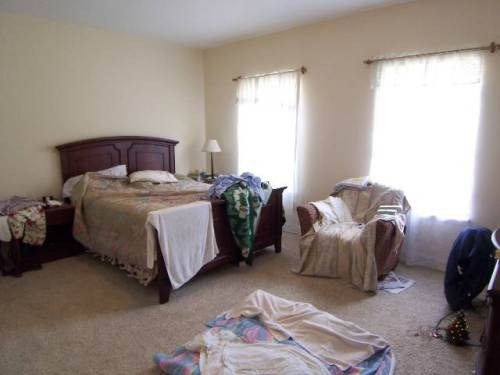 I had to admit that the mess was pretty disgusting. And since it's still technically spring, I spent the next couple hours engaging in some desperately needed spring cleaning.
If you've been neglecting your bedroom as badly as I have, follow these steps to feel much better about your sleeping space.
Spring Cleaning the Bedroom:
1) Declutter: Clean off table surfaces. Recycle old magazines. Clean out from under every piece of furniture in the room. ESPECIALLY THE BED! If you have clothes piling up, set a goal to donate 20% of your apparel.
2) Dust! Use damp cloths and cotton swabs to wipe down the baseboards, ceiling fan blades, chair rail, all pieces of furniture, wall hangings, window sills and all lighting, including lamps.
3) Give that floor a major cleaning. Whether wood or carpet, remember to get into the corners and treat any lingering stains.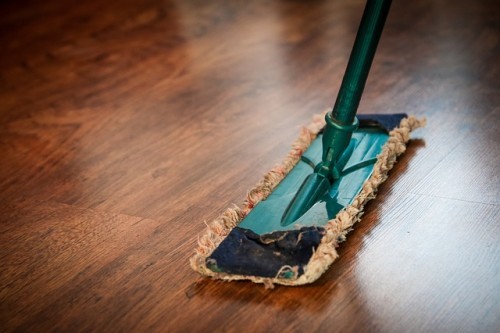 4) Wash your bedding. Strip it all off, even the mattress cover, and march it down to the laundry room for a good cleaning.
5) Vacuum your mattress. While washing your bedding, give your mattress a good vacuuming. This will reduce allergens by removing dust, skin flakes and shed hair. (Gross, I know.)
6) Rotate your mattress from head to foot. And unless it's a pillow top, flip it over too. This will help it to last longer and keep its shape.
7) Remove and clean your window treatments. (If you don't want to go to that trouble, at least dust the blinds, if you have them.)
8) Use old newspaper and glass cleaner to clean your windows and mirrors. I prefer newspaper to cloths because it leaves a truly streak free surface. (You will, however, want to wash the black ink smudges off your hands.)
Doing all this may take you more than a couple of hours. (It certainly has me.) But sometimes you just can't avoid the deep cleaning any longer.
The following two tabs change content below.
Angela Weight is an award-winning journalist, blogger and somewhat motivational speaker, originally from Wrightsville, Georgia and currently living in Richmond, Virginia. Her laugh-out-loud accounts of life's ironies and irritations can be found on her blog angelaweight.com aka
Sanity Waiting to Happen
. You can also find Angela on
Instagram
and
Pinterest
.
Latest posts by Angela Weight (see all)