Welcome to our latest edition of 52 Weeks to a Cleaner House.  Using these simple Five Minute Cleaning Tasks, we're pretty sure you'll be on your way to a cleaner house in no time.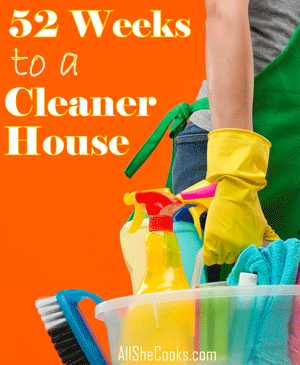 Today we're focusing on little jobs that can make a big difference in your home's tidiness. Here's a scenario that happens to me way too often. (Please don't judge.)
I'm feeling pretty darn good about the way my home looks. The dishes are done; the dinner table isn't covered in laundry; no toys scattered across the living room; the beds are made; no rings in the toilets; blah blah blah, clean clean clean. I'm secretly hoping someone will stop by unexpectedly to see my lovely home. "Hey, annoying neighbor, vacuum cleaner salesman and Jehovah's Witnesses, come on over! My house is ready for you!"
But, wait! What's that over there? Two months worth of dirty hand prints around the bathroom doorknob; a spider web housing development in the ceiling fan and dried spilt milk splatter art on the kitchen cabinet. Things like this drive me insane because I can never seem to get to them all. It's like some twisted stay-at-home-mom video game where as soon as I locate and clean up the urine I've been smelling, the plates come out of the dishwasher with dried food still stuck to them.
All these little messes and corner dirt erode my confidence as a "got it all together" mom. When I visit someone new for the first time, I find myself glancing at their baseboards, hoping to see a layer of dust and checking under their couch in search of dust bunnies. (It's pretty hard to check for debris under someone's couch and seem casual and nonchalant about it. "Oh, no, I'm fine! Just lost my balance for a sec.")
So anyway, in trying to make it to Level 46 in the "Got-It-Together-Mom" video game that runs constantly in my head, I've devised this helpful list of quick and easy five minute cleaning jobs. Tackling these little things on a regular basis will keep your home cleaner and help you to feel more accomplished on the home front.
(If you're the type who never falls behind on these sorts of things, then pat yourself on the back and know that I want to be like you when I grow up.)
1. Wipe down the fronts and tops of all your appliances. Don't forget the washer and dryer. Stainless steel wipes are a wonderful thing.
2. Dust those cold air return vents.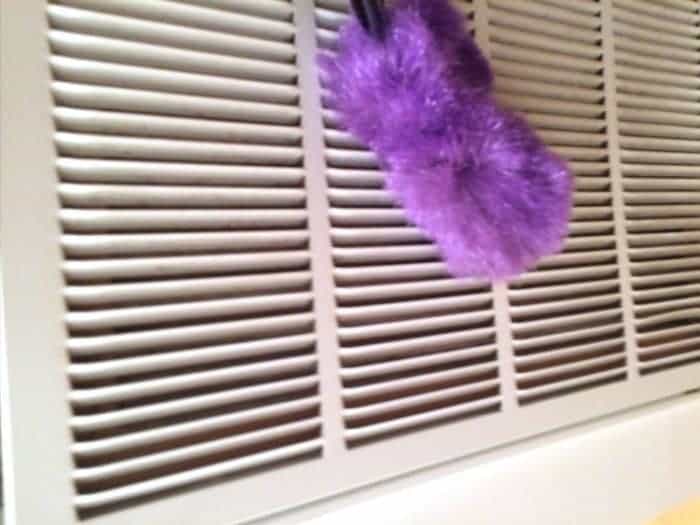 3. Use a damp cloth and toothbrush to clean the dust, dirt and grime off your home's baseboards. (Do one room a day.)
Here's a photo of the baseboards in my house. They're nice. But I'd like to choke the person who picked them out. See that little cut-out line detail? Dirt gets in there and I have to wrap a thin cloth around a toothpick to clean it out. (How dirt manages to camp out in that tiny crevice is one of the world's great mysteries.)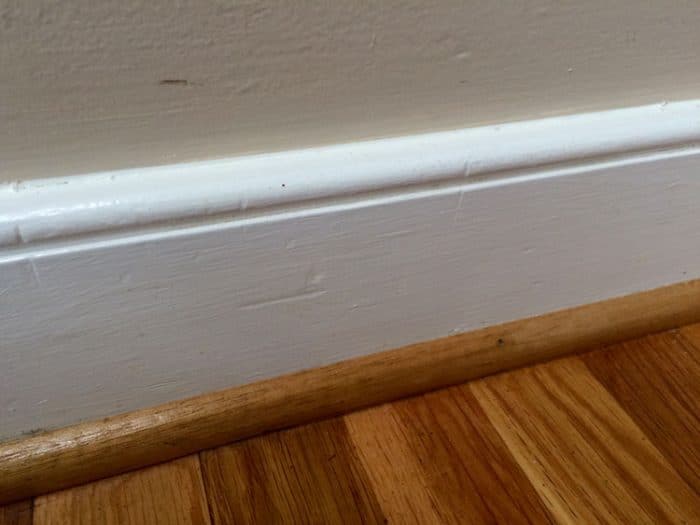 4. Wipe dirty fingerprints from around doorknobs and switch plate covers.
5. Clean around the rims and outsides of your indoor trash cans. I'm not sure if my family members have bad aims or if everyone's trash cans (especially the kitchen) get grimy after a while.
6. Clean out from under the couches and beds. (You never know when a guest will "lose their balance" and check under there.
7. Wipe out any spills or crumbs in the fridge. Even if you don't have time to do a whole refrigerator purge, neatening things up in there will make you feel better.
8. Spot clean upholstered furniture. Sweep those chip crumbs and lint roll those pet hairs off the couch. Doesn't take but a minute.
9. Wipe dried water droplets and fingerprints off faucets, handles and drains.
10. Dust off the tops of all pictures and wall hangings.
11. Use a telescoping handled duster to clean spiderwebs and dust from high up corners, light fixtures and ceiling fans.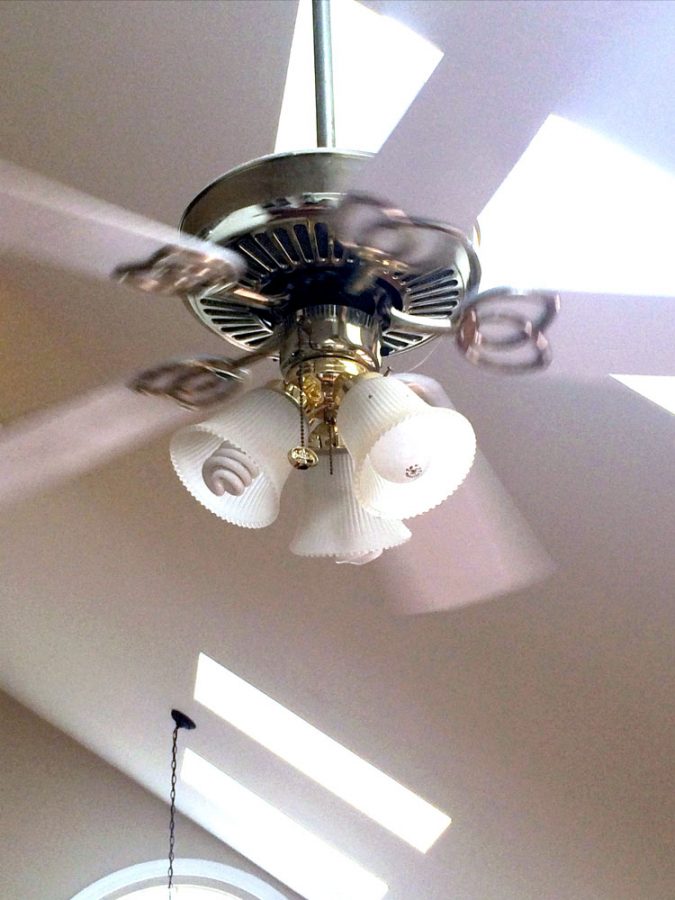 12. Wipe the splatters out of the microwave. (If it were just me, my microwave would stay clean. But I have a husband and boys with much higher splatter tolerances.)
These are my top dozen quickie clean-up jobs. I'm sure there are plenty others you could add.
Next week, we'll be talking brooms…for sweeping and riding.
The following two tabs change content below.
Angela Weight is an award-winning journalist, blogger and somewhat motivational speaker, originally from Wrightsville, Georgia and currently living in Richmond, Virginia. Her laugh-out-loud accounts of life's ironies and irritations can be found on her blog angelaweight.com aka
Sanity Waiting to Happen
. You can also find Angela on
Instagram
and
Pinterest
.
Latest posts by Angela Weight (see all)