Sponsored by VisitWales.com.
Wales. A country steeped in history and culture.
In fact, beautiful Wales has a history that dates back thousands upon thousands of years. So, it isn't surprising at all that there are many historical foods that have been handed down from generation to generation.
Welsh Rarebit - Culinary Excellence
Among those culturally rich recipes is the famed Welsh Rarebit, a bit of toasted bread and cheese flavored just so and steeped with tradition.
Read on to find out how you can taste this tradition by entering to win a gift pack of Welsh cheeses courtesy of Visit Wales.
There are many different spins on this most traditional of Welsh dishes, but most all have a few things in common: toasted bread, cheese and knocked out of the park great flavor. So, no matter what tidbits you add to the mix, keep those commonalities in check and you're off to a superb start to National Welsh Rarebit Day.
A few Welsh Rarebit recipes deserve accolades. These are the flavorful meals that are comfort food at its finest, basic and extraordinary all at the same time.
Jaime Oliver's take on Welsh Rarebit goes beyond what is expected in its jaw-dropping, saliva-worthy decadence:
National Welsh Rarebit Day
Celebrate National Welsh Rarebit Day (an official holiday) this Labor Day weekend, because the day of Welsh Rarebit just so happens to coincide with the US Labor Day Weekend. Which is totally a reason to celebrate the two, hand in hand.
Try your own creative spin by making a Rarebit Burger at your Labor Day cookout. Think outside the box and make this 18th century traditional recipe your own.
Add a burger to this Welsh Rarebit tradition, flavor it up with your finest selection of seasonings and top it with the perfect farmhouse cheese to make it an ideal Welsh Rarebit Burger experience. What seasonings will inspire you?
Want to Win?
Post a photo of your Welsh Rarebit burger on Facebook, Twitter, and/or Instagram. Be sure to include #WelshRarebitDay and tag both @VisitWales and @AllSheCooks and post your photo by midnight, on Tuesday morning, September 6th. Visit Wales will select the reader with the most creative burger, and they will win a gift pack of gourmet Snowdonia Cheese Company Welsh cheeses!
Originating in 18th­ century Wales, Welsh Rarebit is a delicious, traditional recipe featuring cheese, ale, mustard, toast, and hundreds of years of Welsh culture.
We love Barry Lewis's spin on a Rarebit Frittata. And the fact that he is a self-taught cook? Well, that itself is golden.
Foodie Finds in Wales
There are so many incredible places to go in Wales to discover traditional food fare. From the Bodnant Welsh Food centre, to Conwy Mussels for an exceedingly fresh catch of the day experience, to local farmers markets and more--there are so many wonderful foods to discover in Wales.
Discover Wales.
A beautiful country perfect for the gastronomically minded individual to set off on foodie adventures for days. Welsh Rarebit is just one fine example of what Wales has to offer in terms of culturally rich dining options. There is no doubt upon visiting Wales that you will be left with memorable meals that will inspire you in the kitchen for years and decades to come.
Discover Wales.
An intensely historic and gorgeous land full of rich culture and tasty cuisine. From farm to table, to sea to table--Wales is full of dining options that will take you from dawn to dusk, from town to town, experiencing every last bite of goodness.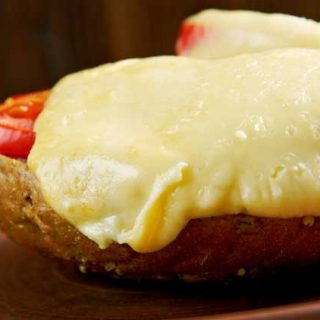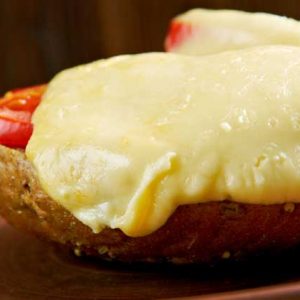 Welsh Rarebit Recipe
Make this traditional Welsh Rarebit recipe for National Welsh Rarebit Day and celebrate traditional Welsh recipes. It's not your ordinary cheese bread.
Ingredients
For the rarebit:
1

ounce

butter

12

ounces

cheddar cheese

shredded

4

fluid ounces

favorite beer

½

teaspoon

ground mustard

Salt and pepper to taste
For the sandwich:
18

medium size circles of bread

6

large

ripe tomatoes sliced thin

Fresh flat leaf parsley or basil
For the burger:
2

pounds

ground beef

salt and pepper to taste
Instructions
To make the rarebit:
Melt the butter in a pan, add the grated cheese and stir over a low heat until melted. Pour in the beer, add the mustard and any other flavouring you wish. Season to taste. Bring the mixture up to near boiling point, and then remove from the heat.
To prepare the burger:
Divide meat and shape into patties. Pound burgers to tenderize. Season with salt and pepper and set aside for 10-15 minutes. Grill on charcoal grill or on stove top.
To prepare the sandwich:
Toast bread in oven. Top with burger if desired or if vegetarian, leave off. Add tomatoes and herbs (parsley or basil) and then top with cheese. Put in oven for 5 minutes to toast cheese.

Serve immediately.
Nutrition
Calories:
1322
kcal
Carbohydrates:
74
g
Protein:
75
g
Fat:
78
g
Saturated Fat:
37
g
Cholesterol:
251
mg
Sodium:
1343
mg
Potassium:
961
mg
Fiber:
6
g
Sugar:
9
g
Vitamin A:
852
IU
Vitamin C:
1
mg
Calcium:
839
mg
Iron:
10
mg